AHS' Evan Peters Was Frustrated About Getting Scripts The Night Before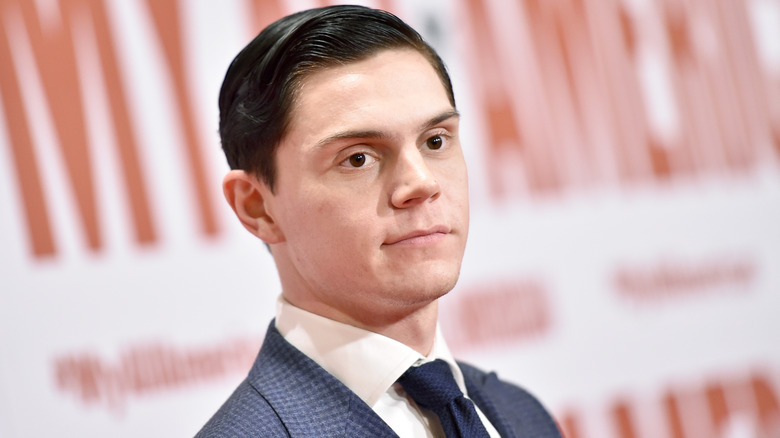 Mike Windle/Getty Images
In a series that features a wide array of legendary actors, including the likes of Jessica Lange, Kathy Bates, and Angela Bassett, it seems somewhat odd that the real breakout star of "American Horror Story" is Evan Peters — who first joined the cast in Season 1's "Murder House" arc.
The series was a career breakthrough for Peters. It spawned numerous opportunities afterward, and since then, Peters has portrayed a variety of different characters throughout the long-running anthology series, including the volatile ghost and former school shooter Tate Langdon, as well as the "Freak Show" performer Jimmy Darling. Although there's no question that Peters has some incredibly fond memories of his time on AHS, there were some difficult aspects of the production, particularly the fact that he often received scripts the night before filming.
"It's a little bit frustrating, I think, because you want to make the right choices for the show and for the character," Peters explained in a 2013 interview with SRU Rocket. "It's frustrating that you don't get to make those choices that are well thought out. You kind of just ... go on your instinct and your gut." Considering all of the praise (not to mention career opportunities) that Peters earned as a result of AHS, it's remarkable that he could pull those performances out on such short notice, regardless of the frustrating delay in the script.
Peters excelled in AHS, despite these frustrating circumstances
Evan Peters went on to describe how the late scripts forced him to "live" the show and "live" the character as they are given to you and that it's important to just know your character and use your intuition to act the scene based upon the foundation laid by the previous episodes.
Although these late script deliveries were no doubt obstacles for Peters, it's clear that he was more than capable of acting "in the moment" when the time called, as he still achieved critical acclaim and widespread recognition for his numerous performances across the series. Indeed, his breakthrough roles in "American Horror Story" helped launch his career to new heights, and he has since scored parts like Peter Maximoff (Quicksilver) in Fox's "X-Men" franchise, as well as the titular serial killer in Netflix's "Dahmer."
Despite how frustrating it must've been for Evan Peters to receive his scripts so late, it's clear he was more than up to the challenge these circumstances provided – and has still enjoyed immense success from his time on "American Horror Story."