John Wick 4 Producer Confirms Wick's Fate, But Says 'Never Say Never' Regarding The Future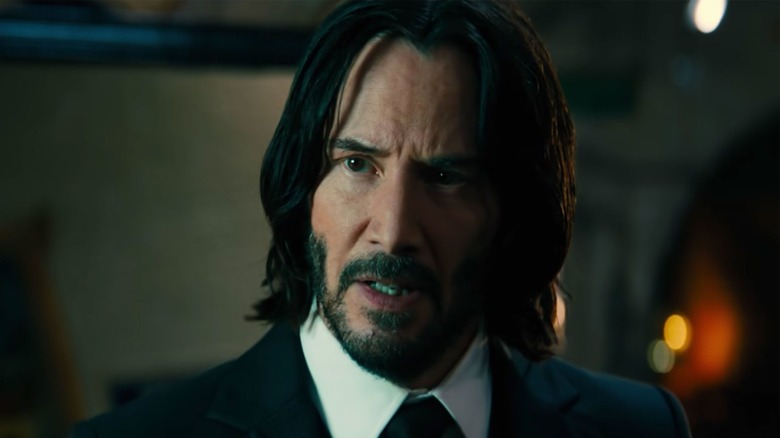 Lionsgate
Contains spoilers for "John Wick: Chapter 4"
John Wick (Keanu Reeves) duels with Caine (Donny Yen) during the epic conclusion of "John Wick: Chapter 4." And while the hitman conspires to trick and ultimately defeat the film's real villain, the Marchese de Gramont (Bill Skarsgård), Wick succumbs to his mortal wounds. Now, there's a post-credits scene between Caine and Akira (Rina Sawayama) that alludes to a possible spin-off, but without the franchise's main character. While producer Erica Lee seems to be insisting that audiences should accept John Wick's tombstone at face value, she's also not one to count the Baba Yaga out — ever. 
"I think that... is that character of John Wick dead?" Lee asked during her exclusive interview with Collider. "Yes. Are there other versions or... I don't know, I never say never. It's a long life. We're developing other properties, too, and I think that there's a lot of opportunity for movies starring other characters or other ways to worldbuild movies that are sort of handovers to different characters."
Indeed, Wick might have perished during his climactic battle at sunrise, but there's another heavy hitter involved in the fight: the box office. At the time of this writing, "John Wick: Chapter 4" has already made over $146 million worldwide. And the latest installment continues to win over both critics and audiences. So, given all the spin-offs in development, don't be surprised if Reeves returns in the future — even if it's just as a cameo.
Long live John Wick... the franchise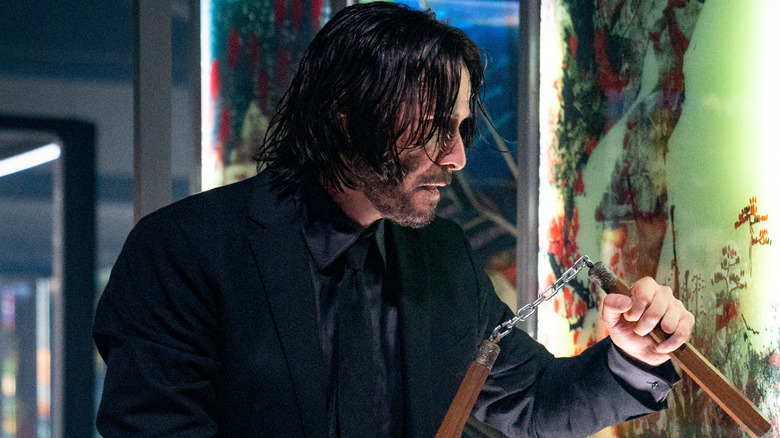 Lionsgate
John Wick is dead, but the franchise is moving forward. First, there is the television mini-series "The Continental," followed by the feature film titled "Ballerina" coming soon. A closer look at "Ballerina's" credits on IMDb lists Keanu Reeves as a cast member. So, whether it's in a flashback scene or some death-defying way, John Wick is slated to show up in the Ana de Armas-led project — that is, if IMDb is accurate, which is never a guarantee.
"Making 'Ballerina' has actually been a really interesting process because it's a lot of the stuff that we take from the 'John Wick' movies," producer Erica Lee said during her interview with Collider. "But then it's slightly different. It's been fun to work on 'John Wick 4' and 'Ballerina' kind of simultaneously, and the TV show ["The Continental"], it's a lot of Wick, but a lot of different versions of it." 
Whether future spin-offs could include the character of Wick, perhaps in the form of a prequel, remains to be seen. In the meantime, fans can get ready to check into "The Continental" — which is set to drop on Peacock later this year — and look forward to "Ballerina" dancing into theaters sometime in 2024.
Erica Lee isn't the only producer weighing in on John Wick's fate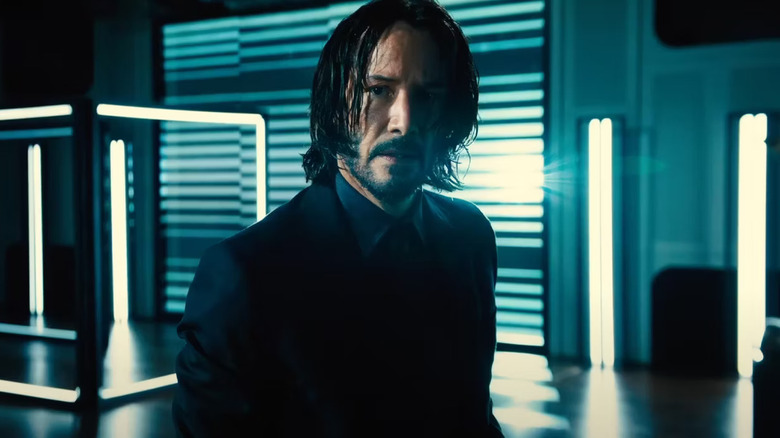 Lionsgate
Erica Lee isn't the only "John Wick: Chapter 4" producer leaving the door slightly ajar for more Keanu Reeves in the franchise's future. Producer Basil Iwanyck spoke to IndieWire about the film's final moments and what it could mean for the character's future, stating, "It's an ambiguous ending." Seeing John Wick's grave certainly leaves an emotional impact no one would want to diminish, and it's clear if Wick's going to return to this world of violence, it has to be done in the right way. 
After all, the movie shows Wick collapsing on a staircase before cutting away to his grave in a cemetary. A lot could've happened between those two scenes, so there's room for Wick to still be alive out there somewhere, maybe running a dog rescue or something. Iwanyck confirms that ambiguity was intentional: "I don't think we've boxed ourselves into any corner, whether he's dead or alive, at the end of this movie."
The "John Wick" series is officially a franchise with various spinoffs in the works. And you better believe that if those pulling the strings think they can make bank by bringing Keanu Reeves back, they're going to do it.