John Wick: Chapter 4's Chad Stahelski Is Interested In Picking Up Where The Post-Credits Scene Left Off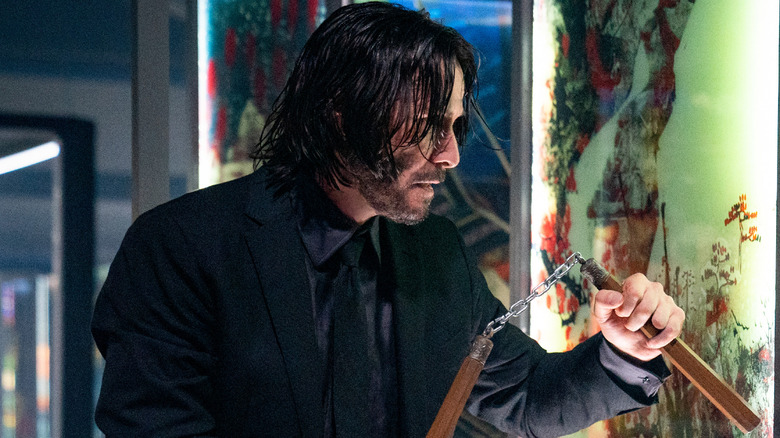 Lionsgate
Contains spoilers for "John Wick: Chapter 4"
John Wick (Keanu Reeves) paid the ultimate price for his freedom at the conclusion of "John Wick: Chapter 4." After scaling over 200 steps and battling dozens of bloodthirsty henchmen in France to reach the Basilica of Sacré-Cœur de Montmartre, John is forced to duel Caine (Donny Yen) before everyone's favorite hitman takes out the Marquis Vincent de Gramont (Bill Skarsgård).
After the duel with Caine tricks the real enemy, Wick surprises and kills the Marquis, but unfortunately, he later succumbs to his wounds and dies. But in a revealing end-credits scene, we get a glimpse of Caine with a presumably revenge-minded Akira (Rina Sawayama) closing in on him. And director Chad Stahelski would love to explore what comes next. "I would love it if they carry on," Stahelski said during an interview with Entertainment Weekly. "You'd have to ask Keanu [about] his thoughts, but, for me, I love the idea."
"We did have versions of that scene that we actually put in the movie, pre-credit, but we didn't know if that was the right direction," Stahelski continued. So, does Akira avenge her father's death by killing Caine? Well, the director wants to know, so don't be surprised if a spin-off or a fifth "John Wick" installment ultimately addresses the issue.
Will Akira get even with Caine?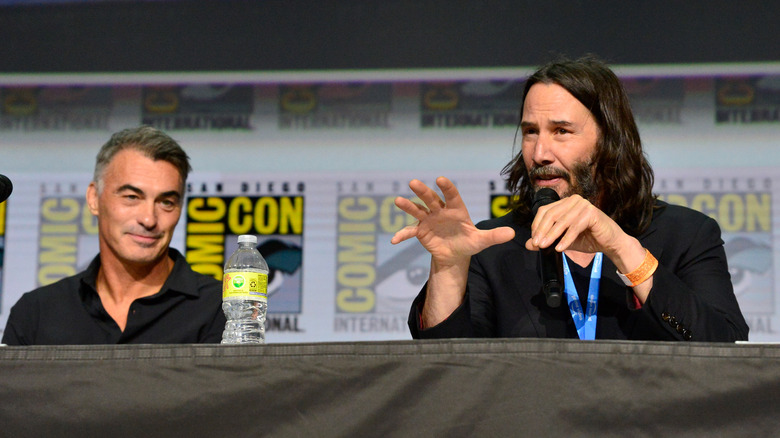 Lionsgate
"John Wick: Chapter 4" director Chad Stahelski delivered a powerful installment for the franchise that is resonating with both critics and fans alike, despite the fact that John dies at the end. However, John's close friendship with Shimazu Koji (Hiroyuki Sanada) ultimately costs the manager of the Osaka Continental Hotel his life. And it's Caine who ends up snuffing out Koji's life in front of his own daughter, Akira, during the first act of the film. If there is a continuation of this particular story, Stahelski is open to exploring what happens next between those characters.
"I like not knowing if Akira actually did something or didn't," Stahelski said during his interview with Entertainment Weekly. "What choice did she make after that cut? I love the character of Akira, and I love the character of Caine, so maybe that's her transformation into what John Wick had become — or maybe she does the morally good thing and doesn't make the next move. But those are two characters I'd love to see again, personally."
Anything is possible. And the critical and early box-office success of "John Wick: Chapter 4" certainly opens the door for more movies to be produced in the future. Currently, the sequel boasts an impressive A CinemaScore, which is the best of any entry in the entire franchise. Plus, the film made $29.4 million at the box office on Friday alone.