Marvel's Seventh Infinity Stone Teased In Hela's Return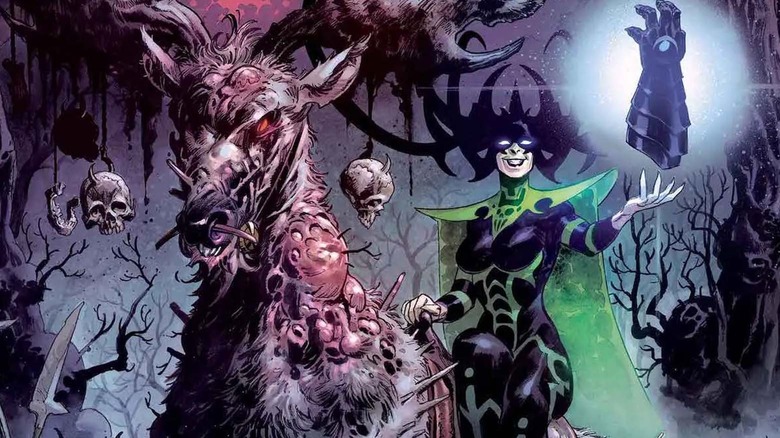 Marvel Comics
New Marvel art teases the return of Hela as the villain is coming back with a powerful weapon at her disposal. In the first look at the cover for "Thor" #35 by artist Nic Klein, the Queen of Hel has a black gauntlet embedded with the long-teased seventh Infinity Stone, the Black Stone. The image highlights Hela becoming a major problem in Thor's quest for answers about his dark visions.
Throughout the God of Thunder's ongoing series, Thor has had visions of his demise courtesy of the Black Winter. In these visions, Thor's last stand is at the hands of Thanos and an undead army. Instead of wielding his usual Infinity Gauntlet, Thanos wears a black gauntlet with a black Infinity Stone. He also wields a Mjolnir embedded with the other Infinity Stones.
Thor tries to prevent his dark future from coming true, learning more about the Black Stone along the way, which ties back to his grandfather, Bor. After his sister Laussa was kidnapped by Corvus Glaive, Thor went to a forbidden part of Asgard, discovering Bor used the Galactus Seed in his battle against Thanos to create the seventh Infinity Stone. Now, Marvel teases what's coming next in Thor's search as a preview for "Thor" #35 shows Hela returning with the Black Stone and her own gauntlet.
Hela's return is linked to the deadliest version of Thanos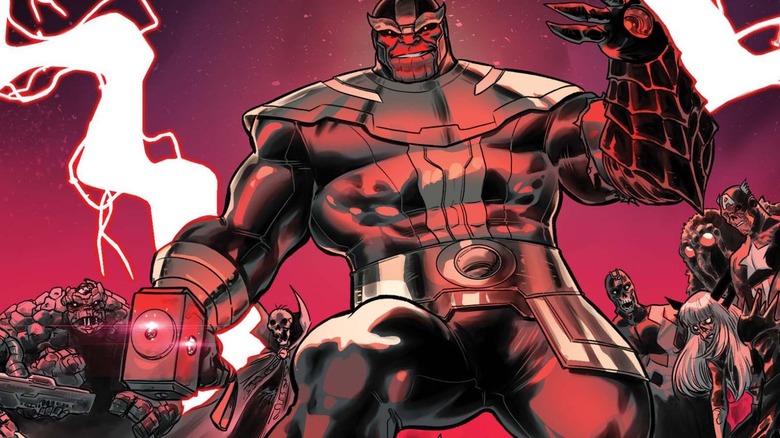 Marvel Comics
With "Thor" #31 by Donny Cates, Nic Klein, and VC's Joe Sabino, Marvel revealed Doctor Doom was among those trying to track down the seventh Infinity Stone. Previews for "Thor" #32 and #33 then tease that Doom wants to use the Black Stone to take over the universe, and "Thor" #34's preview teases that Thor and Doctor Doom's battle will lead them to Thanos' war with Bor. 
Now, in the just-released look at "Thor" #35, Hela's the latest villain with a connection to the Black Stone. In "Thor" #35 by Torunn Grønbekk, Juan Gedeon, and Sergio Dávila, with a cover by Nic Klein, the recently released solicit teases Doctor Doom making his final stand for the Black Stone. Thor will have to defeat the villain before Doom changes the past, present, and future forever. 
Additionally, the text preview hints at Hela's origin being revealed as the cover features the Queen of Hel with an undead army, a black gauntlet and the seventh Infinity Stone. Based on what Marvel's suggesting, it seems that Hela's existence is tied to the Black Stone.
Marvel fans will finally get answers about the Black Stone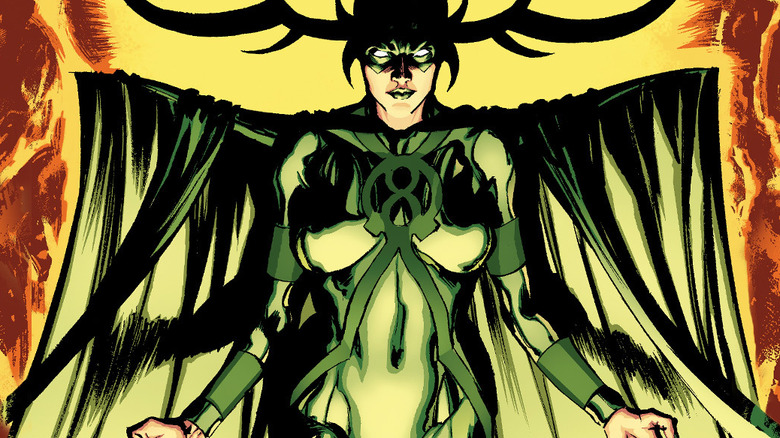 Marvel Comics
Marvel has been patient with revealing the truth behind the Black Stone-wielding Thanos and his Infinity Mjolnir, with the initial tease happening more than a year and a half ago. Since then, multiple arcs have wrapped in "Thor," the creative team has shifted, and Thanos' current place in the pages of Marvel Comics is unknown, especially as Ultimate Thanos has been teased in another preview.
Thankfully, Torunn Grønbekk has shifted attention back to Thor's dark visions as answers about the Black Stone seem imminent. Thor, Doctor Doom, and Hela will also play a significant part in future storylines involving the seventh Infinity Stone. With Doom capturing Hela and her origin possibly being connected to the Black Stone, it's starting to become clear it has an instrumental connection to the undead and Asgard, even more so than previously believed.  
Readers will learn more about the Black Stone and Hela's return when "Thor" #35 by Torunn Grønbekk, Juan Gedeon, and Sergio Davila from Marvel Comics arrives in comic book stores in June.