Some American Horror Stories Fans Are Fed Up With Call Backs To The Original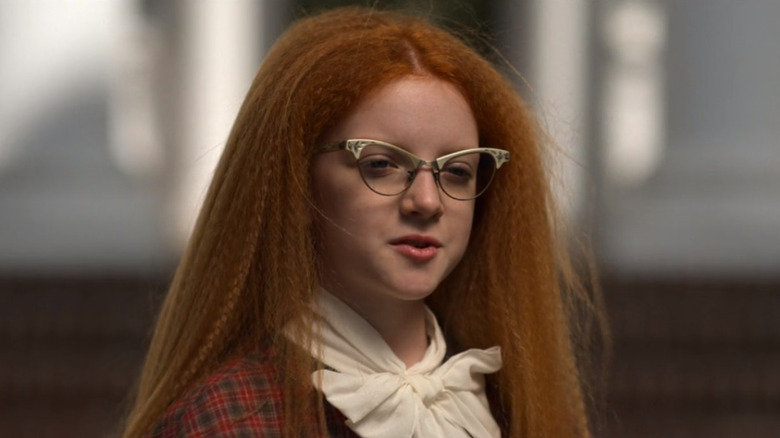 FX/Hulu
Ryan Murphy and Brad Falchuk's "American Horror Story" has built up quite the mythos. The anthology series has been interweaving its stories for several years now, particularly with callbacks to Season 1 ("Murder House)" and Season 3 ("Coven"). Perhaps it's no surprise that the episodic spin-off "American Horror Stories" has also returned to that well. The first two episodes of the series built on the "Murder House" story, particularly the iconic rubber suit. And the final minutes of Season 2 premiere "Dollhouse" revealed a connection to "Coven," essentially providing an origin story for Spalding (Denis O'Hare), the creepy butler at Miss Robichaux's Academy.
Some fans love it. Others, not so much. At the r/AmericanHorrorStories subreddit, u/hateyoutillforrever posted a TikTok of a young Myrtle Snow (played by Ellie Grace Pomeroy here, but famously portrayed by Frances Conroy in "Coven" and "Apocalypse"), putting on her glasses with the header "Such a cool moment for us OG fans." This apparently stuck in a now-deleted user's craw, and they let the original poster know it. "This is why the show never improves," they wrote. "Y'all lap up every callback, every reference, every cameo. First it was Murder House and now they know to keep throwing Coven out there and you'll be satisfied."
Treating, pandering, or mocking?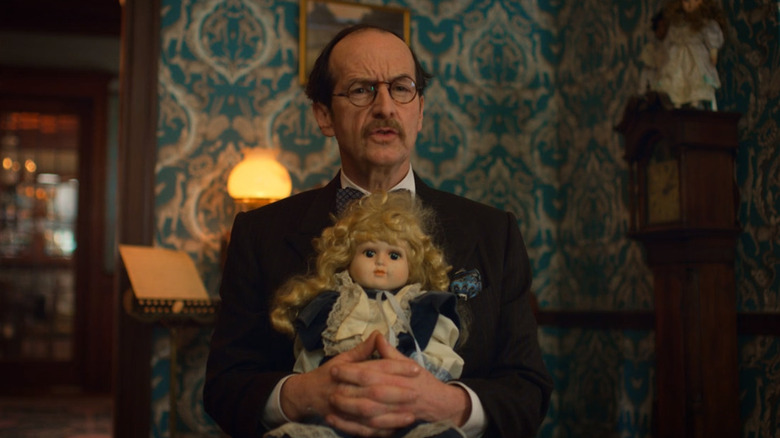 FX/Hulu
This reaction was perhaps a little harsh, and some users on the subreddit chimed in to say as much. Others, however, thought that the commenter had a point. "It seemed very desperate, and the ages don't even seem right," wrote u/anony804. "But I'm glad some of y'all enjoyed it!" Meanwhile, u/reeses-creases said that Myrtle's red hair and the mention of her name would have been enough, and that the addition of her signature glasses "came off as so cheesy and ruined the ending for me personally."
This wouldn't be the first time that viewers of "American Horror Stories" found these kinds of references grating. After the Season 1 finale — which further referenced "Murder House" by giving Scarlett (Sierra McCormick) and Ruby (Kaia Gerber) a happy ending, only to reveal that the happy ending was basically a "Murder House" video game — some viewers on Reddit floated the theory that Ryan Murphy and Brad Falchuk were essentially mocking fans, blowing a raspberry to criticisms of the show and saying that they can do whatever they want with their own creation.
Then again, "Coven" has proven to be among the most enduring and iconic stories in the "AHS" canon. It holds a solid 85 percent score on Rotten Tomatoes and remains one of the best-rated seasons to date. It's not hard to believe that Murphy and Falchuk might genuinely think that a clever callback will be well-received, though there's a fine line between giving fans a treat and simply pandering to them. Where that line is drawn is, ultimately, very subjective.