Are Walton Goggins And Timothy Olyphant From Justified Friends In Real Life?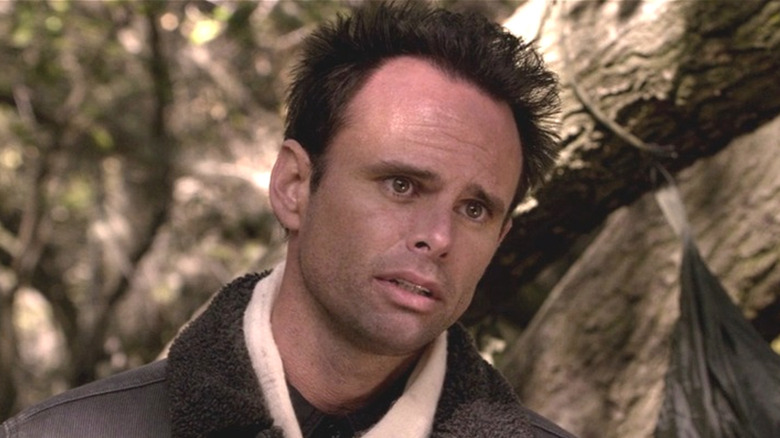 FX
Actors Walton Goggins and Timothy Olyphant teamed up for six unforgettable seasons on the FX neo-western "Justified." The series' pilot is based on author Elmore Leonard's short story "Fire in the Hole," and it tells the story of the charismatic U.S. Marshal Raylan Givens (Olyphant). The police officer finds himself returning home to fight crime in his native stomping grounds of Harlon County, Kentucky, and it's there that he comes across his oldest friend and the devil-may-care white supremacist, Boyd Crowder (Goggins).
Quite by coincidence, Goggins and Olyphant met one another at an NBA game before they started working together on "Justified." The chance encounter happened when the pair bumped into one another in the parking lot of the Staples Center while watching the Los Angeles Clippers. "We've been pretty tight from the beginning," Olyphant said during an interview with Esquire in February 2014.
"We talk often," Olyphant continued. "I have a tremendous amount of respect for him. He's a good guy. I don't think a week goes by without us talking about the direction of the show and the characters." So, while U.S. Marshal Givens and the shady Crowder find themselves at odds on many occasions, Goggins and Olyphant were fast friends away from the "Justified" set.
Goggins and Olyphant are 'tight'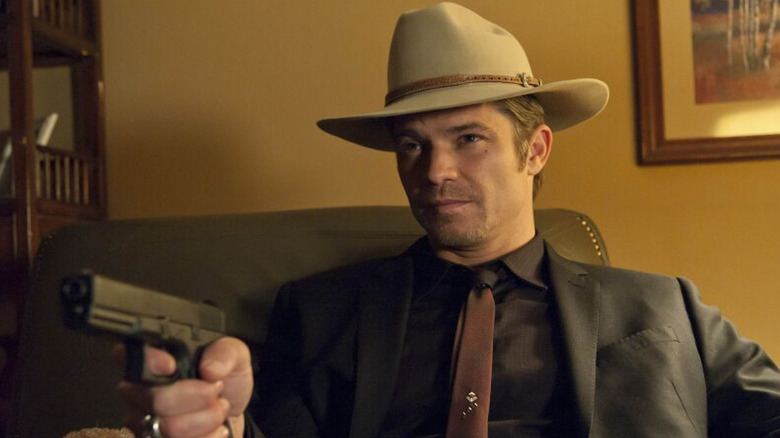 FX
Walton Goggins and Timothy Olyphant toe different sides of the law in FX's "Justified." Marshal Raylan Givens (Olyphant) loses his job in Miami after his involvement in a lethal but justified shooting. However, the former Kentuckian finds himself relocated and fighting crime in his hometown — and at odds with one of his oldest friends, Boyd Crowder (Goggins). Unlike their characters, though, the actors are genuine buddies in real life without any criminal antics to muddy the waters between them.
"I love him," Olyphant said during his 2014 interview with Esquire. "He's not only a tremendous actor, [but] he's so invested in his character. And that's what you're looking for. Five years in, he's not just showing up, asking people what to say and where to stand." Their friendship was also visible during the advertising campaign that afforded one lucky fan the opportunity to watch the "Justified" series finale with the show's leads.
In a video made for the campaign, Goggins joked that his friend talked too much, and then Olyphant reciprocated. "What's it like to hang out with Walt?" Olyphant asked during the promo. "He's late a lot." The two men's humorous rapport shined through during the promotion, and it's clear that Goggins and Olyphant's real-life camaraderie is more than justified.