Young Sheldon's Creators Think The Show Only Happened Thanks To Iain Armitage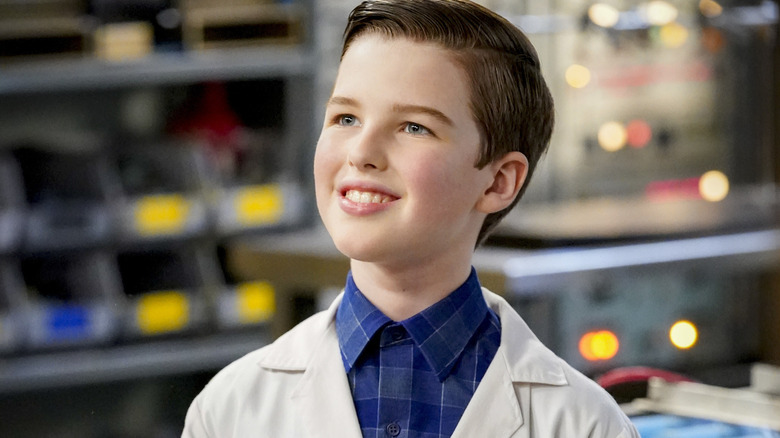 Robert Voets/CBS
After 12 hilarious seasons of "The Big Bang Theory," the spin-off prequel "Young Sheldon" takes the center stage to tell a heartwarming tale about growing up in Texas. The series recruits a stellar cast to bring Sheldon's family to life with Iain Armitage as the titular adolescent genius. As the star of the show with big shoes to fill, the creators credit Armitage as the essential glue that holds it all together.
"Young Sheldon" has come a long way over the course of its series run with the idea going all the way back to 2007. As it passed the landmark 100 episodes point, this momentous occasion was celebrated on set. Entertainment Tonight interviewed the series' creators and they praised Armitage at length as the key to the show's success. Co-creator Chuck Lorre applauded the young star, telling ET, "We don't have a show unless we found Iain. If we hadn't found Iain we wouldn't be standing here today."
Lorre also added that the entire ensemble is "wonderful" and "remarkable" when reflecting on the milestone achievement. His fellow co-creator Steve Molaro had even more kind words about Armitage and his talented cast mates, who help make "Young Sheldon" so successful.
The creators also shout out Armitage's fellow cast members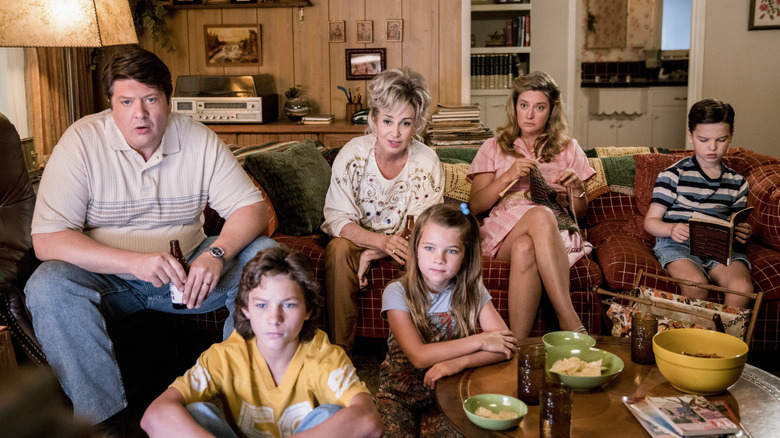 Michael Desmond/CBS
The extraordinary chemistry that the cast of "Young Sheldon" shares makes them appear even more like a family on-screen, propelling the series to even more success. Chuck Lorre continued expressing his love for this exceptional crew, "The whole journey, the entire cast has been a joy to work with. That gets said a lot but it's often a smoke screen for the horrible reality, but it's not here. This has been a wonderful environment." This aspect is even replicated on-screen through the loving and accepting family that helps guide Sheldon as he navigates his unique childhood.
Co-creator Steve Molaro, who originally was not a fan of the series title, reminisced on the earliest days of filming in celebration of the achievement. He reflected on working with the young kids and commends their efforts that made the experience easy and enjoyable. "When [Iain Armitage] was eight years old, he was so small. I look back on the older episodes, I can't believe how tiny these kids were and how we managed to get a show done," he said. This is a huge testament to the work ethic of the young actors and the supportive atmosphere on set that allows everyone to do their best work.
This element, coupled with Iain Armitage's incredible performance, has led to "Young Sheldon's" successful run that follows in the footsteps of its beloved predecessor "The Big Bang Theory."