D&D: Honor Among Thieves: It's Time To Talk About Holga's Ex (& That Cameo!)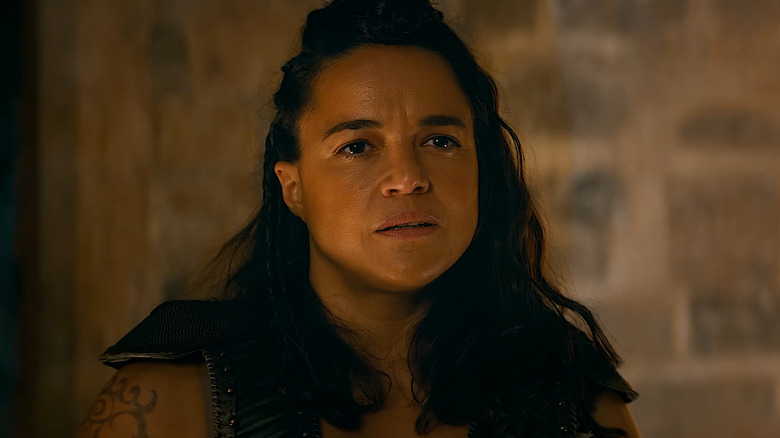 Paramount Pictures
Contains spoilers for "Dungeons & Dragons: Honor Among Thieves"
In the absolutely stacked cast of "Dungeons & Dragons: Honor Among Thieves," it's hard to choose one performance as the standout. However, Michelle Rodriguez makes a compelling case, playing the laid-back but strong-as-hell barbarian Holga Kilgore. Her friendship with Edgin Darvis (Chris Pine) is one of the best parts of the movie, but that's not the relationship that's on everyone's mind as they walk out of the theater.
No, instead, the talk of the tavern will be Bradley Cooper's cameo as Holga's halfling ex-husband. She left her clan to be with him, but their marriage quickly fell apart as Holga missed her family, using both losses as a source for her barbarian rage. Cooper's surprise appearance is sure to garner laughs from audiences, but they won't stick around for long, as the cameo also gives "Honor Among Thieves" one of its more emotional scenes.
Both the barbarian and the halfling recognize that they've done as much as possible to hold onto their marriage, but it just wasn't in the cards for them. Cooper's character has moved on with a new wife and only hopes that Holga can find the family she desires, showing the two will always have love for one another. Thankfully, she does find happiness, forming a family with her fellow thieves, and the ending teases another halfling in her sights, proving that, if one thing's certain, Holga loves a short king.
Holga is the emotional backbone of Honor Among Thieves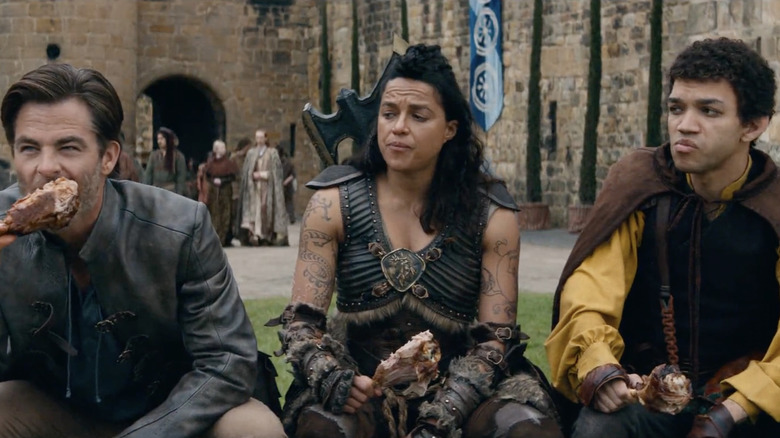 Paramount Pictures
"Dungeons & Dragons: Honor Among Thieves" will make audiences laugh, and while that's a feat of its own, its ability to mix comedy with heart and action sets it apart from most blockbusters, and Holga brings a lot of those emotions to the table. 
Her reunion with her ex-husband perfectly showcases how directors John Francis Daley and Jonathan Goldstein subverted expectations with their barbarian character, showing there's more to the "D&D" class than unbridled rage. Instead of relying on pure anger, Holga channels her strength through the emotional heartbreak she's been through with Bradley Cooper's character and the loss of her clan. It's an incredible change that Daley, Goldstein, and Michelle Rodriguez deserve all the credit for bringing to life. It makes her barbarian much more compelling and emotional, something no one expected to see coming into "Honor Among Thieves." "I think people will be satisfied with her battle rage," Rodriguez told Den of Geek, and players will certainly appreciate how they incorporated that ability into the movie. 
Holga's emotional arc comes full circle after Edgin uses the tablet to resurrect her after their battle with Sofina. It's then that she recognizes she's had the family she's always wanted, with her long-time friend — and co-parent — choosing to bring her back over his wife. During an interview at SXSW, Daley emphasized the importance of character arcs, saying, "[The script] was something we spent a lot of time on, making sure that each of the characters had something to say, they were unique in their own right, and they also had an arc." It's safe to say that "Honor Among Thieves" gives fans the most interesting interpretation of a barbarian yet.