Solo: A Star Wars Story: How Jack Nicholson Influenced Alden Ehrenreich's Performance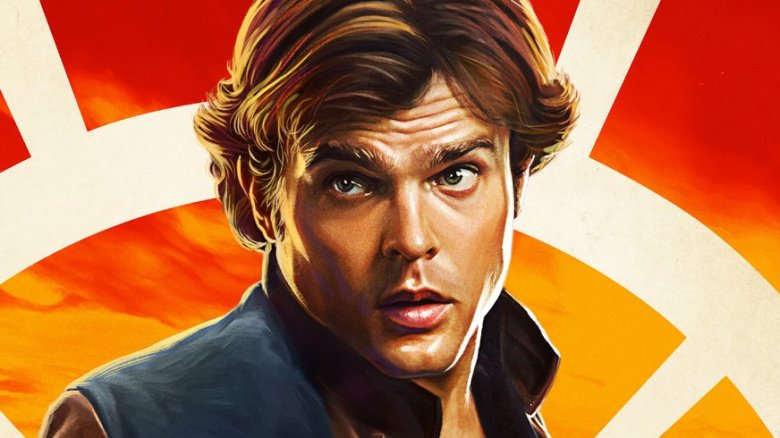 Walt Disney Studios Motion Pictures/Lucasfilm Ltd.
In Solo: A Star Wars Story, young Han Solo actor Alden Ehrenreich wasn't supposed to do a spot-on impersonation of Harrison Ford, the man who originated the iconic space smuggler. Instead, the fresh face in the franchise was meant to bring his own flair to the character, something that first reactions and early reviews claim he does extremely well, but even still, hints of a famous actor made their way into Ehrenreich's performance. 
Anthony Breznican of Entertainment Weekly picked up on the similarities between Ehrenreich's Han Solo and veteran actor Jack Nicholson. "There's something of a Jack vibe about Ehrenreich that seems to capture what it would be like to see Nicholson in the role as the in-over-his-head space smuggler," Breznican wrote, also noting that Star Wars creator George Lucas was reportedly considering Nicholson for Han Solo back in the day, when Nicholson was coming off his Oscar win for One Flew Over the Cuckoo's Nest. 
Casting director Fred Roos, who aided Ehrenreich in scoring his first movie role and worked with Harrison Ford in the 1970s, noticed the similarities between Ehrenreich and Nicholson as well, writing in a past New York Times profile, "One of my oldest friends in the business, who's a movie star that never fit any mold, is Jack Nicholson. Alden kind of has the Jack personality from the get-go."
When Breznican had the chance to interview Ehrenreich and fellow Solo actor Joonas Suotamo, who portrays Han's co-pilot and best buddy Chewbacca, he asked him about the connection. Ehrenreich mentioned that any similarities weren't exactly intentional, but did gush that Nicholson has been one of his favorite actors throughout his entire life and admitted that his admiration for the star probably had some sway on his performance.
"Actually when I met Fred Roos when I was 17, Five Easy Pieces [starring Nicholson as Robert "Bobby" Eroica Dupea] was probably my favorite movie," he said. "And I met him, and the first thing I said to him when I met him was, 'You're the first person I've met who was a part of one of my favorite movies, and I just wanna say thanks.'"
Ehrenreich added that certain elements of Nicholson may have snuck into his take on Han Solo without him consciously knowing it: "That's probably somewhere. It's not totally unlike that."
We can find out just how much Nicholson swagger is infused into Ehrenreich's young Han Solo when the film, also starring Donald Glover as Lando Calrissian and Emilia Clarke as Qi'ra, opens on May 25.