Jonathan Majors' Arrest - What This Could Mean For Kang's Future In The MCU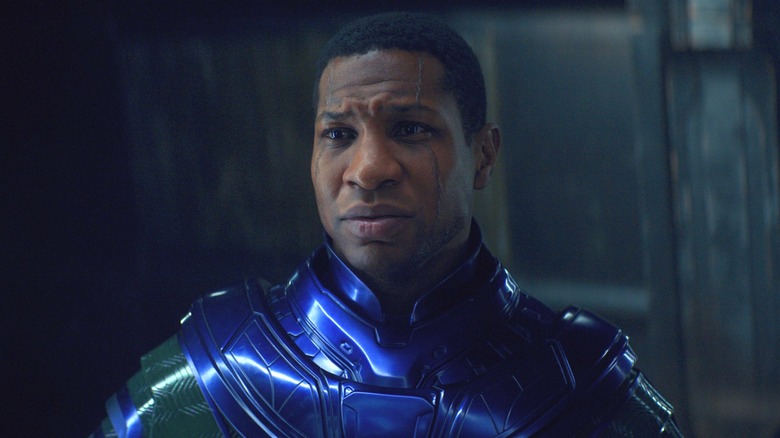 Arturo Holmes/Getty Images
Update 1:25 p.m. EDT March 26, 2023: Criminal defense lawyer Priya Chaudhry told Variety Jonathan Majors' innocence will be proven through video evidence, and his team expects charges to be dropped entirely and imminently. 
On Saturday, March 25, actor Jonathan Majors was arrested in New York after a domestic dispute with a 30-year-old woman, whom TMZ claims is the actor's girlfriend. The victim received minor injuries while Majors was placed under arrest on charges of assault, harassment, and strangulation. Majors' representative says the actor is not guilty of the act, telling the Associated Press, "He has done nothing wrong. We look forward to clearing his name and clearing this up."
Majors has been one of the industry's fastest-rising talents, with notable projects under his belt, such as "Da 5 Bloods," "The Harder They Fall," and most recently "Creed III." Perhaps most notable of these is Majors' role in the Marvel Cinematic Universe as the franchise's new main antagonist, Kang the Conqueror, along with his many variants. As the new big bad of the MCU, Majors' Kang was expected to have a heavy presence in Phases 5 and 6. Despite the actor's team claiming his innocence in the dispute, this shocking news could shake up the MCU entirely, especially if Majors isn't entirely vindicated.
Jonathan Majors could potentially leave the MCU after his arrest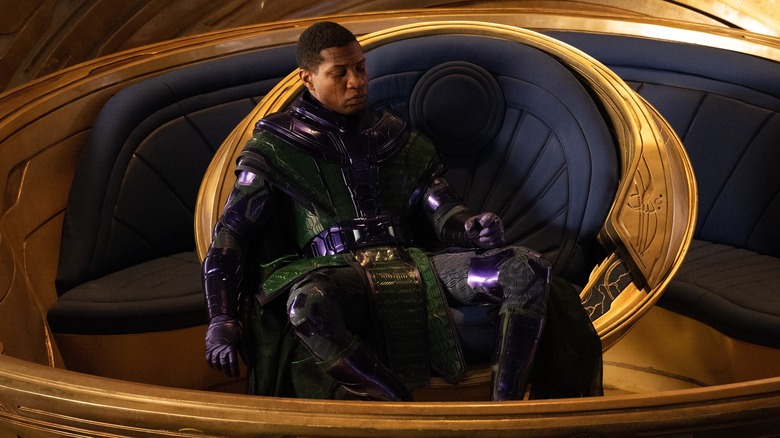 Disney/Marvel Studios
Introduced in the Marvel Disney + series, "Loki" as Kang variant He Who Remains and later showing up as Kang the Conqueror for the film "Ant-Man and the Wasp: Quantumania," Jonathan Majors' appearance in the Marvel Cinematic Universe was meant to unleash a new breed of terror to the franchise. While the character gave Scott Lang (Paul Rudd) a run for his money in "Quantumania," his true impact on the future of the MCU's Phases 5 and 6 has yet to be seen, as the mid-credit scene to the third "Ant-Man" reveals the countless number of variants preparing to start a multiversal uprising. This is only meant to be a sign of things to come, as near the end of Phase 6 will be seeing Kang take on Earth's mightiest heroes as the titular adversary in "Avengers: The Kang Dynasty."
Should Majors be found guilty of his abuse allegations, however, we probably won't see him back in the MCU again. While the long-running franchise hadn't seen much in the way of actor controversy beforehand, the studio's firing of such key figures as longtime producer Victoria Alonso for contract breaching suggests that the company takes its legal matters very seriously. Additionally, Disney cut ties with James Gunn in 2018 after offensive tweets resurfaced, but the director was brought back on a year later. 
But even if Majors is out of the picture, that doesn't mean it's the end for Kang.
What does this mean for Kang?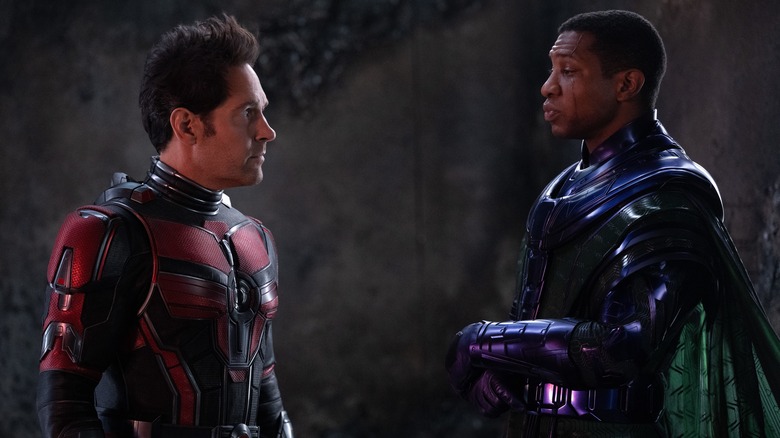 Disney/Marvel Studios
Jonathan Majors' assault charges could very well close the curtain on the actor's time in the Marvel Cinematic Universe. However, the character of Kang can still thrive in the franchise's future. As mentioned earlier, the mid-credit scene of "Ant-Man and the Wasp: Quantumania" reveals Kang's endless army of variants. While some may already be used to seeing Majors as the power-hungry antagonist, it's possible that another actor could replace Majors in the role with relative ease as another variant.
Remember that Kang, while having been an infamous member of Marvel's extensive rogue gallery for decades, is a new addition to the MCU. As audiences are still growing accustomed to the character and his abilities, having it explained that Kang's variants could take on entirely different forms could work without being too jarring. At this time, the only Kang variants we've seen have all been played by Majors, but it definitely doesn't have to stay this way if Marvel Studios needs a believable way out. As proven in "Loki," variants of a character don't have to look remotely the same (or be the same species, for that matter), so it wouldn't be the MCU's first time taking this approach. Simply re-casting Majors with another actor would be the easiest and cheapest way out. Time will tell how this troubling scenario progresses, but the MCU certainly has options should they need them. 
If you or someone you know is dealing with domestic abuse, you can call the National Domestic Violence Hotline at 1−800−799−7233. You can also find more information, resources, and support on their website.