Jonathan Majors' Kang In Ant-Man 3 Tested Higher With Viewers Than Any Other MCU Villain
Walt Disney Studios Motion Pictures
The Kang Dynasty looms, as does the arrival of "Ant-Man and the Wasp: Quantumania." Actor Jonathan Majors has been tasked with becoming the Marvel Cinematic Universe's next big bad in Phases 5 and 6. 
True, the actor has some gauntlet-sized fists to follow, but unlike Thanos (Josh Brolin), Major's Kang the Conqueror doesn't need the Infinity Stones to wreak havoc on the MCU. As dangerous as Kang might turn out to be when he squares off against Ant-Man (Paul Rudd) and the Wasp (Evangeline Lilly) in "Quantumania," Marvel fanatics haven't seen anything yet. 
"This is not an 'Avengers' film," Majors told Deadline at the movie's Los Angeles premiere. "It's not as if Kang is going up against multiple Avengers, which we are looking forward to. He's going up against one. This particular Avenger, Scott Lang ... is, in my opinion, our most humble, our most human hero going up against essentially the biggest bad of the phase. You learn so much, and that chemistry begins to push the phase forward." 
The initial response from critics doesn't seem too promising, though, and the early reviews have resulted in a rotten rating of 55%, at the time of this writing. Regardless, the fans of the MCU are more than ready to hail Kang's arrival.
All hail Kang, the conquering villain!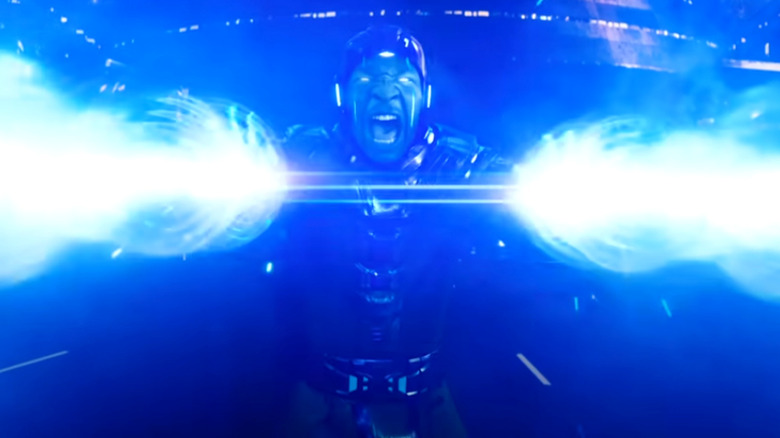 Walt Disney Studios Motion Pictures
Phase 4 of the MCU may not have offered fans the best allotment of films Marvel has to offer, but at least Spider-Man (Tom Holland) and Shang-Chi (Simu Liu) shined. Now with the release of "Ant-Man and the Wasp: Quantumania," Phase 5 finally has a true through line being tugged by a formidable villain. Even Marvel Studios President Kevin Feige says Jonathan Major's Kang the Conqueror tested through the roof with audiences.
"In the early days of 'Quantumania' [test audiences], Jonathan started to pop in a big way," Feige said during an interview with Entertainment Weekly. "He's the highest-testing villain we've ever had in any of our friends and families [screenings]. That's really saying something with a movie like this. Even early on without the effects, Jonathan is his own effect. He was working from the start."
Feige also told EW there's always a risk when the studio lays out its plan and centers an entire slate of movies around a character that is largely unknown. It may come as a bit of a shock that despite only one other iteration of Kang — which Majors portrayed in the "Loki" Season 1 finale "For All Time. Always" – appearing prior to "Quantumania," the majority of the fandom is already all-in on him. 
"People really seem to be on board for Kang," Feige said. "People are chanting, 'Kang!' when Jonathan goes on talk shows, and they haven't even seen him in the movie yet!"