AHS' Sarah Paulson Says Steven Spielberg's Advice About Directors' Shoes Is Key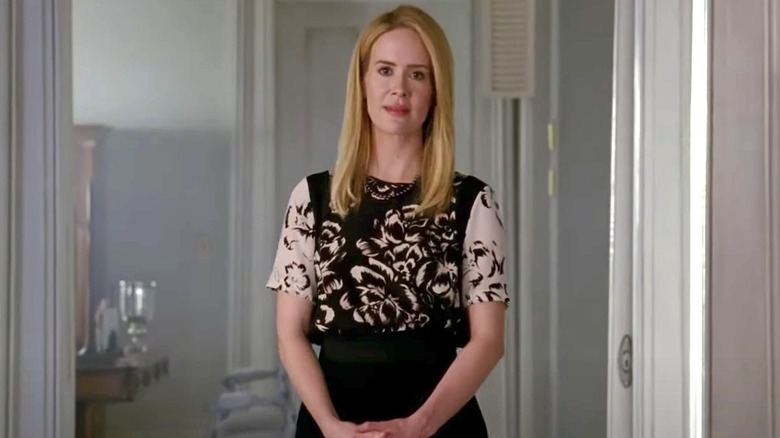 FX/YouTube
At this point in her decades-long career, there's very little that Sarah Paulson hasn't done on screen, and she's done arguably more than any single actor has on the set of "American Horror Story." Paulson has been a mainstay of the hit anthology series since it debuted in 2011, appearing in every season thereafter save for its ninth. During her time on the show, Paulson has indeed been tasked with playing more characters than some actors get to play in their entire careers. But even "AHS" diehards may not realize Paulson has worked behind the scenes on the series as well.
She served as an executive producer on Season 10 of "American Horror Story," and for one Season 8 episode, Paulson was also calling the shots from the director's chair. Said episode was the actor's directorial debut. Though it found her working with a cast and crew she'd become exceedingly familiar with over the years, during a 2018 interview on "Jimmy Kimmel Live," she said, in no uncertain terms, "It was the hardest thing I've ever done." Paulson went on to admit she picked the brains of M. Night Shyamalan and Ryan Murphy prior to helming the episode. It seems the best and most unexpected piece of advice she got about directing came from Steven Spielberg, who said every director should be sure to change their shoes during their lunch break.
Paulson was surprised how on-point Spielberg's unexpected advice proved to be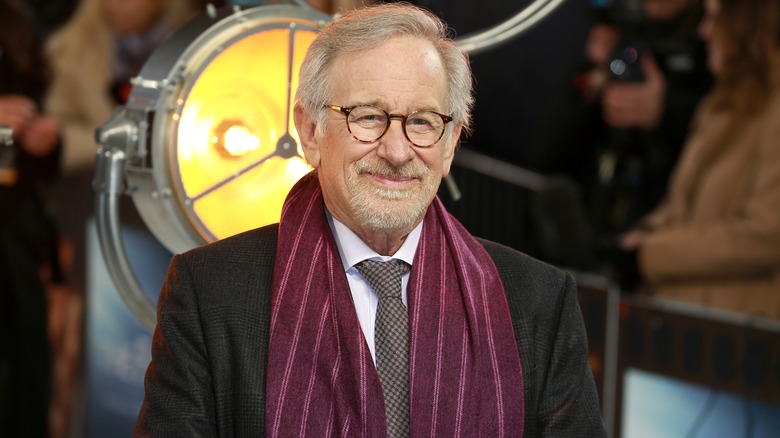 Fred Duval/Shutterstock
Though she'd worked with Steven Spielberg on the underrated 2017 drama "The Post," Sarah Paulson noted she hadn't exactly called the legendary director up for advice before helming her episode of "American Horror Story." Rather, she learned the insider's trick during a Director's Guild of America–sponsored class that is apparently required for first-time directors. When Paulson dropped Spielberg's shoe-changing tactic on Jimmy Kimmel, even she had to admit it, "Seems like a bizarre thing."
Kimmel clearly agrees it's a genuinely odd concept, but Paulson assured him, "Yeah, but it's a real thing." She went on to add she was surprised at how effective the method actually is. "You're on your feet. And I don't know what it is," she says, adding, "there's just something about the pep in your step when you come back from lunch in a fresh pair of shoes." As it was, Paulson apparently decided to take matters one step further and began changing into fresh socks during her lunch break as well. "Socks too," she exclaimed, adding, "No one told me that."
The pair go on to joke about what a seemingly innocuous piece of advice that is coming from a filmmaker of Spielberg's esteem, but you probably don't get to the level he's at without learning to take care of yourself on a film set. As for Paulson, as of this writing, it seems directing was a one-and-done sort of gig. If you've seen her episode of "American Horror Story," we should all be hoping she takes another stab sooner rather than later.