American Pickers' Frank Fritz Once Spent $200 On A Damaged Teddy Bear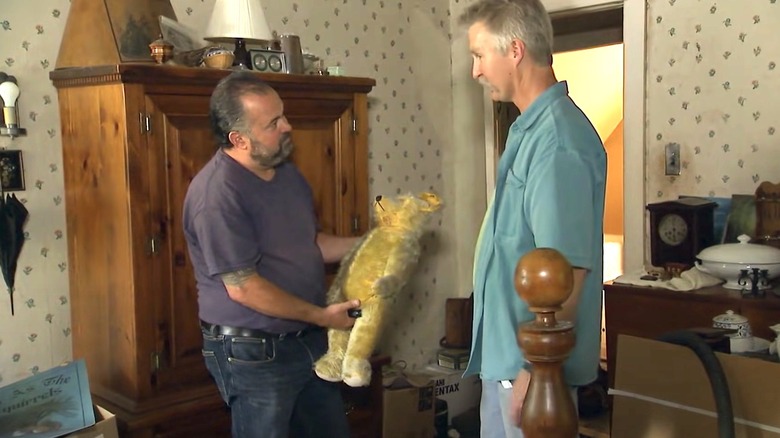 History/YouTube
More than a decade into its small screen run on History Channel, there's little Mike Wolfe and the "American Pickers" team haven't seen. There's even less the gang hasn't shelled out a few Benjamins for as they've combed the attics and garages of classic collectors, borderline hoarders, and light-dodging mole-men across the globe.
For much of the series' tenure, Wolfe was, of course, joined on the road by Frank Fritz, whose antiquing knowhow and picking acumen was every bit as impressive as his co-star's. Though Fritz's base of knowledge was relatively all-encompassing with regard to antique artifacts, he was very much the go-to guy on "American Pickers" when it came time to judge not only the potential age of vintage toys but also what sort of investment should be made in picking them. Over the years, Fritz more than excelled at digging uniquely desirable playthings for Wolfe to feature in the Antique Archeology showroom.
That list of items almost certainly includes an antique teddy bear Fritz came across while picking the storage room of a Massachusetts man named Brad during a Season 19 episode. Despite the bear being in, shall we say, less than good repair, Fritz still coughed up $200 for the chance to clean it up for a flip. And yes, it was probably one of the savvier picks he made.  
Even in its rundown state, Fritz believed the vintage bear was potentially worth a pretty penny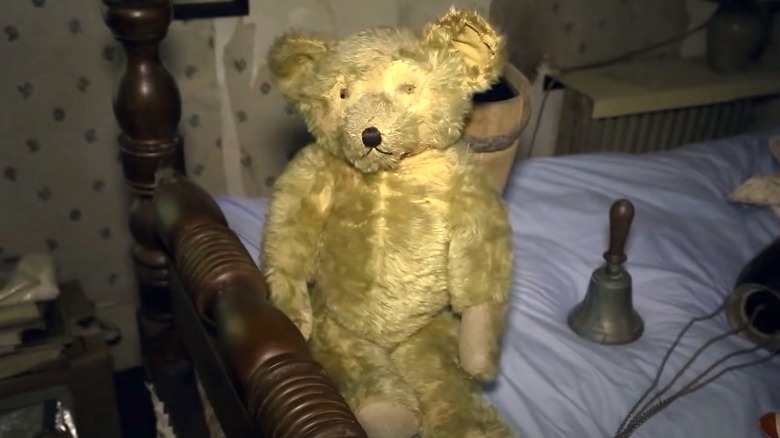 History/YouTube
To be clear, "less than good repair" actually mean pretty well beat to hell. Frankly, the teddy bear in question looks more like the sort of thing you'd seen in a possessed doll horror flick. But as the saying goes, one man's nightmare fuel is another man's treasure. Frank Fritz's valuation of the rundown teddy bear was indeed very on point. In fact, he might've gotten a pretty good deal on the bear at just $200.
That's because he immediately recognizes the teddy bear as an authentic Steiff artifact. Upon pointing that out to the bear's de facto owner, Brad, he claims that even in its less-than-favorable state, it could still potentially fetch more than $400 on the open market. If you're wondering why, it's because Steiff is the company that actually invented the teddy bear in the early 1900s. Despite the fact that the teddy market was pretty much flooded by bears Stateside soon after, such items are still coveted by collectors.
Fritz is quick to note the bear in question is not an original Steiff from the early days, with Brad confirming it was his father's childhood toy, thus likely dating back to the 1920s. Fritz also comments on the toy having been exceedingly well-used. But even with an eye off, large patches of fur missing, and that tell-tale Steiff button detached from the bear's ear, he's happy enough to take it with him.