BTS Facts About The X-Files That'll Make You Want To Believe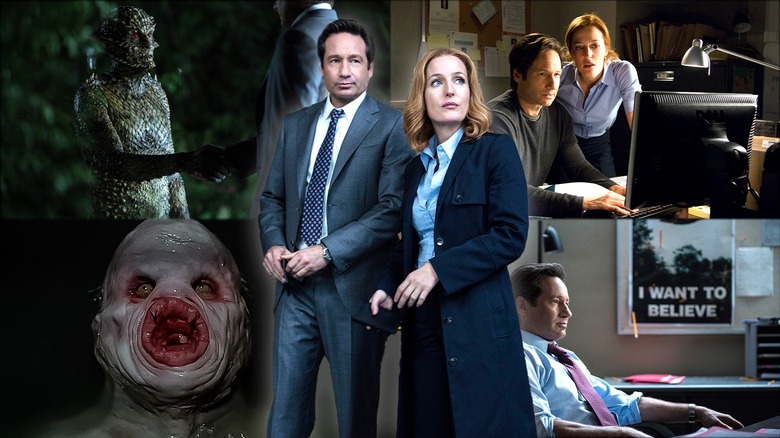 Static Media
There is no series out there quite like "The X-Files." With intrinsically compelling monster-of-the-week episodes and an epic, galaxy-shifting mythology, this series has it all. Primarily starring David Duchovny and Gillian Anderson as FBI Special Agents Fox Mulder and Dana Scully, "The X-Files" was decades ahead of its time in its approach to serialized genre television, serving as an interesting bridge between shows riddled with standalone episodes and those without. After airing for nine seasons on television — with a feature film smack in the middle — the series returned briefly to the big screen in 2008, followed by a shortened two-season revival less than a decade later.
More than anything, "The X-Files" challenged us to believe in something bigger, to connect the dots that we'd likely have ignored, and to fight the future — if said future is indeed worth fighting. Of course, there are dozens of reasons why we love Mulder, Scully, and the rest of the gang, but here are a few interesting case files you might not have read before. So sharpen your pencils and prepare to launch, because here are some behind-the-scenes facts about "The X-Files" you've got to believe.
Chris Carter was inspired by a short-lived horror series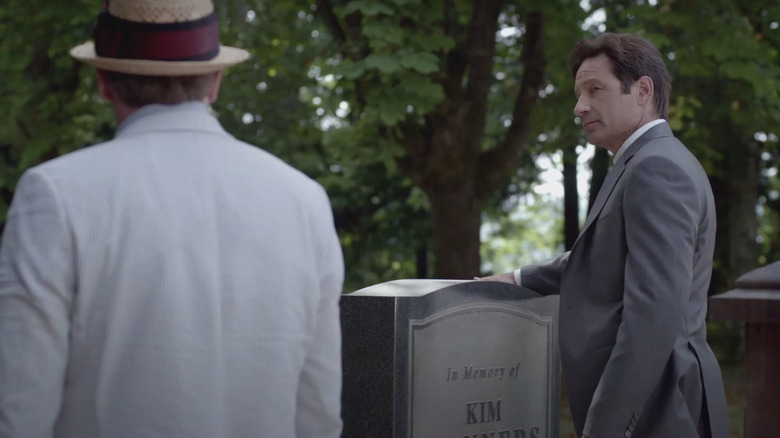 20th Century Fox
Long before Chris Carter pitched his sci-fi drama to Fox, he was inspired by the short-lived supernatural series "Kolchak: The Night-Stalker." First running as a duo of TV movies, "Kolchak" got his own 20-episode series on CBS in the fall of 1974. Played by Darren McGavin, Kolchak was an investigative journalist for Chicago's INS who specialized in the weird and unexplained. The reporter covered everything from vampires and werewolves to robots and, you guessed it, aliens. Perhaps unsurprisingly, the series didn't last terribly long. 
Yet Carter was inspired, and it wasn't long before the filmmaker developed a "Kolchak"-esque series which eventually became "The X-Files." In an interview with New York Daily News, Carter admitted that the goal of Mulder & Scully's paranormal shenanigans was to be even scarier than "The Night-Stalker." Plenty of "Kolchak" references made it onto "The X-Files" over the years, including casting McGavin as former FBI agent Arthur Dales, the man who started the X-Files in the 1960s and Mulder's source of inspiration. In "Mulder & Scully Meet The Were-Monster," the titular creature, when disguised as "Guy Mann," dresses just like the '70s reporter, right down to the trademark hat and suit.
David Duchovny didn't really leave the show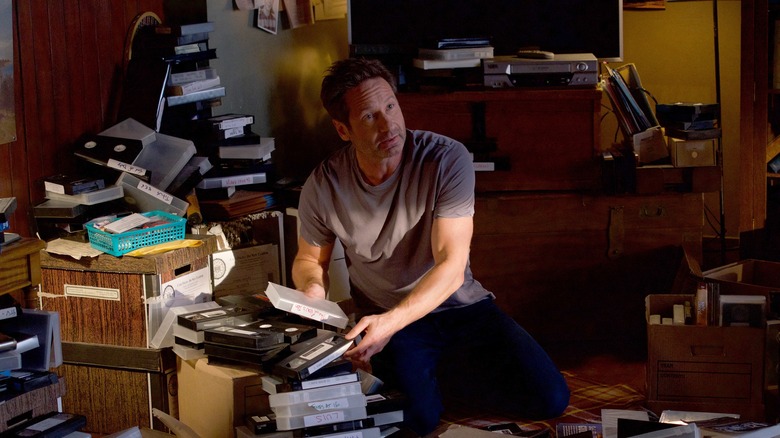 20th Century Fox
By the time "The X-Files" reached its seventh season, David Duchovny felt as if his time as Fox Mulder had come to an end. To be fair, Season 7 set itself up as the show's final hour, furthering a Mulder/Scully romance, giving Mulder closure regarding his sister's abduction, and effectively closing out the alien mythology story. It even bookended the season with Mulder and Scully's very first X-File together. So, when the series was renewed, no one really knew where "The X-Files" would go next. Nevertheless, Duchovny wanted out and was famously replaced by Robert Patrick's Agent John Doggett. 
Despite his refusal to return full-time, Duchovny was still heavily involved in the final two years of "The X-Files" initial run. In Season 8, Duchovny appears as Mulder in 12 of the 21 episodes, a far cry from flat-out abandoning the series. Admittedly, Duchovny is absent for the majority of Season 9, but the actor returned for the two-part series finale and even directed the 16th episode "William," on which he also receives a story credit and appears via an uncredited cameo. Mulder also shows up in "Jump The Shark" through archive footage, and obviously returned as Mulder for future films and seasons, proving that "The X-Files" always needed its leading man.
William B. Davis is a professional skeptic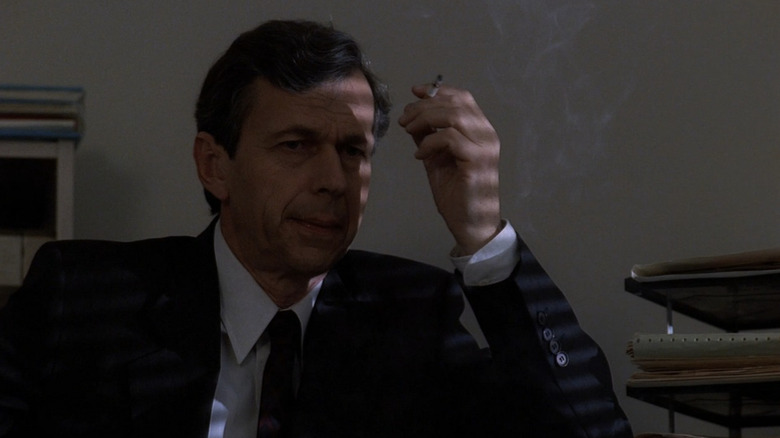 20th Century Fox
The Cigarette Smoking Man is, without question, one of the greatest TV villains of all time. Called the "CSM" for short, William B. Davis' most famous character is behind some of the most diabolical conspiracies imaginable. Though it may come as a surprise to fans of "The X-Files" to learn that Davis has no real interest in the paranormal. Not only is he a skeptic, but he prides himself in being one professionally. Davis has spoken at dozens of conferences highlighting ideas of skepticism. 
When speaking with The A.V. Club, Davis noted that "...the onus is on [believers] to prove that these things exist, not on me to prove that they don't. I don't have to prove why Santa Claus doesn't exist or why fairies don't exist or why UFOs don't exist." Attributing his skepticism to the Committee for Skeptical Inquiry, Davis has leaned heavily into his role as a skeptic. He even hosted the Discovery Channel docuseries "Critical Eye," which aimed to explain away apparent paranormal phenomena. No doubt, Davis is not a believer: He only played one on TV.
Real-world conspiracies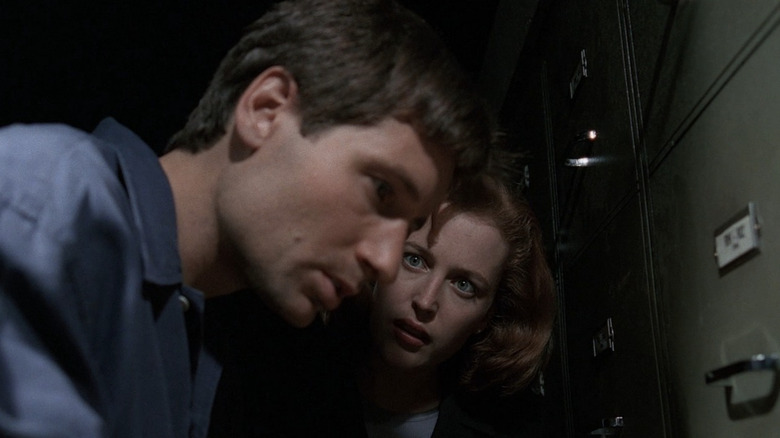 20th Century Fox
Conspiracy theories are all the rage nowadays. Some may be plausible, while others are outlandish, but there's no doubt that shows like "The X-Files" encourage us to raise a few eyebrows. While the series dove headfirst into the world of conspiracies, it's easy to write off every one of them as being fictitious. However, upon further speculation, there may be something to some of Mulder's ramblings after all.  Since the revival series ended, the Pentagon has officially disclosed hundreds of UFO reports, including among their own personnel, and some officials are now theorizing that an alien mothership may be watching us from the other end of the galaxy. 
No doubt, Mulder would have a field day in our post-disclosure world, though even the original series was ahead of its time. Episodes like "Paper Clip" highlight government secrets, such as Operation Paperclip, which conscribed Nazi scientists to work for America following World War II. Likewise, "The Pine Bluff Variant" sees Mulder infiltrate a terrorist cell that turns out to be a cover for a government bioweapons test — Not too far off from the FBI paying informants to stir potential terrorists to criminal action. "The X-Files" was at its best when it reminded us that the truth was always way out there.
Scientists were involved in developing the show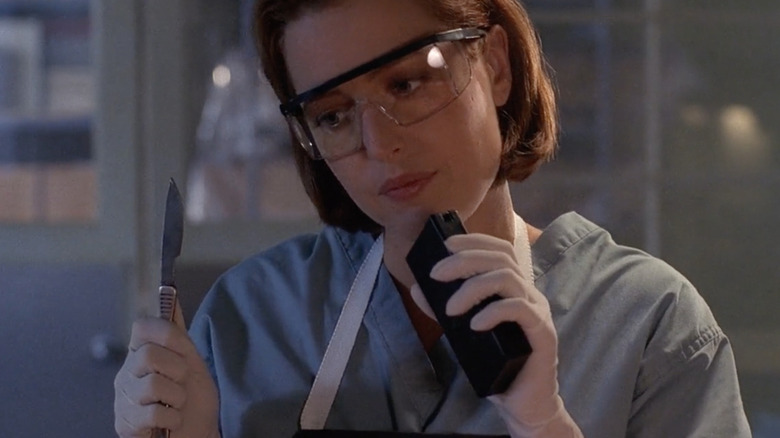 20th Century Fox
While "The X-Files" is fictitious in nature, there's plenty of truth woven throughout. Among these honest anecdotes is some real science that translates fictionally to different creatures, contagions, and projects throughout the series. When reflecting on the very first episode, Chris Carter told WIRED that he consulted his own brother, a professor at MIT, when it came to phrasing and terminology, saying that "a lot of the things that are in the pilot came directly from him." But Carter's brother wasn't the only scientific consultant on the series.
GeekWire cites University of Maryland microbiologist Anne Simon and Canadian virologist Margaret Fearon, amongst others, for their contributions to the behind-the-scenes science. These two also received story credit on the revival episode "My Struggle II" due to their support in bringing scientific validity to Carter's fictional Spartan virus. Following the conclusion of the original run, Simon wrote a book entitled "The Real Science Behind The X-Files," which highlights her role in the series, providing scientific explanations for many of the paranormal phenomena.
Stephen King wrote an episode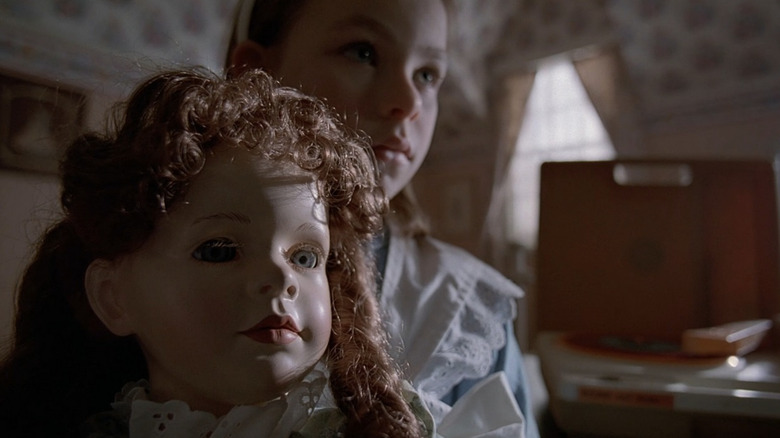 20th Century Fox
Okay, Stephen King actually co-wrote an episode of "The X-Files," but the prolific horror author's influence still stands. At the height of the show's popularity with fans and critics, they welcomed King onboard to tell a spooky tale. Like almost every one of his projects, the episode "Chinga" takes place in rural Maine, though this one focuses on a young girl and her terrifying demonic doll. Interestingly, this "Chucky/Child's Play" knockoff wasn't as well received as the acclaimed King had hoped, and is often referenced as one of the series' earliest missteps.
Nevertheless, King's episode has gone down in infamy. According to "Resist or Serve: The Official Guide to The X-Files, Vol. 4" by Andy Meisler, King approached David Duchovny as a fan, hoping to write an episode of the show. One thing led to another, and eventually, series creator Chris Carter hired the novelist for a single episode. Sadly, the king of horror's title didn't exactly translate to the small screen.
Scully was based on Clarice Starling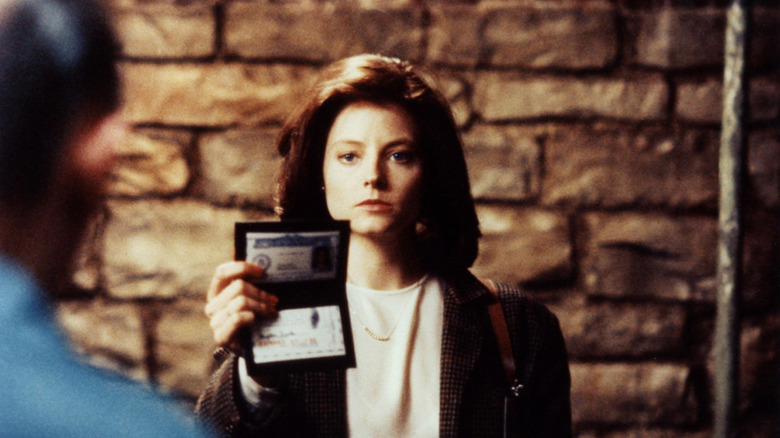 Orion Pictures
Because of the powerful impact that Gillian Anderson's portrayal of Dana Scully made on the entertainment industry, it's hard to believe that she may have been based on any one particular character. But when we consider that "The X-Files" first premiered in 1993, just two years after "The Silence of the Lambs," the connections are obvious. Early "X-Files" episodes paint Scully as a sort of Clarice-ish right off the bat, with Chris Carter commenting in Smithsonian Magazine that "it's not a mistake that Dana Scully has red hair like Clarice Starling."
Of course, Scully's work at the FBI and her constant drive to catch serial killers and monsters aren't too dissimilar from Foster's character, as mentioned in "Hollywood A.D.," though it's worth noting that Scully was only partially based on Clarice. "The idea [for Scully] came out of my religious background and my interest in science," Carter explained. Coincidently, Jodie Foster actually appeared on "The X-Files" later on: She voiced the murderous tattoo Betty in "Never Again," a wonderful Scully-centric episode.
A third movie was re-worked into the revival series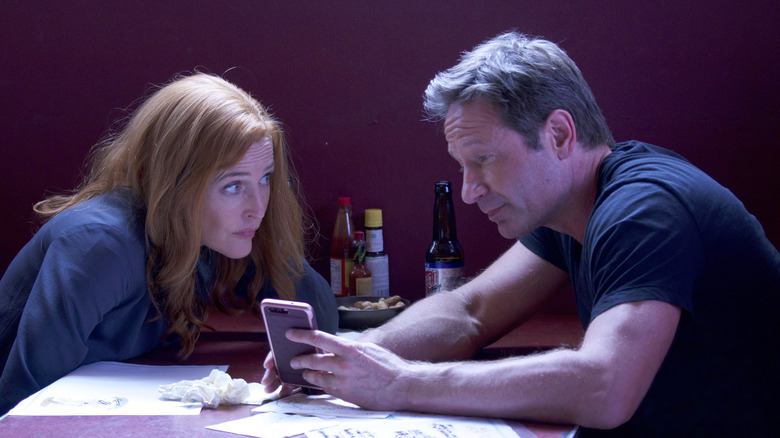 20th Century Fox
After the original series finale aired in 2002, "The X-Files" took a six-year hiatus until the release of the second feature film, "The X-Files: I Want to Believe." While many anticipated a return to the alien mythology story, especially in light of the prophesied 2012 colonization of Earth, the film went a different route entirely, opting to tell a standalone X-File in the same vein as a supernatural thriller. Following the film, Chris Carter told IGN that he was interested in revisiting the mythology in a third feature, though he wasn't taking another movie for granted. "There's a date in the 'X-Files' mythology — 2012 — that is very important," he said. "We'd certainly love to do something with that!" 
Both David Duchovny and Gillian Anderson expressed hopes to see the alien plot continued, but by 2014, Anderson no longer believed the invasion date was relevant. After the success of other revivals such as "24: Live Another Day" and "Heroes Reborn," Fox announced a six-episode event series instead, with Duchovny and Anderson returning to their iconic roles. Rather than a purely mythology-based story, the revival seasons bookend monster-of-the-week episodes with a longer arc, hoping to recapture the series' earliest (and most successful) seasons.
The series has alternate 10th and 11th seasons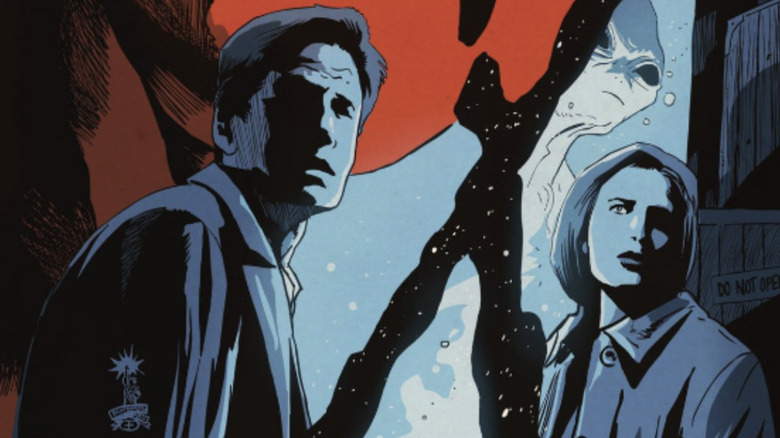 IDW
Prior to the release of the first revival season in 2016, "The X-Files" was at a standstill. The long-anticipated third movie was stuck in development hell, and nobody ever foresaw the return of Mulder and Scully to television. Then, in 2013, IDW released "The X-Files: Season 10," a comic book series written by Joe Harris and "executive produced" by none other than Chris Carter himself. After years of lost hope, fans finally believed "The X-Files" could return. The comics continued plot threads established at the end of the series' initial run, mainly the impending alien invasion and why Earth wasn't invaded after all.
"Season 10" was an exciting book that captured the spirit of the show, but when the revival aired on Fox, Harris' epic came to an end following the 8-issue "The X-Files: Season 11." The comics were largely well-received, and arguably treated the mythology with more respect than the revival did, making this an interesting (but forgotten) chapter in Mulder & Scully's history. To coincide with the revival, many of the arcs were adapted as Audible Originals, with Duchovny and Anderson reprising their roles. Sadly, they've since been removed from Audible's library, though the comics can still be found online.
Chris Carter's Millennium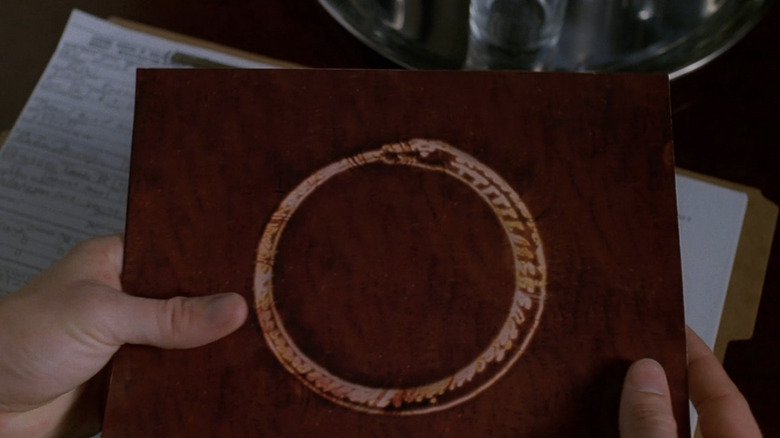 20th Century Fox
Did you know that Chris Carter had another mildly successful show that aired on Fox in the mid to late-1990s? Starring Lance Henriksen as former FBI profiler Frank Black, "Millennium" was a depressing delight. Set in Seattle, the show follows Frank and his family after he joins the Millennium Group, a doomsday cult of former law enforcement officers who consult on various homicides. The series, which ran for three seasons on Fox, was profoundly dark, which meant that the network didn't promote it as intently as they did "The X-Files." Though there were some crossovers between the two shows, they couldn't have been more different, though that was a good thing.
Sadly, the show was canceled after its third season, meaning that "Millennium" didn't even make it to the millennium, but that didn't stop Frank forever. His story concluded in "The X-Files" Season 7 episode "Millennium," in which he teams up with Mulder & Scully to stop the Group's final attempt to kickstart Armageddon before the year 2000 kicks off, "Night of the Living Dead"-style. Nearly 15 years later, writer Joe Harris resurrected the character for an arc in the "The X-Files: Season 10" comic book, which spawned a five-issue "Millennium" limited series.
The Lone Gunmen spin-off was eerily similar to 9/11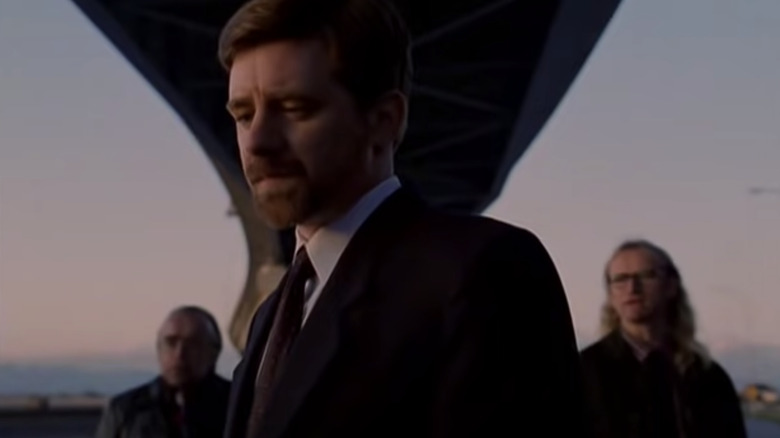 20th Century Fox
In early 2001, the fan-favorite recurring trio of Byers (Bruce Harwood), Langly (Dean Haglund), and Frohike (Tom Braidwood) found themselves starring in "The Lone Gunmen," a short-lived series which chronicled their adventures to expose our nation's darkest and most well-kept secrets. Featuring a fun blend of mystery and comedy, the series expands on the Gunmen's personal stories and made them a bit more interesting. But it was the pilot episode that made "The Lone Gunmen" most notable.
In the first episode, the Gunmen foil the plot of a band of rogue government operatives who attempt to crash a plane into the World Trade Center. These rogues were set to give a terrorist organization credit for the attacks and thus ignite a new war, one that would make the U.S. military a lot of money. If you think that this sounds eerily similar to the September 11th terrorist attacks, or at least some of the conspiracy theories about them, well ... you'd be right. What's spookier is that this episode premiered six months before 9/11, and the series soon fizzled out when the ratings plummeted, forcing the trio to finish off their arc back on "The X-Files."
The series led to Breaking Bad, Final Destination, and Supernatural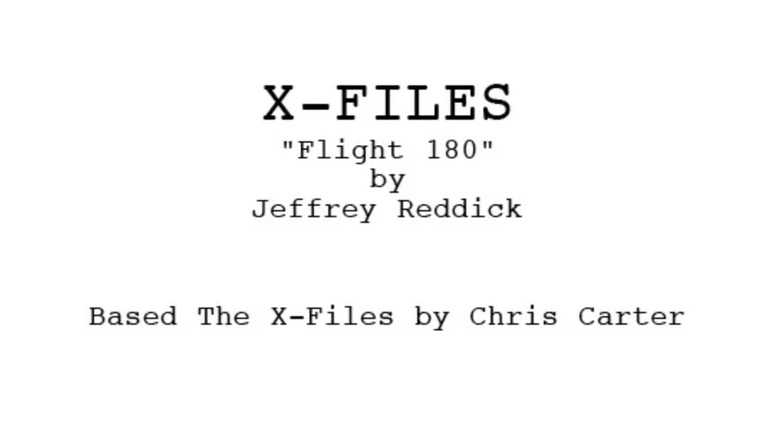 20th Century Fox
"The X-Files" was a source of inspiration for other projects, spawning plenty of other movies and television. "Final Destination," famously helmed by "X-Files" alums Glen Morgan and James Wong, was one of them. Morgan and Wong got involved after the creator, Jeffrey Riddick, had first written the idea as a spec script for "The X-Files." After Riddick was told to rewrite it as a feature film, "Final Destination" was born, with Wong and Morgan in tow. But this wasn't the only project helmed by "X-Files" alumni. Following the series finale, writers Vince Gilligan and Thomas Schnauz joked about starting a meth lab in a Winnebago and traveling throughout the Southwest, an idea that sparked Gilligan's first visions of "Breaking Bad's" Walter White (via The Guardian).
Once the series entered development, Gilligan — who had written 30 "X-Files" episodes previously — cast Bryan Cranston in the title role, who had previously guest starred in his "X-Files" episode "Drive." Likewise, director/producer Kim Manners moved on and soon found himself working alongside Eric Kripke on "Supernatural," a series already very similar to "The X-Files." It wasn't long before other "X-Files" crew members, including directors David Nutter and Thomas J. Wright, joined the show, which ran for 15 consecutive years on television.
Gillian Anderson is done with The X-Files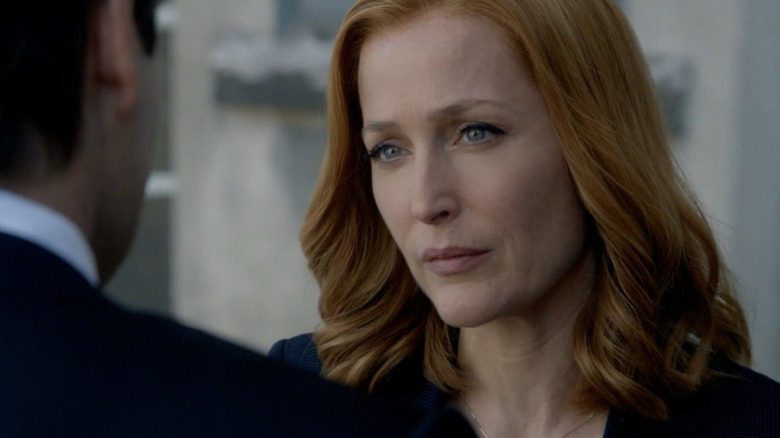 20th Century Fox
Not long after the second revival season aired in 2018, Gillian Anderson confirmed that Dana Scully's tenure on "The X-Files" had come to an end. Having stuck with the series through its entirety, including the initial nine-season run, two feature films, and two more victory laps, Anderson wanted to expand her career further. In 2022, when asked if she might ever change her mind again, the actress told Variety that, "it just feels like such an old idea. I've done it, I did it for so many years, and it also ended on such an unfortunate note."
Anderson explained that, if she were to return, she would want to see an entirely different writing staff with a "new and progressive" feel, likely due to the way she felt Scully's story ended. Though, to be fair, the final revival episode is a bit of a mess all the way around. But on the other hand, when interviewed by The Discourse Podcast, Anderson's co-star David Duchovny seemed a bit more open to reprising his role as Mulder. "For me coming back, it's always like, 'Well, what are the stories? What's the reason for being at this point?'" He concluded that if the right story were to be told, he'd be interested.
More spin-offs are in development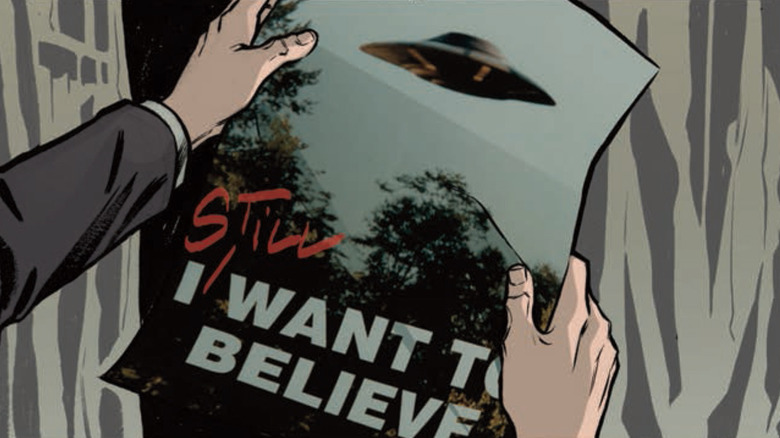 IDW
Though "The X-Files" has tried the spin-off route before, and even attempted to pass on the torch from Mulder and Scully to other agents (both in the original run and the revival), the series has never succeeded in growing into a larger franchise. But Chris Carter hasn't given up hope. Though Gillian Anderson is out, Carter has been working on some other "X-Files" projects that might not need our favorite leading lady. 
In 2020, "The X-Files: Albuquerque," an animated series about a group of agents tasked with working cases too weird or boring for traditional teams, was announced. While there hasn't been much news on that front in a while, especially once Disney acquired Fox, the project is still reportedly in development. Given David Duchovny's openness to returning, it seems plausible that we could see Mulder again at some point, possibly in animation, even if Scully is busy elsewhere.