Keanu Reeves And Chad Stahelski Created John Wick 4 While Drinking Whiskey In Tokyo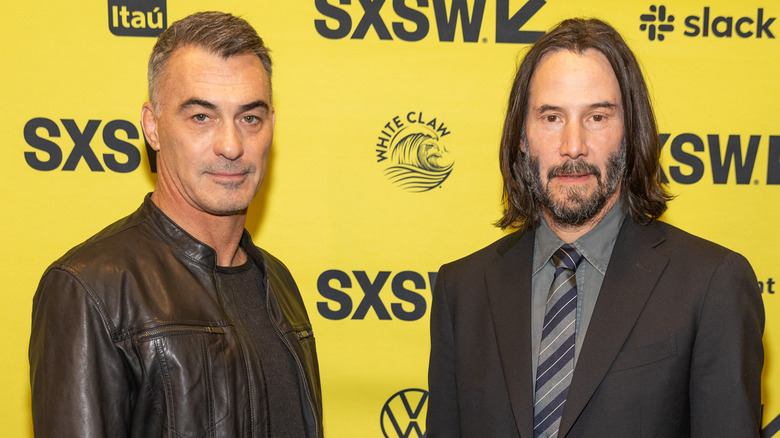 Rick Kern/Getty Images
We all owe a debt of gratitude to whiskey for bringing "John Wick: Chapter 4" to life.
After the highly successful "John Wick: Chapter 3 – Parabellum," was there any doubt that a fourth entry in the Keanu Reeves-led series would manifest? For the franchise's creatives, yes. In a recent interview with "The Big Picture" podcast, director Chad Stahelski revealed that "Parabellum" was intended to be the last film in the slick hitman franchise. That changed after he and Reeves started sharing whiskey in Tokyo during the threequel's Japanese premiere.
"Keanu and I finished number 3 and were like, 'Whew! We're good.' And then it was literally like 4 or 5 months later, the movie had come out, it had did what it did, people seemed to like it and we felt pretty satisfied at that one like, 'Okay. Whew. Dodged a bullet, we're all good, we're pretty content,'" Stahelski said. The director continued by explaining why most films typically open later in Japan than they do stateside. With the film opening so late in Japan, after it received considerable acclaim, both Reeves and Stahelski were at the Imperial Hotel bar, discussing their feelings about the franchise.
As their chat and drinks continued, ideas for a potential fourth film started popping up. "And then we're sitting there, we're in Japan, two drinks in you're like, 'What if John Wick met a samurai? Or a ninja? We should do an Osaka continental!'" Stahelski continued.
The duo figured out the basic idea for John Wick: Chapter 4 before they left Japan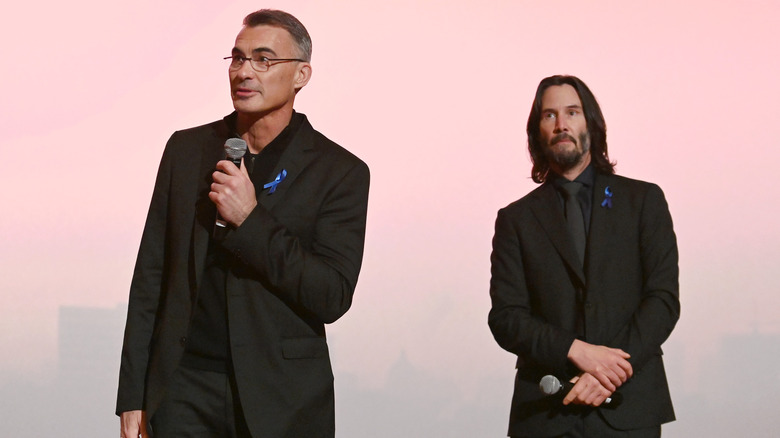 Jon Kopaloff/Getty Images
As the two continued drinking in Tokyo, they began to trade even more chaotic and "goofy" ideas. "And you're joking about it, drinking and we start, I guess our way to hang out and have fun is just riffing on goofy ideas, 'What if he was a cyborg? John Wick in space!' And you start having these ludicrous conversations." While "John Wick: Chapter 4" doesn't feature cyborgs or the titular hero heading to space, it does feature samurais and ninjas, as previously mentioned by Chad Stahelski.
Following their chat on that fateful evening, Reeves approached Stahelski with hopes to move forward with a fourth film. The duo then workshopped ideas for "Chapter 4" while in Japan, returning to America to pitch it to the studio. The fourth film in the "John Wick" franchise was initially set for a late 2021 release but the COVID-19 pandemic forced production to get pushed back. 
As it stands, "John Wick: Chapter 4" is the most well-received film in the franchise. In a positive review for Looper, critic Alistair Ryder wished that the sequel was longer despite Wick's latest offering running at nearly three hours. While it remains to be seen what's next for Mr. Wick, the film is expected to make a major splash at the box office, with independent tracking suggesting the film will boast an opening weekend debut of $70 million, per The Wrap. Looks like even the brass at Lionsgate have whiskey to thank.