Emilia Clarke's Final Game Of Thrones Scene Really Messed Her Up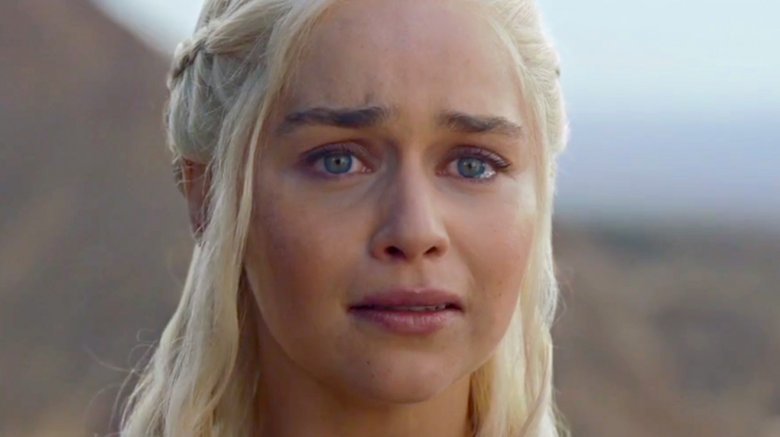 Game of Thrones has never been a happy-go-lucky, sunny-skies-and-tiny-puppies kind of show, but actress Emilia Clarke says her final scene in the series was all kinds of shocking. 
Clarke, who plays the silver-haired wannabe queen Daenerys Targaryen on the acclaimed HBO fantasy drama, told Vanity Fair that the last moments she spent on screen messed her up in a big way — and not only because it marks the end of the eight-season show, but also because of how viewers will remember Daenerys.
"It f***ed me up," the actress stated, adding that "knowing that is going to be a lasting flavor in someone's mouth of what Daenerys is" shook her to her core. 
Clarke's comments to Vanity Fair echo remarks she gave to Good Morning America and The Herald Sun (via Bustle) about Game of Thrones season 8. She told GMA, "It really is the most heartbreaking thing to be filming the last of anything. I've become an emotional wreck on set. They're like 'Emilia... it's okay,' and I'm like, 'But it's the last time!'" Clarke added in an interview with The Herald Sun that "people will scream, and people will say, 'That's exactly what I wanted,' and some people will go, 'Huh?'" when they watch the very last episode of Game of Thrones.
Of course, Clarke couldn't divulge any juicy clues as to what exactly Daenerys' final scene involves. We'll simply have to take her words at face value: the end of Dany's narrative in Game of Thrones' eighth and final season will be emotional, jaw-dropping, and likely even heartbreaking, too. 
The six-episode final season of Game of Thrones will premiere sometime in 2019.