Kit Young's Favorite Shadow And Bone Scene Was 'Pure Chaos' To Film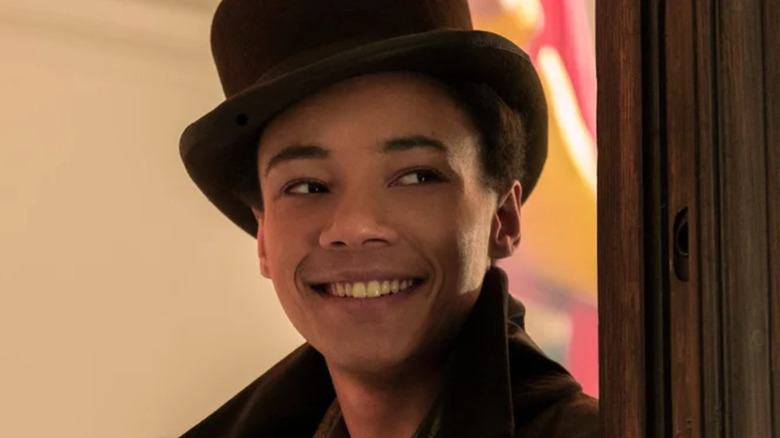 Atilla Szvacsek/Netflix
Kit Young portrays Jesper Fahey on the streaming series "Shadow and Bone." Created by author Leigh Bardugo in her young adult book series, Jesper is an integral cog in Netflix's Grishaverse as a member of the Crows Club. During Season 1, Episode 3's "The Making at the Heart of the World," Jesper and his fellow gang members Kaz Brekker (Freddy Carter) and Inej Ghafa (Amita Suman) take on a dangerous mission that requires them to travel across the infamous Unsea known as the Shadow Fold. The team's target: A powerful Grisha known as the Sun Summoner (Jessie Mei Li).
The Netflix series boasts any number of standout special effects sequences, but Young's favorite scene to shoot came in the aforementioned episode, which also featured the arrival of mascot Milo the Goat. "In terms of the pure chaos factor, and [due to] the fact that I still have a vulnerable temple from where it hit me in the head, [it was the goat scene]," Young revealed during a sit-down with Vanity Fair.
During the scene, Jesper boards a train with his fellow Crows to venture across the Fold with the Conductor, aka Arken Visser (Howard Charles). Unfortunately for the Grishaverse heroes, the train tracks haven't been completed, and the harrowing affair is further complicated by a nest of Volcra in the distance. This was by far the standout moment on the set of "Shadow and Bone" for Young.
Young loved the train scene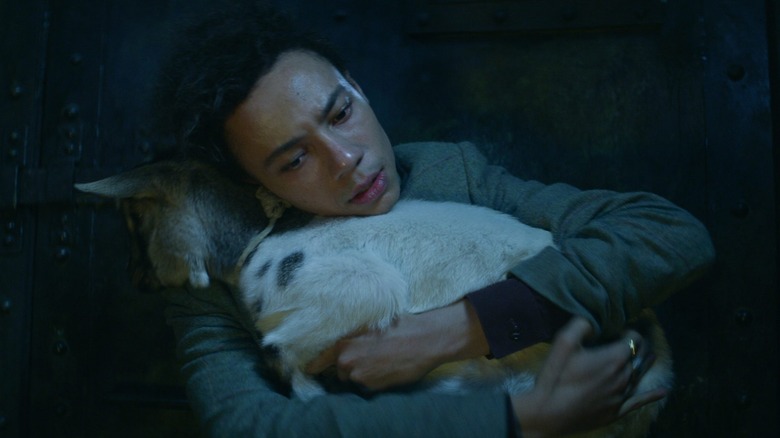 Netflix
In "The Making at the Heart of the World," Jesper and the Crows find their wobbly journey across the Fold complicated by the unfinished train tracks and that nest of neighboring Volcra. The Crows and the Conductor try and balance themselves to keep the train from careening off the tracks, with the gang members hoping to outrun the creatures as they attack. Kit Young had the best time shooting the sequence, during which his character holds onto the goat.
"We had a mental time," Young reiterated during his interview with Vanity Fair. "It was like three days of us in that box and we all lost our minds." As the Volcra converge on their victims, the Conductor implores Jesper to throw Milo off the train so they can maintain the locomotive's balance across the unfinished tracks. 
Jesper refuses to sacrifice Milo in order to keep the vehicle steady, so he pulls out his revolver and fights off the Volcra instead. It ends up being Milo's soothing presence that keeps Jesper from panicking in the moment. And it was the chaos that occured during the infamous goat sequence that made the train battle with the Volcra such an unforgettable moment for Young — one that will arguably remain with the actor for a very long time to come.