LeVar Burton's Return To Star Trek In Picard Was A Complete Surprise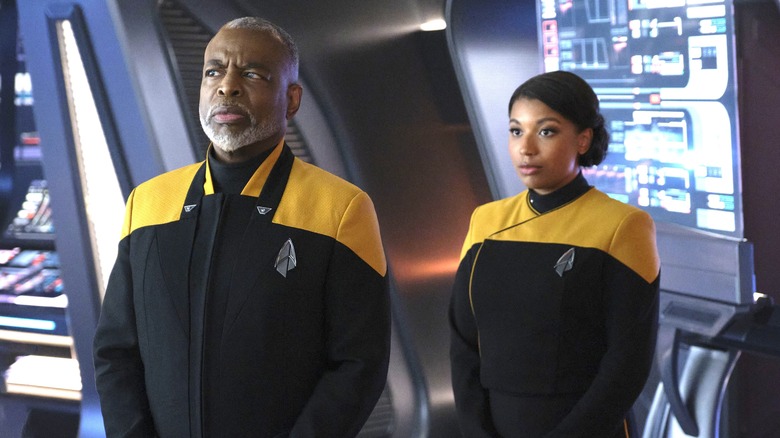 Trae Patton/Paramount+
As the third and final season of "Star Trek: Picard" gives Patrick Stewart a hero's sendoff as Admiral Jean-Luc Picard, his former co-stars from "Star Trek: The Next Generation" have returned to those roles, including LeVar Burton as the engineering officer Geordi La Forge.
It's the first time Burton has donned his Starfleet uniform since 2002's "Star Trek: Nemesis," and he says he never expected to be a part of "Picard" when the show was announced in 2018. While Season 1 of the Stewart vehicle did feature returning "The Next Generation" cast, including Brent Spiner as the android Data, Burton says he, Jonathan Frakes, and other "Trek" alum had been content to cheer from the sidelines. "We were quite certain that we would not be a part of 'Picard,'" Burton told IndieWire. "This was Patrick's opportunity to play the character, but to play stories that were in large measure unrelated to that part of his life in terms of how close we were on the Enterprise-D."
Given how much time he had spent away from the role of La Forge, Burton simply assumed the time to give the character a proper farewell had long since lapsed. "So this came as a huge surprise," he said, "but mostly because we had all believed that that ship has sailed, that the opportunity to close the circle, if you will, had passed a long time ago."
LeVar Burton returns to Star Trek as one of its elder statesmen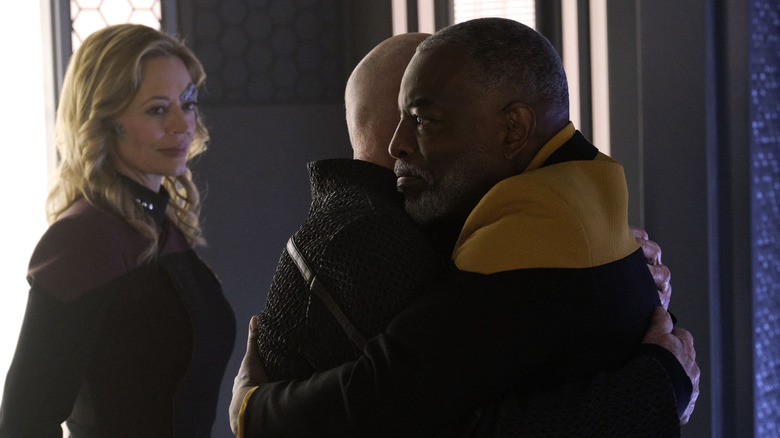 Trae Patton/Paramount+
While the beloved role of Geordi La Forge on "Star Trek: The Next Generation" may have been a major boost for Burton's career, it certainly never came to define him. Between taking off his Communicator badge at the end of "Star Trek: Nemesis" and reattaching it for "Star Trek: Picard," the German-born actor has enjoyed his period of "Star Trek" emeritus. His "Reading Rainbow" series, which teaches children the joys of literature, ran until 2006, and he relaunched it in 2014 as an interactive iPad app. A great love for science and books still guides much of his life, as he lately hosts a podcast on which he reads short stories. In 2019, he hosted the National Book Awards in Manhattan.
But fate brought Burton back to the bridge of a Starfleet vessel once again in Season 3 of "Star Trek: Picard." This time around, "The Next Generation" has a whole new meaning, as Burton stars alongside his daughter, Mica Burton, who plays Geordi's daughter Alandra La Forge. According to the elder Burton, returning to his "Star Trek" role after 20 years was cathartic. And now that he's boldly gone exactly where he's been before, the actor is ready to move on.