Who Plays Akira In John Wick: Chapter 4?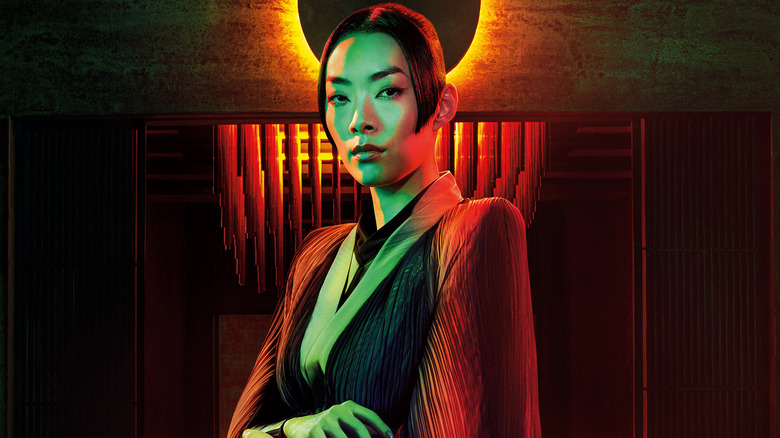 Lionsgate
Contains spoilers for "John Wick: Chapter 4"
In a movie as packed with standout performances as "John Wick: Chapter 4," it's impossible to pick a favorite. With franchise vets like Keanu Reeves and the late Lance Reddick as Charon as well as newcomers like Shamier Anderson as a mysterious tracker, the fourth installment of Chad Stahelski's staggering franchise is as much a contest of charisma as it is of fists and bullets.
One new addition to the already sprawling ensemble deserves special note, however — Akira Shimazu, the concierge of the Osaka Continental Hotel and the daughter of manager Koji Shimazu (Hiroyuki Sanada). Akira is played by Rina Sawayama, an actor whose performance is made all the more impressive by the fact that "John Wick: Chapter 4" marks her feature film debut. Though she has previously appeared in two episodes of Idris Elba's comedy series "Turn Up Charlie," Sawayama is most widely known not for her acting ability, but for her musical talent.
How Rina Sawayama went from self-funded artist to movie star
Before she joined the "John Wick" franchise, Rina Sawayama was already a highly successful recording artist. After releasing an EP titled "Rina" in 2017 (which the artist revealed on Twitter that she self-funded after having "worked 2-3 jobs at a time for years"), she partnered with indie label Dirty Hit to create her debut studio album, "Sawayama," less than three years later. It was met with universal critical acclaim, receiving praise from the likes of Elton John, Jon Caramanica of the New York Times, and popular online music critic Anthony Fantano.
Chad Stahelski himself contacted Sawayama about the role of Akira after seeing the music videos for her songs "XS" and "Bad Friend." The former showcases her acting skills, while the latter showcases some fight choreography, the combination of which Sawayama believes proved to the director that she could hold her own in a "John Wick" film.
Akira does plenty of fighting throughout "John Wick: Chapter 4," though it only appears to be the beginning of what Stahelski has in store for her character. Without spoiling too much, Akira's arc ends rather ambiguously, with strong hints that she will return with a vengeance in future installments.