Grace Caroline Currey Says Working With Helen Mirren On Shazam! 2 Was A Special Time - Exclusive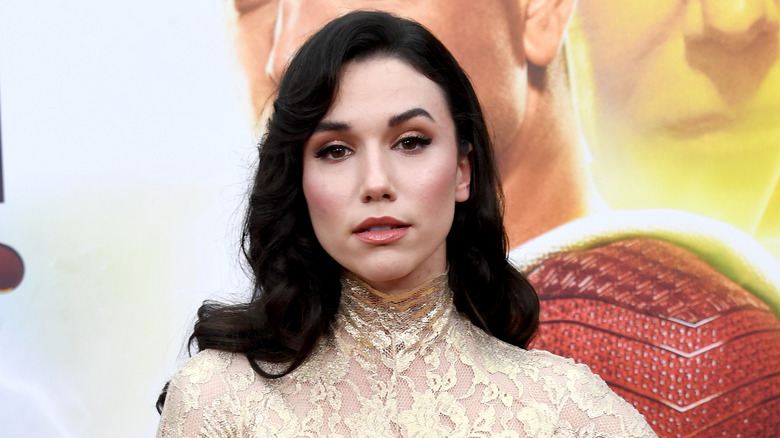 Albert L. Ortega/Getty Images
"Shazam! Fury of the Gods" makes good on the film's title — with Helen Mirren and Lucy Liu respectively playing Greek goddesses Hespera and Kalypso. With these additions, the cast of the "Shazam!" sequel manages to be even more star-studded than the original. And just as fans were excited to see these Hollywood staples join the cast, the actors were equally pumped.
In this film, Mary Bromfield actress Grace Caroline Currey plays both the young version of her character and Mary's superhero iteration, allowing her to work with most of the cast. At the same time, "Fall" — the movie with her first leading role — was coming out, giving her plenty to discuss with Mirren during filming. When you're given the opportunity to connect with a legend, it's wise to take advantage, and Currey did just that. Looper spoke to Currey during an exclusive interview, where she discussed the special time she had working and chatting with Mirren and working alongside the adult cast.
Working with legends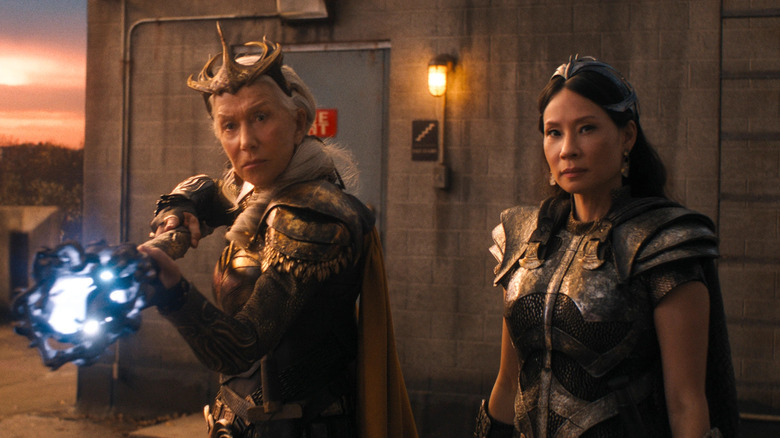 Warner Bros. Pictures
There's nothing quite like Hollywood icons taking on the role of gods. Discussing what it was like working with Lucy Liu and Helen Mirren, Grace Caroline Currey said, "I was filming the sequence with Helen, where Darla and Mary give her a nice flip in the air, [which] took about a week with rehearsing and capturing all the details." Between the two icons, Currey got to spend more time with Mirren than Liu.
It was a momentous time for Currey — and not just because she was working with the best of the best. "Around [that] time, 'Fall' was coming out, which was my first lead role where I was in every single scene of the movie," she explained. "It was new for me to have something like that coming out, and I got to talk to Helen about it. She was so gracious and loved to see ... She wanted to see the stunts I did. I was showing her my camera roll of how tall the tower was."
In more ways than one, it was a special time for Currey. She added, "It was lovely to be able to share about the season of life I was in and how she acknowledged that it was ... such a big deal for it to be my first leading role coming out and what a special time it was."
All grown up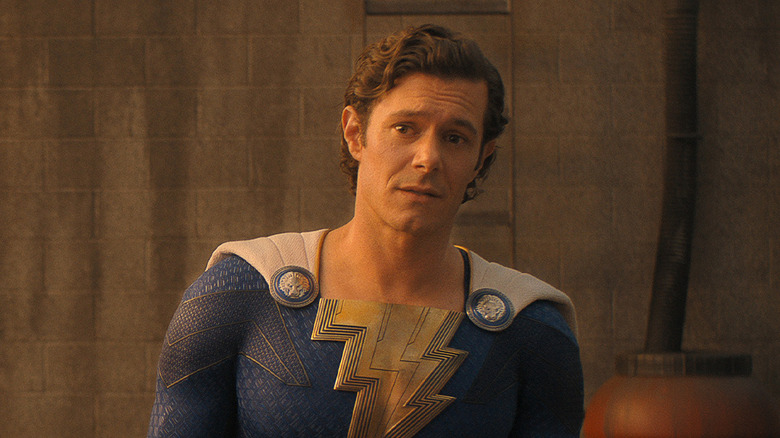 Warner Bros. Pictures
Helen Mirren and Lucy Liu weren't the only new cast members Grace Caroline Currey had the chance to work with. Given that Currey took on both of Mary's roles for the second film, she had the opportunity to work with the kids and the adult versions of her on-screen foster family.
"I was the superhero in this one," she noted. "I got to do all the flying and the stunt work this time around, which was really special and quite a bit of work to be playing two roles, bouncing between the human role and the superhero role."
Everyone loves Adam Brody — including Currey. "Adam Brody's so fun. He is so funny," she explained. "The whole adult cast is so quick and sharp and witty that I feel like we're always making jokes and laughing — not to mention having the video games on set, which the guys were playing the whole time."
Currey was more than happy to work alongside her fellow superhero actors. "It was great fun the whole time, and such an honor to be working amongst those actors who have long careers," she said. "Even though I've been working since I was six years old, and it's been 20 years now, it's awesome to be amongst these people who are legends in their own right and have had immense pop culture times and shows that they've been a part of, and films. I loved being in that group. They're awesome."
"Shazam! Fury of the Gods" is now playing exclusively in theaters.