Will Ferrell's 1994 SNL Audition Got A Brutal Reaction From Modern Viewers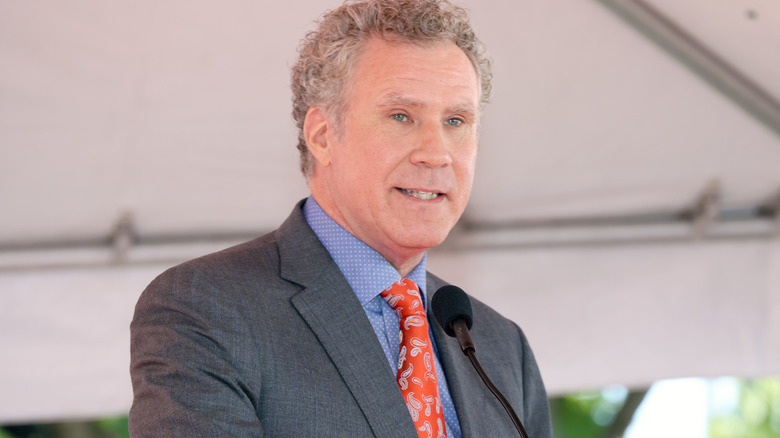 David Livingston/Getty Images
Will Ferrell's indelible performances as the kind-hearted Buddy the Elf in "Elf," race car-driving Ricky Bobby in "Talladega Nights," and the wildly inappropriate newscaster Ron Burgundy in the "Anchorman" films are all silver screen standouts. And at the time of this writing, the actor has accumulated $160 million during his storied career. But despite all of Ferrell's success in Hollywood, a portion of the performer's 1994 audition for "Saturday Night Live" left fans wondering how he ever got any work in showbusiness. "You could tell right away how terrible his style of comedy was... is," @MPhoenix66 tweeted.
"He was always comically mediocre," another Twitter user @defsouf responded. The Twitter video only featured the final 81 seconds of Ferrell's original eight-minute audition, which in its totality included his brilliant interpretation of sports broadcasting legend Harry Caray and a hilarious farce of Ted Kennedy. Both Ferrell's Caray and Kennedy impersonations would go on to become recurring "SNL" characters during his stint on the show from 1995 until 2002. While the entire audition garnered laughter and applause from the unseen people judging the actor's performance, the fans hated the now infamous cat bit Ferrell closed his audition with.
Fans hated the final portion of Ferrell's SNL audition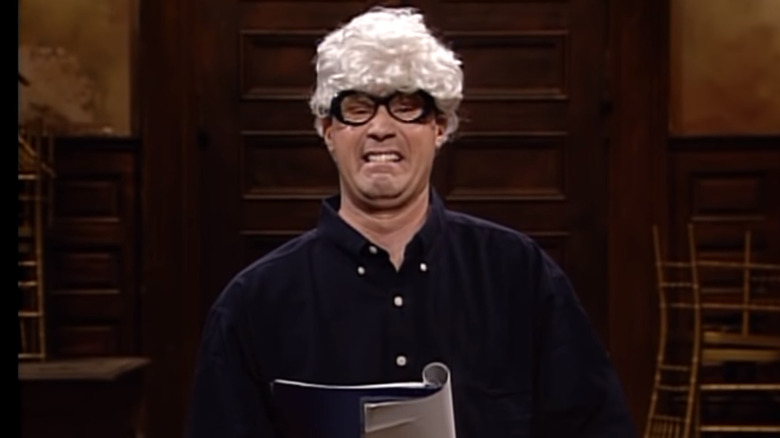 NBC/YouTube
A portion of Will Ferrell's 1994 audition for "Saturday Night Live" found its way onto social media, and many Twitter users cut the comedic actor's performance to shreds with their brutal reactions. "That was a disaster," @hugh_jolley tweeted. The 81-second video features Ferrell as an office worker of some importance — undoubtedly an executive — who begins his routine by telling an imaginary secretary he's not to be disturbed. "I've got a lot of paperwork I've got to do," Ferrell insists.
"His version of comedy is equivalent to Amy Schumer's comedy style, both just cringey and awful lol," @BillieArianas wrote. Rather than working, Ferrell scoops up a jingly cat toy, gets on his knees, and begins playing with it much like a real feline would. "He's not funny at all really," @SportsGuido commented. "More like awkward and cringey." As the skit continues, Ferrell suddenly averts his attention from the plaything and pretends to talk to his secretary once more over the intercom.
The executive tells his assistant to put Mr. Don Jacobs on hold because he's just too swamped with work to speak to the caller. Ferrell then immediately takes hold of a fake rat or mouse, falls onto the floor, and begins slapping it between his hands. "Not funny," @paulwolfer42 posted. Once Ferrell concludes his audition, he smiles and thanks the unseen "SNL" panel who viewers can hear laughing and applauding his tryout. "Why is he a thing?" @Tomnaughtylist asked.
Jerry Seinfeld and many others loved the cat bit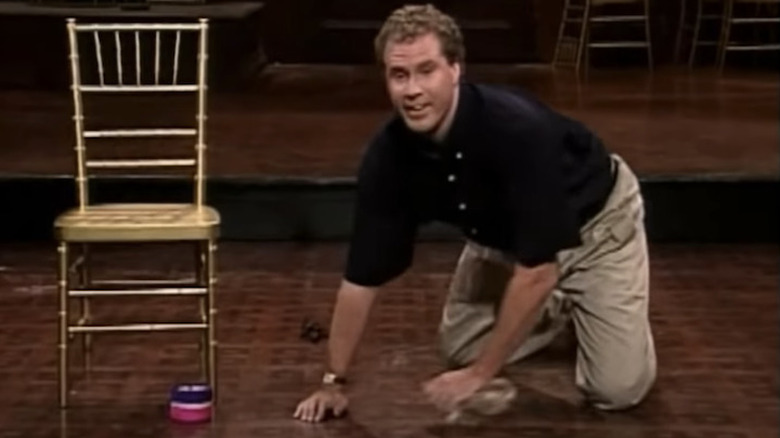 Netflix/YouTube
A snippet of Ferrell's "SNL" audition made its way onto Twitter, and a number of fans loathed the way Ferrell plays with cat toys. However, that portion of the bit, and the rest of his performance, got the actor the job on "SNL." And while some may not have appreciated the infamous cat bit, fellow comedian Jerry Seinfeld did. "I'm watching this whatever years later going, 'Oh, my god, you got 'em with the cat bit,'" Seinfeld said during an episode of "Comedians in Cars Getting Coffee" (via YouTube). "This guy just became a star."
Fans were also kinder to Ferrell after watching the entire audition, which has 13.5 million views on "Saturday Night Live." "It's crazy to think that all of our senses of humor hung on this audition," user @VinnieMazzaferro wrote in the comments. "If he didn't get the job, we would all be different people. Thank you Will Ferrell!" Another user, @ashleybarloweNC, wrote, "What a comedy gem! Thank you, Will Ferrell, for making our lives funnier!"
Even in 1994, Ferrell himself realized the risk he was taking by doing the cat bit for his "SNL" tryout. During his appearance on "Comedians in Cars Getting Coffee," the actor told Seinfeld he wasn't sure the bit would land. "I'm rolling around playing with cat toys to dead silence thinking, 'This is the end,'" Ferrell explained.