John Cena Makes For A Mean Terminator In Fan Concept Art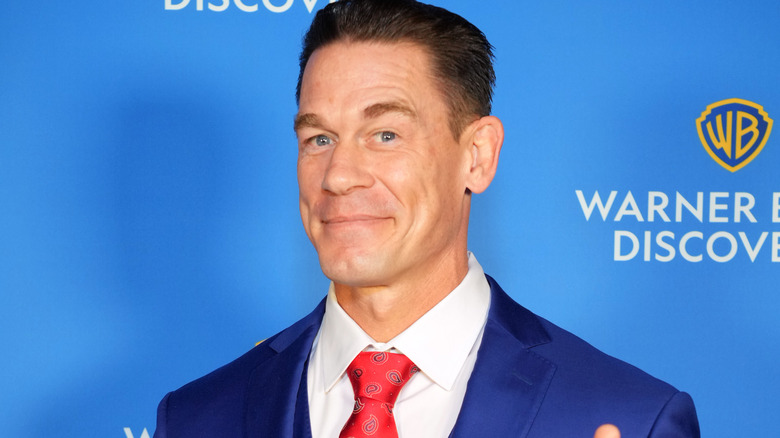 Kevin Mazur/Getty Images
The "Terminator" franchise is in a bit of limbo at the moment. There presently aren't any plans for more installments, but a good series can only stay dormant for so long. James Cameron, who directed the first and second installments, which are generally revered as the best ones, spoke about the future of the movies while on the "SmartLess" podcast. He teased the following, "If I were to do another Terminator film and maybe try to launch that franchise again, which is in discussion but nothing has been decided, I would make it much more about the AI side of it than bad robots gone crazy."
Nothing is concrete at this point, but when/if a new "Terminator" movie materializes, there's going to have to be a new robo-baddie. Arnold Schwarzenegger embodied the role early in the franchise, but other actors have assumed Terminator roles over the years. Could John Cena be next?
That's what Instagram artist Ellejart envisioned in an exceptional piece depicting Cena as a gun-wielding robot, complete with the character's iconic red eye. There are actually a few different iterations of the drawing with Cena sporting different sunglasses, but one thing's certain — this is one Terminator you wouldn't see coming. 
John Cena looks right at home as a Terminator
Ellejart complemented the photo with a caption teasing what may come to pass someday: "What do you guys think? Will the Terminator as John Cena protect us or kill us?" Plenty of fans flocked to the comments to heap praise on the artist and also make jokes about how they uploaded a blank square. If you don't understand those references, you need to spend more time on social media wrestling pages. 
Now, this is obviously just fan art, so there are no indicators Cena is being courted for a new "Terminator" movie. After all, he's pretty busy these days with another franchise — "Peacemaker" — which is getting a second season. However, Cena may have teased his interest in getting in a "Terminator" movie with an albeit cryptic post on his own Instagram. He posted an image featuring the Skynet logo, which is the antagonistic neural network in the "Terminator" films. There's no caption to go with the image, and that's par the course for Cena's social media, as he posts to the top of his page, "Welcome to my Instagram. These images will be posted without explanation, for your interpretation. Enjoy."
Regardless of what's going on with the franchise, Cena has proven time and time again he has the acting chops to play a scary Terminator foe. Hopefully, studio execs take notes.