Grey's Anatomy's Sarah Drew Was Plagued With Panic Attacks Over The Season 6 Finale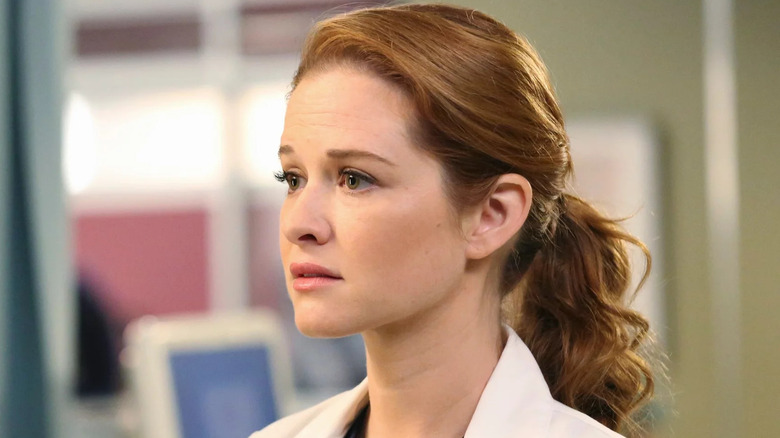 ABC
A lot of bad things can happen to you at Seattle Grace Hospital or Grey Sloan Memorial Hospital, which are, incidentally, the same hospital. You could help people who were attacked by a lion. You could be in surgery when the power goes out, or you could be in surgery in an operating room that's right over the building's main oxygen line while your patient has unexploded ammunition in his chest. The hospital on "Grey's Anatomy" is no stranger to danger, but filming the Season 6 finale apparently scarred Sarah Drew, who played Dr. April Kepner on the long-running series.
In the oral history of the show by Lynette Rice, "How to Save a Life," Drew admits that she was traumatized filming the two-part finale where a gunman rages through the hospital. This isn't really a big surprise, considering that April finds her best friend dead on the floor, is personally approached by the gunman, begs for her life, and then watches as her mentor Dr. Derek Shepherd (Patrick Dempsey) gets shot instead. "I had nightmares and panic attacks while we were shooting that, even for several days after we finished," Drew says in the book, which was reported by Insider.
If you or someone you know needs help with mental health, please contact the Crisis Text Line by texting HOME to 741741, call the National Alliance on Mental Illness helpline at 1-800-950-NAMI (6264), or visit the National Institute of Mental Health website.
April's journey on Grey's Anatomy was pretty intense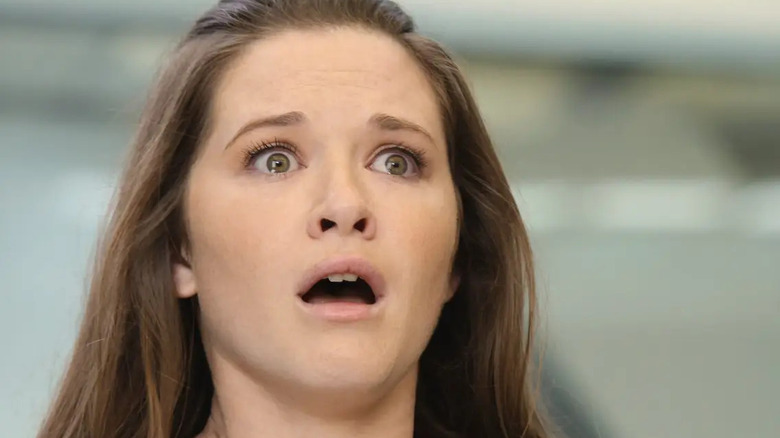 ABC
"It was very intense and scary and hard to go to those places, and then leave them at the door and then come home and be like, 'I'm fine, I'm fine. Nobody's trying to kill me, I didn't just watch my best friend die, I didn't just get covered in her blood," Drew continued. 
This was, ultimately, only the beginning of April's journey on "Grey's Anatomy" — and it wouldn't be the most intense scene that Drew would ultimately have to film. Throughout the series, April leaves a man at the altar for her former flame and best friend Jackson Avery (Jesse Williams), only to get divorced right as she finds out she's pregnant. Then, the baby that she and Jackson have together has a serious birth defect and doesn't survive long after being delivered. Add in a stint as an Army medic, an emergency C-section done with no pain relief on a kitchen table during her second labor, and a car accident where she ends up legally dead for a little while, and April definitely does not have an easy time on "Grey's Anatomy."
Sarah Drew still returned to Grey's Anatomy for one last appearance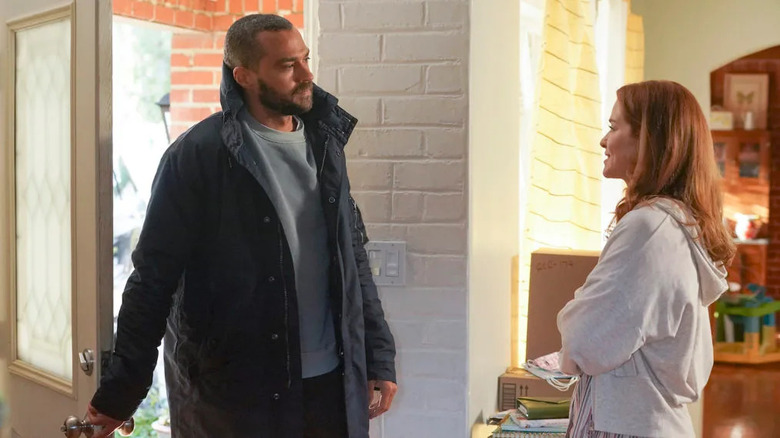 ABC
After leaving the series in Season 14 and riding off into the sunset with Matthew (Justin Bruening), the man she originally left at the altar, Drew actually returned to the series twice to reprise her role, albeit under much happier circumstances. 
In Season 17, Jackson drives to a mysterious location... only to reunite with April and their daughter Harriet (Penelope Kapudija). As it turns out, April and Matthew have now separated, leaving the door open for April and Jackson to try for a third time. When Jackson convinces April to move to Boston — Williams was, at the time, set to leave "Grey's Anatomy" behind as well — so they can co-parent Harriet, she agrees. The two then returned in Season 18 for the show's 400th episode when April and Jackson visit Seattle, and when they share a classic elevator kiss, it's finally revealed that they're back together for good.
Drew may or may not return to "Grey's Anatomy," but you can revisit her episodes on Netflix or Hulu now.