Yellowjackets' Van Almost Didn't Make It Out Of Season 1 Alive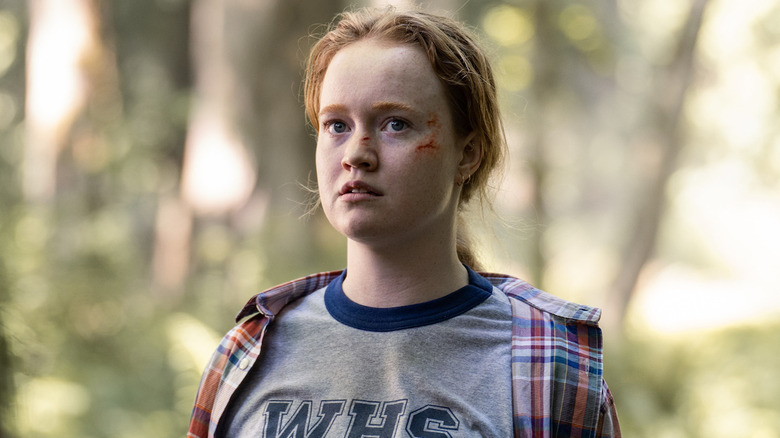 Colin Bentley/SHOWTIME
The Season 1 finale of "Yellowjackets," which aired early in 2022, was full of shocking moments including the reveal that Lottie Matthews (Courtney Eaton) had also made it out of the woods alive, alongside the four survivors we had been following the first season — Shauna (Melanie Lynskey, Sophie Nélisse), Taissa (Tawny Cypress, Jasmin Savoy Brown), Natalie (Juliette Lewis, Sophie Thatcher) and Misty (Christina Ricci, Sammi Hanratty). And if the news of Lottie being alive wasn't exciting enough for fans, we then found out via casting news that Van (Liv Hewson) had also made it out alive — and "Six Feet Under" star Lauren Ambrose would be playing the adult version of the character.
But, as it turns out, the "Yellowjackets" writers considered killing off Van sometime in Season 1. This consideration makes sense looking at Season 1, in which Van had more than one near-death experience. Firstly, right after the crash, she was stuck in her plane seat as a fire grew, leading Jackie (Ella Purnell) to make the decision not to help her — but, of course, Van managed to get out anyway. Then, in Episode 7, Van barely survived a wolf attack — and now has permanent scars on her face as a result.
Ultimately, the writers decided to keep Van alive, thanks to the acting of Hewson. Co-showrunner Jonathan Lisco told Entertainment Weekly, "We did have moments of discussing whether or not Van would survive season 1. But Liv Hewson is so great and embodied the character of Van in a way that was really revelatory, because Van is able to be both a serious-minded person and extremely glib, sarcastic, funny, and lovable all at the same time."
This worked out in Ambrose's favor as the actor was dying to land a part on "Yellowjackets."
Ambrose explores the way that Van is stuck in her trauma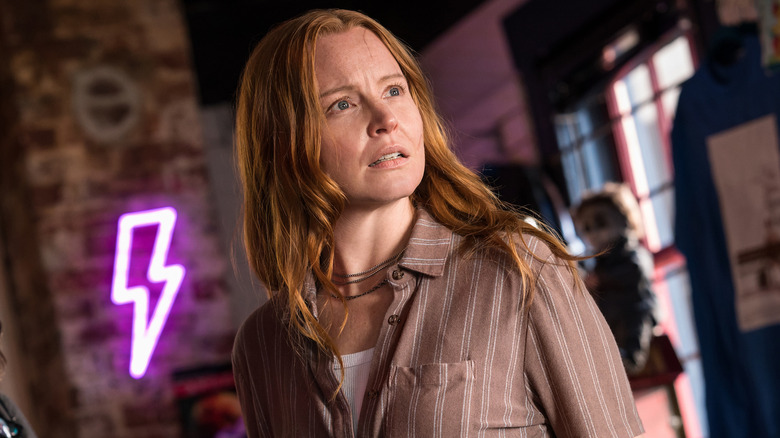 Kailey Schwerman/SHOWTIME
In the same interview with Entertainment Weekly, Lauren Ambrose revealed that she was a huge fan of the first season of "Yellowjackets" — to the point that she felt she needed to find a way to be a part of the second season and beyond. In response to the fact that the writers considered killing off Van before ultimately deciding to move forward with the character, Ambrose quipped, "I think I manifested it."
Once the part was hers, Ambrose was able to dive into the adult world of Van, which she says is very much influenced by what happened in the woods. The actor added, "I think they all are, in a sense, stuck in the trauma. That experience is just so defining."
Additionally, co-showrunner Bart Nickerson teased what viewers can expect from adult Van, stating, "[She's] somebody who has maybe processed her experience in a more healthy way than any of the other women, but I would not describe her as a remotely squared away human being. She's just taken a different path in terms of dealing with it."
"Yellowjackets" Season 2 premieres on March 24, 2023.