Adam Sandler, Jennifer Aniston, & Drew Barrymore Might Finally Collab On A Film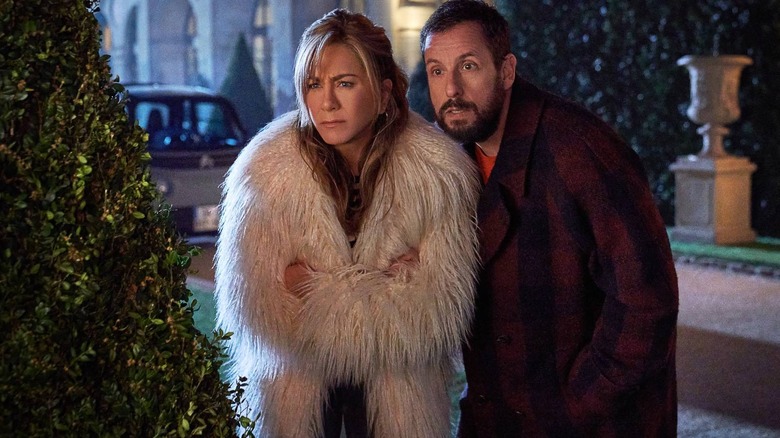 Scott Yamano/Netflix
There are a couple of things you can pretty much always expect with an Adam Sandler movie. There's going to be a lot of potty humor, and the Sandman's going to be paired up with a beautiful leading lady. One of Sandler's more frequent collaborators is Jennifer Aniston. The two first appeared in "Just Go With It" together, and now they have a certified franchise on their hands with Netflix's "Murder Mystery" and the forthcoming "Murder Mystery 2."
That means Aniston ties with another common Sandler love interest — Drew Barrymore. Those two have appeared in "The Wedding Singer," "50 First Dates," and "Blended" together. But there's no competition, and in fact, it sounds like Sandler and Aniston want Barrymore to join them in their next movie.
The duo came on "Good Morning America" to promote "Murder Mystery 2," and they were very excited at the prospect of all three of them working together. After Michael Strahan suggests the concept, Aniston states, "That's what we've been pitching. We want to do all three of us together, just put an end to this competition." No doubt fans of Sandler's work would love to see all these comedic actors join forces in a single film, whether it's "Murder Mystery 3" or something else entirely. 
Drew Barrymore has also expressed interest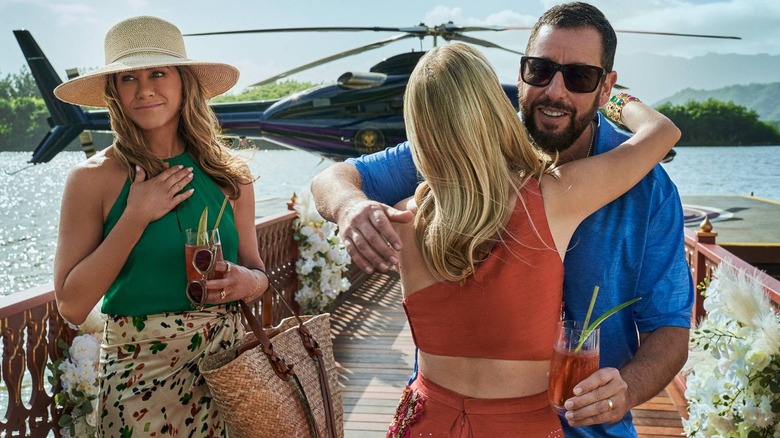 Scott Yamano/Netflix
It's unclear what an Adam Sandler, Jennifer Aniston, and Drew Barrymore collaboration would look like. Normally, Sandler's characters have a single love interest, so perhaps the plot could involve two women vying for the love and affection of Sandler. Then again, who says they have to be love interests? They could simply be friends or even enemies. The possibilities are endless, but it seems everyone's waiting for the exact right project before pulling the trigger.
Barrymore has been very outspoken about her desire to work with Sandler again. She's fairly busy these days on the set of her own talk show, but she said in an episode how she'd rejoin Sandler for the right script. When talking to Ross Matthews, the topic came up, to which Barrymore responded, "We are definitely talking about it."
On "Good Morning America," Sandler sounded very interested in the prospect of all three of them working on something, saying, "Two great ladies, but that would be amazing, doing a movie together." The hosts of the show are already sold on the idea, and audiences would be, too. Sandler's been doing a lot of Netflix movies over the past few years, so the streaming service would be wise to jump on this idea and put these comedic talents to good use. For now, viewers can look forward to "Murder Mystery 2," which debuts on Netflix on March 31.