Drew Barrymore And Adam Sandler Are 'Actively Seeking' Another Collab Idea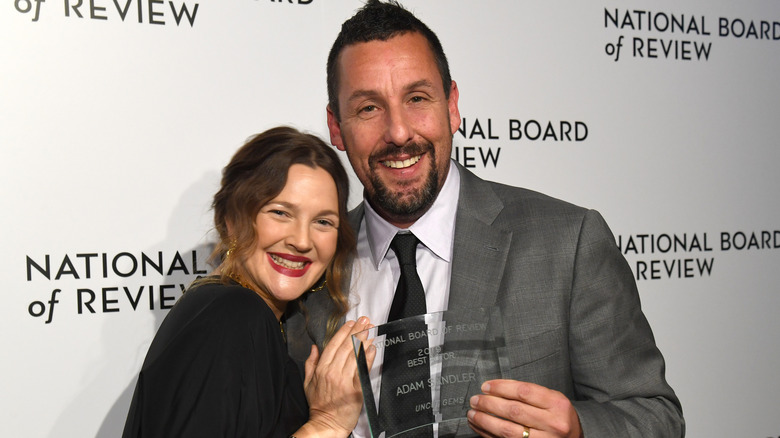 Kevin Mazur/Getty Images
From Tom Hanks and Meg Ryan to Julia Roberts and Richard Gere, there are some acting duos with such strong on-screen chemistry that they've played each other's love interest in more than one romantic comedy. Adam Sandler and Drew Barrymore are one such iconic pair, with their first onscreen pairing being 1998's "The Wedding Singer." Then, in 2004, the two reunited for "50 First Dates," and then again in 2014 for "Blended." That means that we're overdue for yet another Sandler and Barrymore joint.
While many fans might not dare hope for a rom-com reunion, given Barrymore's transition into daytime TV and Sandler's forays into dramatic films, Barrymore recently teased the possibility on her talk show. While it may be a long time before audiences get to see the comedic duo on the silver screen again, fans should definitely be optimistic considering that the door is certainly wide open.
Barrymore revealed that she and Sandler are looking for the right project on her talk show
New Line Cinema
The prospect of another on-screen pairing of Adam Sandler and Drew Barrymore was raised on a recent segment of "The Drew Barrymore Show" between Barrymore and TV personality Ross Matthews. "You and Adam Sandler, are we doing another one?" asked Matthews, to the audience's vocal approval. "We are definitely talking about it," answered Barrymore. "We're actively seeking the right thing."
Barrymore seems to suggest that conditions have to be just right to bring her back together with her three-time co-star, maybe because fan expectations for such a project would be sky-high.
Not present during the interview segment, of course, was Sandler, so we don't know for sure the precise form of these talks between the two. But hopefully, the dream script that inspires both Barrymore and Sandler to get back to the studio for some more comic hijinks — or perhaps even something more dramatic, given Sandler's recent projects — comes along sooner rather than later.