Was The Joker Actually In Deadpool 2?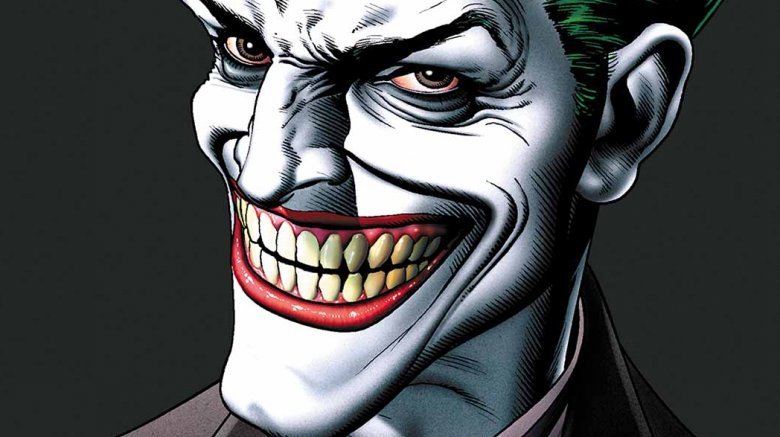 DC Comics
Contains spoilers for Deadpool 2
Deadpool 2 was chock-full of surprising cameos: Matt Damon was tucked inside the sequel pic as a redneck with a wealth of bathroom-related knowledge and a thick Matthew McConaughey-esque accent, Brad Pitt "appeared" for a few seconds as the invisible hero Vanisher, and even Ryan Reynolds played another character alongside Deadpool, popping up as Juggernaut. But was there actually another character cameo — one that threatens to beat all the others in a competition of coolness — hidden within Deadpool 2?
By the looks of it, and according to a report by ComicBook.com, none other than the Joker himself may have actually been in the Deadpool sequel. 
When Reynolds' Deadpool and Julian Dennison's Russell are shipped off to the criminal-packed prison called the Icebox, leading the movie into its second act, the pair meet Jack Kesy's nefarious Black Tom Cassidy as well as a hodgepodge buffet of dangerous bad guys, super-powered mutants, and random freaks. The camera pans across the crowd in an establishing shot, but if fans look closely to the center-left of the frame, they'll spot a man who looks uncannily like the Joker. He's got the white skin and bright green hair, and although the character is wearing a prison uniform in place of the Joker's signature purple suit, it's hard to argue that he isn't DC's Clown Prince of Crime.
Elsewhere in Deadpool 2, there are two extra bits of evidence that bolster the Joker-made-an-appearance argument. The first is a gun that's shown with a "bang!" flag popping out of its barrel; though countless films and television series have made use of such a comedy prop, many have pointed out that the specific flag used in Deadpool 2 looks extremely similar to the one that flung out of Jack Nicholson's gun when he starred as the Joker in Tim Burton's 1989 Batman movie. The second comes during the sequence in which Josh Brolin's Cable asks Deadpool to identify himself; Deadpool cheekily responds, "I'm Batman," using a voice that sounds like former Batman actor Michael Keaton's. 
At the end of the day, one of two options regarding the Joker's potential cameo appearance in Deadpool 2 will prove true: Either screenwriters Rhett Reese and Paul Wernick, along with director David Leitch and co-writer Reynolds, really did include the iconic villain in the sequel but aren't admitting to it because Warner Bros. holds the rights to the character and not their studio 20th Century Fox, or this is all just one big coincidence. 
Fans can decide for themselves when they catch Deadpool 2 in a repeat viewing.