The Wildflower Cast Really Felt Like A Family On Set, According To Kiernan Shipka - Exclusive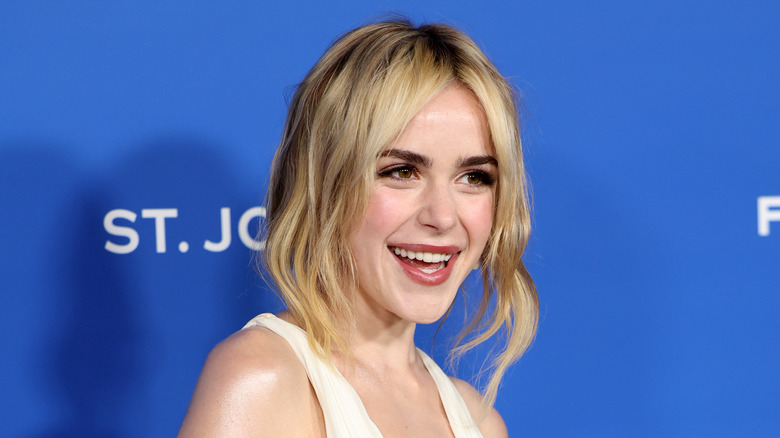 Monica Schipper/Getty Images
Kiernan Shipka stars as Bea in the upcoming film "Wildflower," a young woman with an unconventional childhood on the cusp of adulthood. As the daughter of Derek (Dash Mihok) and Sharon (Samantha Hyde), two parents with intellectual disabilities, Bea's early life was largely without the rules, barriers, and many of the lessons one would expect of an American childhood. Surrounding this family are her aunt and uncle Joy (Alexandra Daddario) and Ben (Reid Scott), grandmothers-at-odds Loretta (Jacki Weaver) and Peg (Jean Smart), and grandfather Earl (Brad Garrett), a properly stacked cast of talent.
It's a film that lives and dies on the cohesion of the cast, resting so deeply on family dynamics that the performers have to work flawlessly together. In her exclusive new interview with Looper, Shipka discussed her work on the engaging new film, including performing alongside storied actors like Garrett, Smart, and Weaver. Not only was the experience amazing, she explained, but she revealed that the performers actually felt like a genuine family in one of the film's most emotional scenes. 
Seeming like an actual family on the set of Wildflower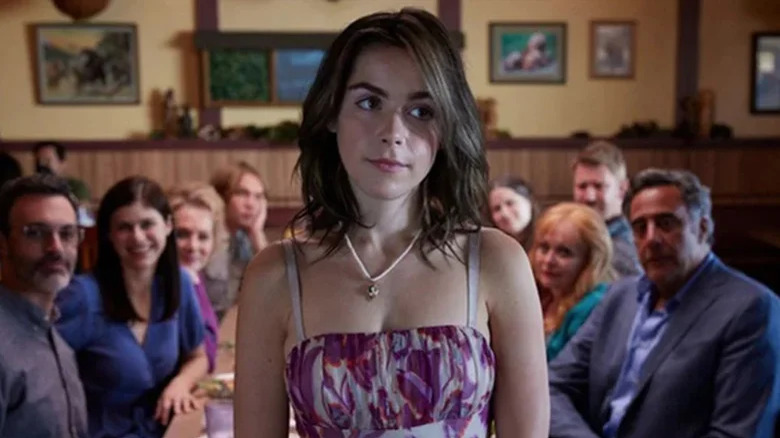 Momentum Pictures
During our conversation, we asked Kiernan Shipka about working with actors of such an esteemed caliber. "That's final-level pro-ness," she said. "Those actors are so incredible and amazing." Watching such seasoned talents was inspiring, she noted. "It was a really small movie, a small shoot, and everyone showed up and had so much to give, and it was amazing to watch," Shipka says. 
While "Wildflower" wasn't the largest or most expensive shoot, the actors bonded over the quality of the script and let it fuel their performances. "It was amazing to watch Jean [Smart] and Jacki [Weaver] go at it," she explained, "and you could tell that everyone was a part of this because we all loved the project and the script was so beautiful." Without a lot of budget or time to shoot, "They jumped right into it, did what they do best, and found so much humanity and life in these characters," Shipka said. "That's the heartbeat of the film; it's incredible." 
In one of the film's most emotional scenes, the actress really felt the cast's unity. "I was in a coma, sitting there, looking around, thinking, 'This feels like a family,'" she said. It's a feeling that felt "baked in [on] day one of everyone being around each other," she concluded, an evident product of talented players connecting to the script and coming together.
"Wildflower" is in select theaters, on digital, and on demand.