Wildflower Star Kiernan Shipka On Its A-List Cast, Adult Sabrina, And Changing Christmas Movies With Red One - Exclusive Interview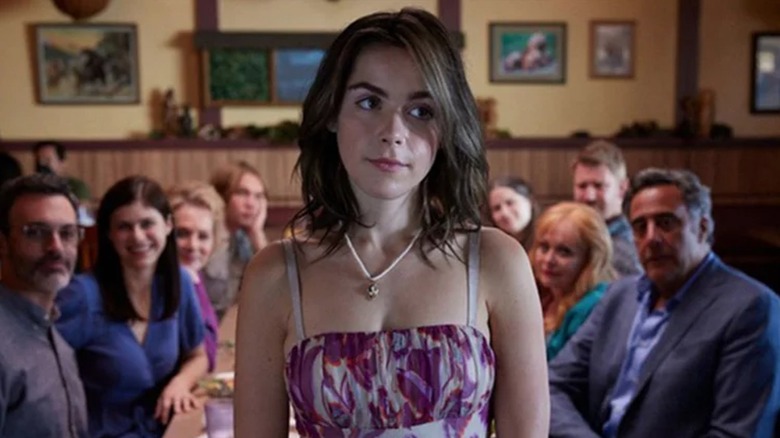 Momentum Pictures
In "Wildflower," Bea (Kiernan Shipka) has had anything but a traditional childhood. Born to two parents with intellectual disabilities, Derek (Dash Mihok) and Sharon (Samantha Hyde), Bea became a free spirit as a child without traditional guidelines. Later, as a teen on the verge of adulthood and college years, a set of particular circumstances forces Bea to find a new understanding of her parents' capabilities alongside an evolved approach to her own life.
With an already strong career extending from "Mad Men" through "Chilling Adventures of Sabrina" and a growing set of feature films, Kiernan Shipka has made a diverse array of star turns, especially over the last half-decade. "Wildflower" breaks still new territory for the actress, though she's committed to maintaining her horror-thriller roots. In a new exclusive Looper interview, the actress discusses working among the stacked cast of "Wildflower," her forthcoming role in "Red One," her pitch for the future adventures of Sabrina, and more.
Growing up fast in Wildflower
You were great in "Wildflower." I also love your work as Sabrina and have to give a shout-out to "The Blackcoat's Daughter," which is great.
Oh, let's go, my fave. I love "The Blackcoat's Daughter"!
In "Wildflower," Bea goes through such an evolution in her perceptions of her parents' disabilities. Tell me about her journey and what connected you to the project.
I loved her arc a lot. I loved that at the beginning of the film she was hardened and resigned to a life that she told herself she was going to live, and by the end, we see someone who is very brave and fearless and has decided to chase a dream. That journey, and everything she had to do and experience to get there, plus a very life-altering thing, was very compelling to me.
I love seeing someone become more fearless and doubt themselves less. That's something that I'm trying to do, something that I think everyone is, or a lot of people are trying to do in variations throughout their life — overcome a sense of self-doubt. That's what I loved about her. I loved that she was equal parts responsible, mature, and wise beyond her years, and in other arenas, entirely her age. I thought that was really interesting, so I loved her and I love the story.
What was it like to star alongside such a stacked cast of legitimate TV comedy legends, like Brad Garrett and Jean Smart?
That's final-level pro-ness. Those actors are so incredible and amazing. When I talk about it, I'm [still] like, "Oh my God, they did the movie." It's amazing. It was a really small movie, a small shoot, and everyone showed up and had so much to give, and it was amazing to watch. It was amazing to watch Jean and Jacki [Weaver] go at it, and you could tell that everyone was a part of this because we all loved the project and the script was so beautiful. 
These incredible actors show up, like Jean Smart, or Jacki, or Alex Daddario, everyone ready to play. Everyone knew there wasn't much time, so they jumped right into it, did what they do best, and found so much humanity and life in these characters. That's the heartbeat of the film; it's incredible. We got so lucky with the people that wanted to be a part of it.
I was in a coma, sitting there, looking around, thinking, "This feels like a family. This feels baked in [on] day one of everyone being around each other," or day two, or whatever it was.
Awaiting the chilling adult adventures of Sabrina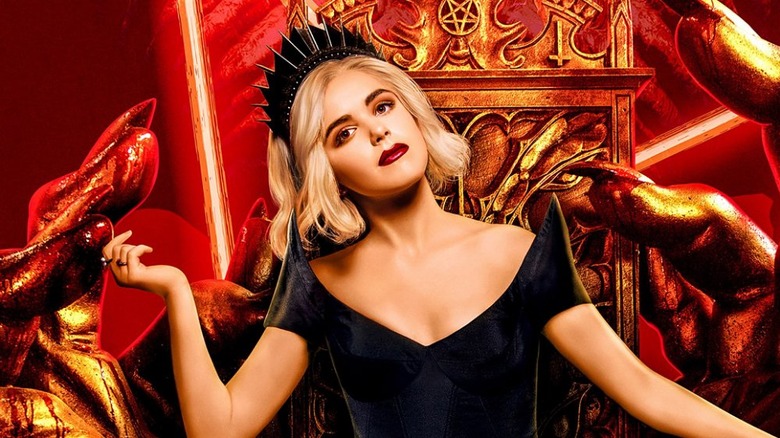 Netflix
I would be doing myself a disservice if I didn't ask you a question about "Chilling Adventures Of Sabrina," because it's really fun.
We love her. Our gal.
I'd love to see more of that world, but I was happy that your iteration of Sabrina got to make a bit of a return in "Riverdale." What was that like, and would you be interested in playing Sabrina again?
It was another dream come true to revisit her because I love her so much, and I don't feel like I got to say a super-proper goodbye, so it was really nice to slip on the headband again. I remember reading my lines out loud for the first time [while] going over them for the crossover episode, and the second that I said them out loud, I was like, "Oh my gosh, she's here." It was this wild experience where I realized she was still in my body, and I love her and I don't want to stop playing her. I don't know what it looks like, but if anyone says, "We need Sabrina," I'll be like, "I'm there."
I love that character so much, and as I get older, I also get excited about what an older version of her would look like. She was such a feisty teenager, and if witches have a frontal lobe, it wasn't developed yet, and I would love to see a more mature version of her somewhere down the line. So the answer is yes, I would. I'd play her in a heartbeat, anywhere they need her.
I love having a character with both a not-fully-developed frontal lobe [and] an absurd level of power.
Passion and power, exactly. So much decision-making.

It's a great starting point for a character's journey.
It really is. Good for the plot too — a lot's going to go wrong.
There's no place like horror, and the holidays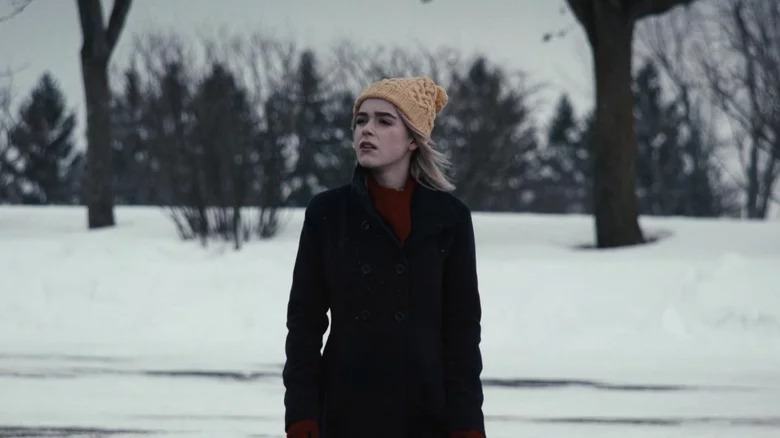 A24
I'm also excited to see "Red One." I'm a big fan of unconventional holiday movies. Can you say anything about that?
I can't quite say too much about the part, but it was such a fun experience. I think it's going to change the game as far as Christmas movies go. There's so many legendary performances in this; I'm stoked to watch it. ... I'm truly so excited to be a part of it. Working with those guys was amazing, and the cast — again, if you want to talk about another stacked cast, Dwayne [Johnson] and Chris [Evans] are fantastic. Then you have Lucy Liu, and you have J.K. Simmons, Nick Kroll. There's so many fun performances in it. I'm so excited to see it. It's going to be really fun [and] entertaining.
Between "The Blackcoat's Daughter," "The Silence," [and] "Sabrina," you also have a thriving horror or horror-adjacent career. I love the genre; what keeps you coming back to those types of projects?
At a certain point, I'm like, "Am I finding them or are they finding me?" I love horror. It's so fun, and there's so many different ways to do it. I love a genre movie. It's a really interesting way to tell a story. 
Maybe there's a bit of darkness in me or something that [makes me] keep playing these roles, but I always seem to have a really good time when it comes to horror. [pauses] Yeah, I love it. I do. And I'm kind of like you, where I'm a fan too. I like a scary movie, or [a movie] that makes you think they don't all have to be super scary.
What's your favorite horror movie?
That's such a good question. I think about "Suspiria" or something like that, and I think about something a bit haunting in that kind of way. "The Conjuring" is kind of wild. What's your favorite horror movie?
For me? "The Thing." I'm a big John Carpenter fan.
I've not seen "The Thing"! I should see "The Thing" though.
Absolutely see "The Thing" and tell me what you think. You'll love it.
I will. Seriously, I'll watch it this week.

This interview has been edited for clarity.
"Wildflower" is in select theaters now and will be on digital and on demand tomorrow, March 21.