Laurence Fishburne On Where The Bowery King Fits Into John Wick: Chapter 4 And More - Exclusive Interview
Lionsgate
When Laurence Fishburne made his first appearance as the Bowery King in 2017's "John Wick: Chapter 2," his character — a below-the-radar crime lord who roams New York City and runs his own intelligence operation — immediately raised questions. Were there other levels below the already hidden criminal underworld ruled by the High Table? Was there an underworld to the underworld?
The answers to those questions remain mostly hinted at — in "John Wick" style — even as the Bowery King has returned to give aid, comfort, and of course, weapons to John (Keanu Reeves) in "John Wick: Chapter 3 – Parabellum" and "John Wick: Chapter 4." He's also formed an alliance with New York Continental manager Winston (Ian McShane), with both of them perhaps interested in helping John take down the High Table once and for all.
As for Fishburne, this is the sixth time he and Reeves have collaborated, following the prior "John Wick" entries and their groundbreaking work in the original "Matrix Trilogy." The Emmy- and Tony-winning Fishburne's other glittering credits include his film debut in "Apocalypse Now," his standout turn in "Boyz n the Hood," his Oscar-nominated portrayal of Ike Turner in "What's Love Got to Do with It," and many more.
He's also one of the few actors to have a footprint in both the DC and Marvel cinematic universes, having played Daily Planet editor Perry White in "Man of Steel" and "Batman v Superman: Dawn of Justice," while bringing Bill Foster to life in "Ant-Man and the Wasp" (he also voiced the titular herald of Galactus in the pre-MCU "Fantastic Four: Rise of the Silver Surfer"). As for whether Foster could return to the MCU, Fishburne told Looper in our exclusive interview, "They got my number. They know where to find me."
The Bowery King's role in John Wick: Chapter 4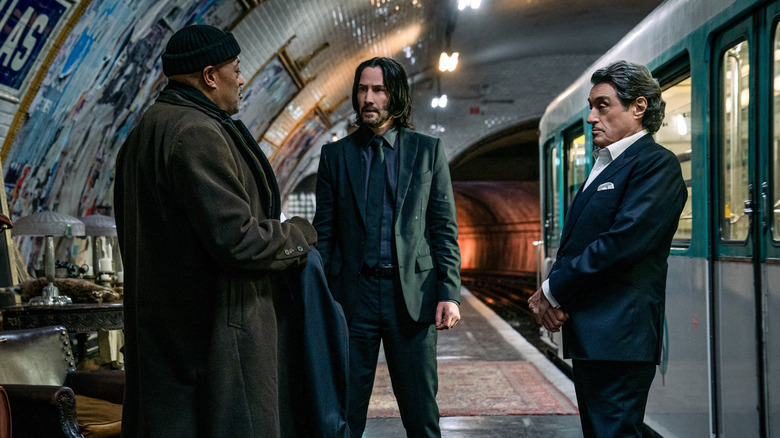 Lionsgate
What's your take on The Bowery King these days? Three movies in, how does he fit into the universe?
Well, I like what I've been tasked with in "Chapter 4" because I get to set the table. I get to establish what and where we're going to be and what kind of ride this is going to be. Every "Wick" movie has gotten a little better here, a little better there, a little more elaborate, more, more, more. This one, we got more for you. We got so much more than you're ready for, that we got to open it like that.
You get to work in some crazy locations in this film.
Under the sewers of Paris.
What was it like shooting underneath the city?
It was fantastic. We shot in this subway that is dedicated to cinema there, and we were in this strange little waterway that's underneath this cobblestone arch. They brought me out and put me in a boat. I had to practice driving and all that stuff. But what's great about this ... "3" had a very international feel geographically. This movie, "Chapter 4," even more so — because it moves from the continental United States to the [Far East] to the Arab world. It's bananas, and it does so with that great "John Wick" style and cool.
His chemistry with Keanu Reeves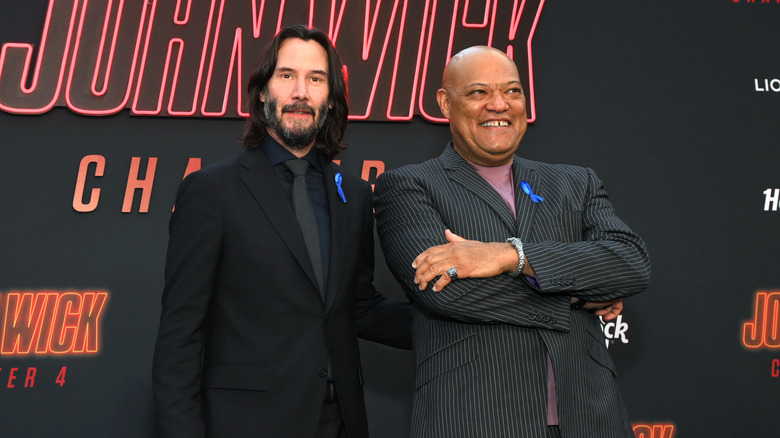 Stewart Cook
You've worked with Keanu Reeves half a dozen times now ...
Yeah, something like that.
First it was the "Matrix" movies, and now these. Is that average for actors, or would you say that you and he have had more occasion to work together than usual?
We have a very, very special kind of chemistry ... You can't explain it and you can't bottle it. We love each other and we respect each other. The same is true of Keanu and Chad [Stahelski, "John Wick" director], and Chad and his team.
We made something together that has had lasting impact with the first three "Matrix" movies. This is really a continuation of that impulse, of that desire to create things for an audience that the audience loves.
In the production notes for this movie, he called you his mentor.
It's beautiful.
The Bowery King's future and thoughts on the MCU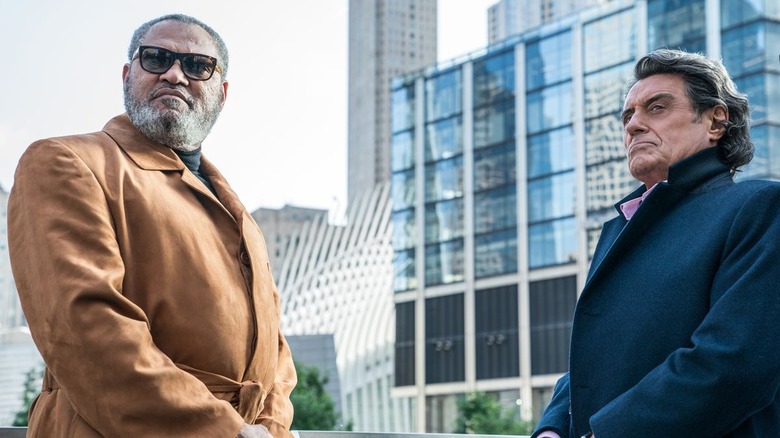 Lionsgate
You and Ian McShane have a little buddy thing going on as well. When can we start talking about the Winston and Bowery King movie?
The Winston and Bowery King movie? Whoa.
There's so much possibility in this world.
That's a rich world. What it would be, I can't even begin to imagine, but I'll let him know you said so.
Would you like to get into more of the action yourself?
Sure. I don't know that I have the stamina that Keanu has to do all that ass-whooping from start to finish, but maybe I might be able to take a punch or two.
They are expanding the universe. They're doing a "Ballerina" movie. They're doing a "Continental" TV show. Any talk about Bowery King showing up?
No, there hasn't been any talk about him showing up in that, but who knows?
Patrick Stewart said something recently about playing Professor X. He said that the Marvel folks told him, "Stand by." Obviously, we didn't see Bill Foster in the latest Ant-Man movie —
Right. My phone is handy — they got my number. They know where to find me. No one's said anything about any of that either way. But listen, if they reach out to me and ask me if Bill Foster's available, I'll be available.
"John Wick: Chapter 4" swaggers into theaters this Friday (March 24).