Forgotten CBS Sitcoms That Deserve Your Attention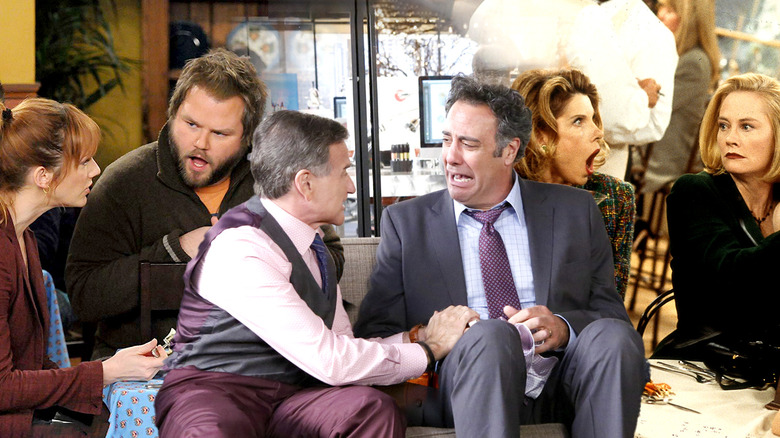 Static Media
Even with the spread of streaming services and the explosion in high quality cable programming, network TV is still churning out some of the best shows on television, and CBS has long led the way when it comes to situation comedies for the whole family. From classics like "I Love Lucy" and "The Mary Tyler Moore Show" to modern-day favorites like "The Big Bang Theory," CBS is responsible for some of the best sitcoms in television history. However, for every smash hit that CBS has made, there are others that didn't quite manage to leave their mark on pop culture or maintain the same kind of indelible legacy. Nevertheless, these relics of sitcom history are still worthy of wider recognition, and are sure to tickle your funny bone even decades later.
Some of these shows may have flown under the radar due to short runs on TV, while others may have simply been overshadowed by more famous shows. You may even be surprised by some of the big-name stars and talented producers who were involved in bringing them to life. So recline your La-Z-Boy and don't touch that dial, because this is a list of forgotten CBS sitcoms that deserve your attention.
Gary Unmarried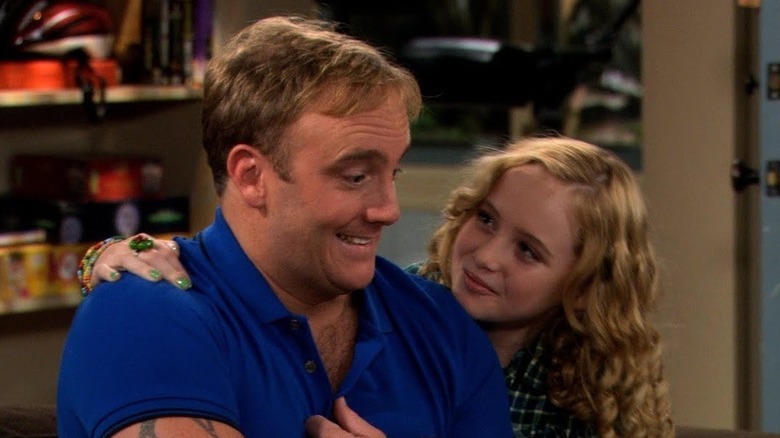 CBS
Not every sitcom worth its salt has to be an all-time classic. Sometimes, giving viewers some simple laughs is all that's necessary, and "Gary Unmarried" is the perfect example of such a show. Though it received low scores on aggregator sites like Rotten Tomatoes, it clearly had its fans — it won big at the 35th annual People's Choice Awards, taking home the top prize for favorite new comedy. Landing in 2008, the series starred Jay Mohr as Gary, a boorish, loud-mouthed, single father who's always getting into weird and wild scrapes while still being forced to deal with his bitter ex-wife Allison (Paula Marshall).
In Season 1, Jaime King stars as Gary's girlfriend Vanessa, a single parent herself, and Ed Begley Jr. plays marriage counselor Dr. Krandall. Years before he came to prominence on "The Daily Show," Al Madrigal played Gary's best friend Dennis. All three were swapped out for Season 2, with Keegan-Michael Key ("Key and Peele") and Brooke D'Orsay ("Two and a Half Men") joining the cast as Gary's friend Curtis and radio station manager Sasha. 
Though it couldn't compete in a tough landscape, "Gary Unmarried" is ripe for a new relationship with audiences. A fine cast, a fun premise, and some slick comedy add up to a show that didn't deserve its quick cancelation.
The Crazy Ones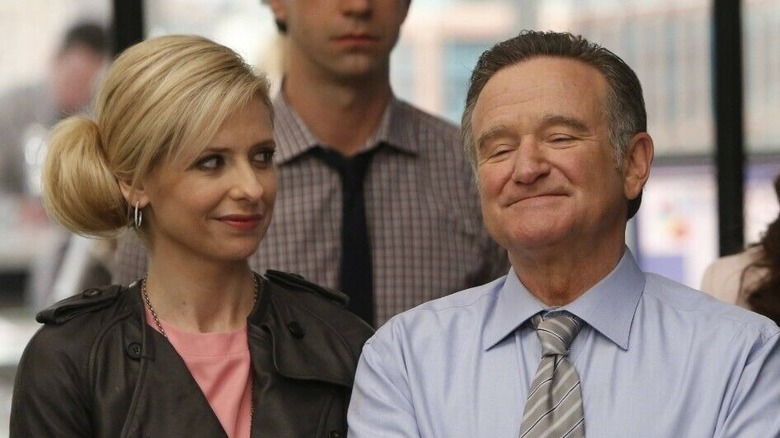 CBS
Robin Williams got his start on television playing the extraterrestrial Mork in the hit sitcom "Mork & Mindy," and he went on to become a movie star after it ended in 1982. In 2013, the "Mrs. Doubtfire" star returned to the small screen to take the lead role in "The Crazy Ones." Created by renowned TV producer David E. Kelley (the man responsible for classics like "Chicago Hope" and "Ally McBeal"), the series also starred Sarah Michelle Gellar and featured a recurring role for Brad Garrett.
Williams plays Simon Roberts, a big shot ad man in Chicago who is billed as the best in the business. But he's always had a troubled family life, which includes a complicated relationship with his adult daughter Sydney (Gellar). As the series begins, Simon has just gone into business with the highly strung Sydney, naming her a full partner in his ad firm. You can no doubt imagine the madcap antics that result from this decision.
Despite being headlined by a pair of major stars, "The Crazy Ones" came and went quickly and was tragically overshadowed by the death of Robin Williams just a few months after the conclusion of its first season. But if you are looking for something like "Mad Men" with a lot more laughs, this one will satisfy, and remind you why Williams remains one of Hollywood's most beloved comedians.
Major Dad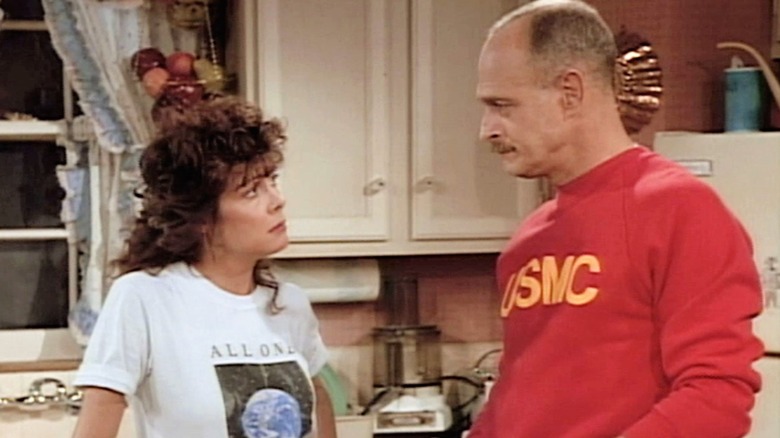 CBS
One of the last family shows that CBS put out in the '80s was "Major Dad," focusing on Marine Corps Major John "Mac" MacGillis (Gerald McRaney), who falls in love with a single mother who also happens to be a liberal journalist (Shanna Reed). In addition to following his exploits at Marine boot camp, we also see Mac struggling to deal with the overwhelming life changes of becoming a reluctant stepfather to three young girls overnight.
McRaney, who was coming off the long-running CBS crime drama "Simon & Simon," is great in the role of Mac. The show is a mix of wacky military hijinks ala "Hogan's Heroes" and the tried-and-true family comedy setup, giving it a fresh twist. In the end, "Major Dad" went AWOL after four seasons, and despite being fondly remembered by those who watched it, it doesn't get the attention it should. It's possible it suffered due to comparisons to the much more popular and similarly themed "Coach," but perhaps with a few decades hindsight, "Major Dad" can get the credit it deserves.
Mad Love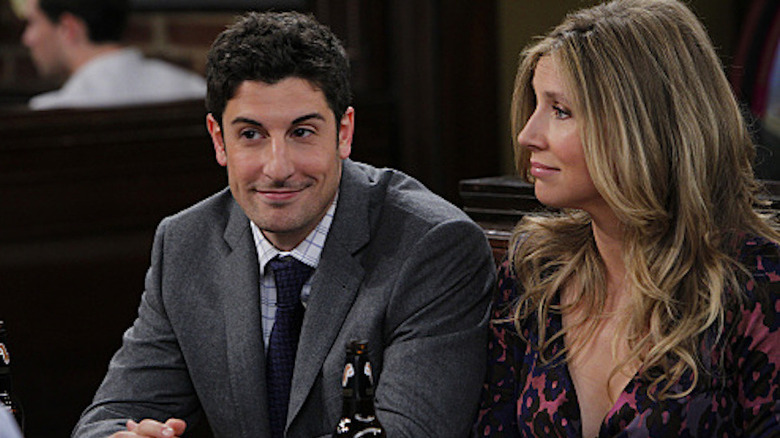 CBS
A mid-season replacement from 2011, "Mad Love" chronicled the fast-paced lives of a group of city singles. The series starred Jason Biggs, Sarah Chalke, Judy Greer, and Tyler Labine, with Martin Starr and Chris Parnell snagging recurring roles.
Set amid the hustle-and-bustle of New York City, we meet Ben, Kate, Connie, and Larry as they deal with the ups and downs during their quest to meet their match. Ben is a big city lawyer, tired of brief romantic liaisons when he meets Kate, who by contrast isn't quite ready to thrust herself into a new relationship. But they quickly hit it off and become a couple, while their friends seem skeptical of their chances at a happy ending.
With narration from best friend Larry, who embarks on a will-they/won't-they relationship of his own with fourth friend Connie, the series may draw comparisons to "How I Met Your Mother." Canceled due to low ratings, there's only 13 episodes. It may be frustrating to watch now, as you can see just how good it could have been if it was allowed to continue.
Bob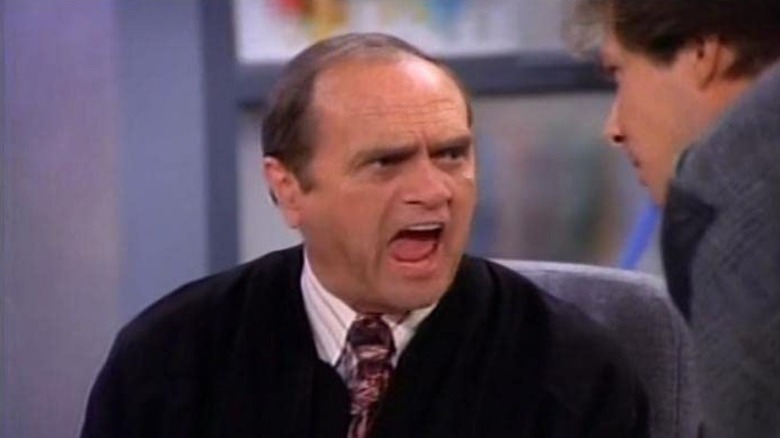 CBS
Comedian Bob Newhart is a television icon, having starred in two of the best sitcoms of the '70s and '80s. For six years he starred on "The Bob Newhart Show" and then had an eight-season run in the simply titled "Newhart," which features one of the greatest endings in sitcom history. He returned with another eponymously-titled series in 1992, this time called "Bob."
Newhart stars as Bob McKay, a humble and aging artist who once worked as a comic book illustrator. The series begins when McKay, who has long since retired, is thrust back into the limelight when his iconic 1950s superhero title "Mad Dog" is revived by a multinational conglomerate. The big wigs want to turn his character into a gritty, blood-soaked comic book for the '90s, and they want him to draw their revival. Eager for a chance to finally live out his dream of being a famous artist, he reluctantly agrees.
In an era before Hollywood was obsessed with superheroes, making McKay a comic artist helped give "Bob" a quirky charm, and it even found ways of working in elements from real-life comic book history that fans of the medium will get a kick out of. Unfortunately, it may also have been a bit niche at the time, and audiences didn't respond.
My Sister Sam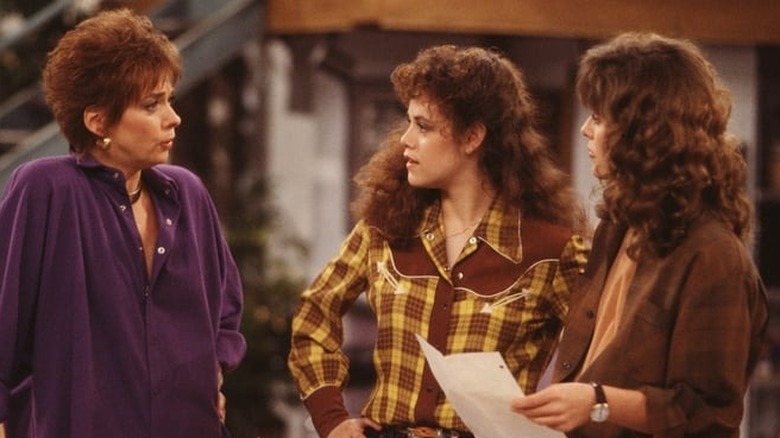 CBS
Following "Mork & Mindy," Robin Williams went off to the movies, not starring in another TV series for more than 30 years, but his co-star Pam Dawber wasn't gone long at all. In 1986 she was back leading a sitcom, this time the domestic comedy "My Sister Sam." In traditional TV fashion, the opener sees its lead living a comfortable life only to have everything upended by the unexpected arrival of a new roommate. In this case, Sam (Dawber) is a successful photographer who is blindsided when her teenage sister Patti (Schaeffer) shows up at her doorstep looking for a place to live.
Though the premise is somewhat formulaic, the relationship between Sam and Patti as sisters with a considerable age gap is what makes the series shine. Especially when the fussy, tightly wound Sam is struggling to put up with her freewheeling younger sister, whose wilder teenage life always seems to cause trouble for her. The culture shock of Patti's younger friends — like punk rocker Brandon (Dean Cameron) — doesn't help, as she also has to act as a quasi-parent figure.
Airing for two seasons, "My Sister Sam" never got the attention it deserved. It's full of fun and quirky characters and is perfect for those looking for an '80s sitcom that's a bit less saccharine.
The Gregory Hines Show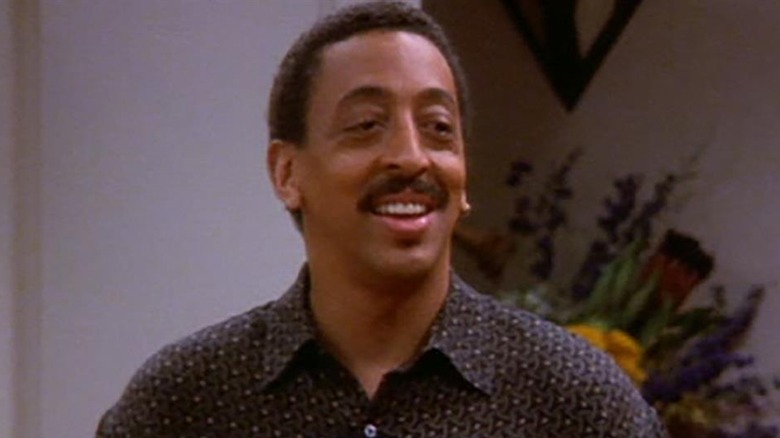 CBS
Television has a long history of giving broad entertainers their own shows, but rarely has one as truly special and eclectic as Gregory Hines come along. A dancer, actor, and singer, Hines made his mark on film with '80s movies like "The Cotton Club" and "Running Scared." In 1997, he was rewarded with his own series, "The Gregory Hines Show." It aired as part of CBS' Block Party lineup, which was designed to help the network compete with ABC's TGIF.
Hines plays literary agent Ben Stevenson, who is raising his pre-teen son Matty (Brandon Hammond) by himself. It's been some time since his wife passed away, and he awkwardly begins trying to meet new people. He stumbles along romantically, just as his son is making his own first steps in the dating world. The cast is rounded out by future "Jack Ryan" star Wendell Pierce as Ben's brother Carl, and the legendary Bill Cobbs plays their father James.
While the Block Party idea proved successful for CBS, "The Gregory Hines Show" got the ax after just one season, despite some strong reviews. Variety called it "a stroke of modest genius" in a glowing review, adding: "Brimming with quirky characters, snappy repartee and mounds of heart, Hines' series has all the earmarks of a gleaming diamond in the Friday night rough."
Cybill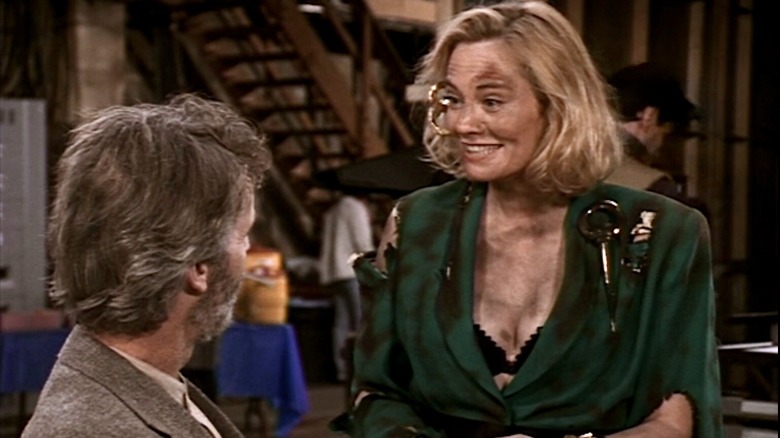 CBS
In the 1980s, Cybill Shepherd starred in "Moonlighting" with Bruce Willis, which ended as the decade closed out. Shepherd returned to lead another series in 1995's, the self-titled "Cybill." This CBS sitcom centers on Cybill Sheridan, a fictionalized version of the actor. Sheridan is a middle-aged actor frustrated by the lack of good roles being sent her way. Her struggles are compounded by the ennui of her best friend, fellow divorcee Maryann (Christine Baranski of "The Good Wife" fame).
"Cybill" isn't just about an actor's waning career, it's also about how her choices impact her family life as a single mother to two daughters, Zoey (Alicia Witt) and Rachel (Dedee Pfeiffer). Meanwhile, her two ex-husbands are also in the mix, causing problems for her and her career. What made the show unique was its meta humor, as it also included interstitials and cold opens that took place within a fictional TV show starring Sheridan, played by Shepherd.
Delightfully self-aware, "Cybill" was a rare show in the '90s to center on a woman facing middle age, with a refreshing frankness about how Hollywood views mature women. Running for four seasons, "Cybill" was an above-average show, and if you're looking for an underrated '90s sitcom, look no further.
Kate & Allie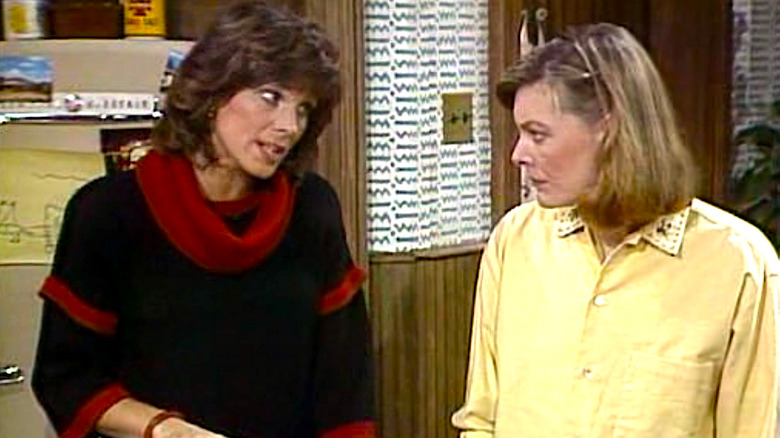 CBS
Debuting in 1984, "Kate & Allie" starred former "SNL" news anchor Jane Curtin and Susan Saint James ("McMillan & Wife") as a pair of single mothers who pair up to become roommates, taking their kids with them. But, like any good sitcom premise, Kate and Allie aren't two peas in a pod and are something of an odd couple.
Saint James plays Kate, who's recently decided to try and settle down following her divorce, after years of living a more carefree lifestyle. Curtin's Allie is a more uptight and orderly sort whose husband has run off with a new woman, and who is now a single working woman for the first time. Kate's daughter Emma (Ari Meyers), and Allie's kids Chip (Frederick Koehler) and Jennie (Allison Smith) are along for the ride. Best friends Kate and Allie have such a deep bond that the series has become a favorite among LGBTQ+ viewers (Into called it "the gayest sitcom that's ever aired"), though a romantic relationship never actually occurs on screen.
Arriving as a midseason replacement, "Kate & Allie" proved good enough to get a lengthy run. It's funny, clever, and perhaps one of the most underrated sitcoms of the '80s. There may be no better time to rediscover this series, as word has it that a remake is in the works from "Never Have I Ever" co-executive producer Erica Oyama.
Doctor Doctor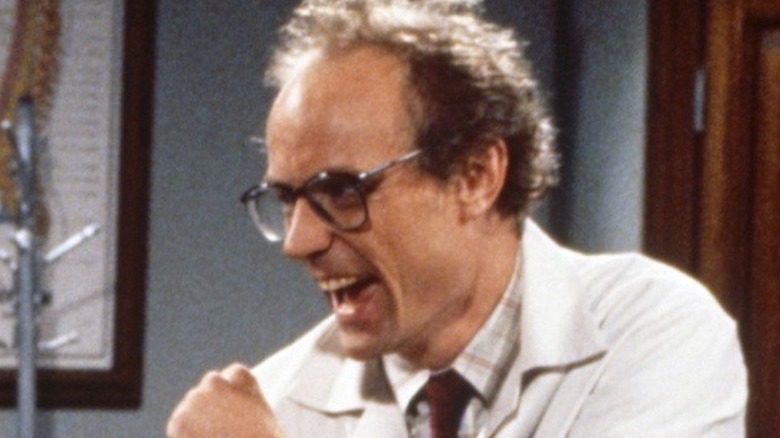 CBS
When it comes to medical sitcoms, "Doogie Howser, M.D." and "Scrubs" are at the top of the pile, with enduring legacies that have stood the test of time. For whatever reason, though, the similarly themed 1989 CBS comedy "Doctor Doctor" seems to have been almost totally forgotten, despite being full of comic genius and amusing medical mockery.
Starring Matt Frewer, Julius Carry, Beau Gravitte, and Maureen Mueller, the series follows the day-to-day goings on at a private medical practice in Providence, Rhode Island. Frewer plays central character Dr. Mike Stratford, a wacky, off-the-wall quack who provides many of the show's biggest laughs. Wild-haired, eccentric, inadvertently troublemaking, and often bumbling, Stratford is what you might get if you gave Kramer from "Seinfeld" a medical degree, and it works as well as you'd imagine. 
More than just funny, the series was never afraid to be topical or even controversial, confronting problems in the healthcare industry and tackling taboo subject matter. Episodes involving AIDS, homophobia, and racism pushed the envelope for '80s TV. Though it lasted for longer than Frewer's previous series, "Max Headroom," it's somehow never been as well-remembered. But, as a surprisingly heartfelt and earnest — as well as side-splittingly hilarious — sitcom, "Doctor Doctor" deserves to be brought back in for a second opinion. 
The Hogan Family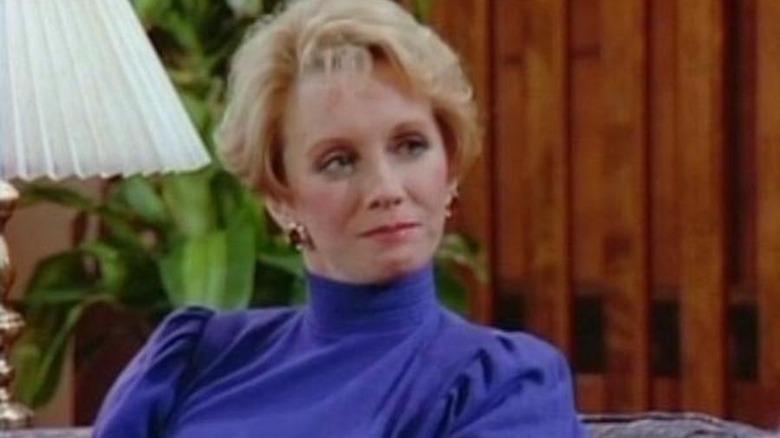 CBS
Retooling a TV show in the middle of its run happens more often than you'd think. In sitcom terms, this often means adding a new character or changing a setting — or, in the case of "The Hogan Family," changing the main character and the name of the show, too. When it first aired in 1986, the series was titled "Valerie" and starred Valerie Harper as mother and wife Valerie Hogan. But, after the show's first two years, NBC made the awkward (and ultimately costly, as a court ruled in the actor's favor following a lawsuit) decision to boot its star from the series over a contract dispute.
Without its star, you might think "Valerie" would have crashed and burned. But Harper was replaced by actor Sandy Duncan, who swoops in to play Hogan's sister Sandy. She arrives after the fictional Valerie's off-screen death to help take care of the kids. The series was given a new, broader name: "The Hogan Family." That family includes Jason Bateman — better known today for his role as Michael Bluth on "Arrested Development" and as Marty Byrde in "Ozark" – as teenager David Hogan.  
Propped up by Duncan's charming performance as the lovable Sandy, "The Hogan Family" ran for four more years, airing across both NBC and CBS. A top-notch family sitcom, it's been mostly buried amid more popular classics, but it definitely deserves to be dusted off for another look.
The Closer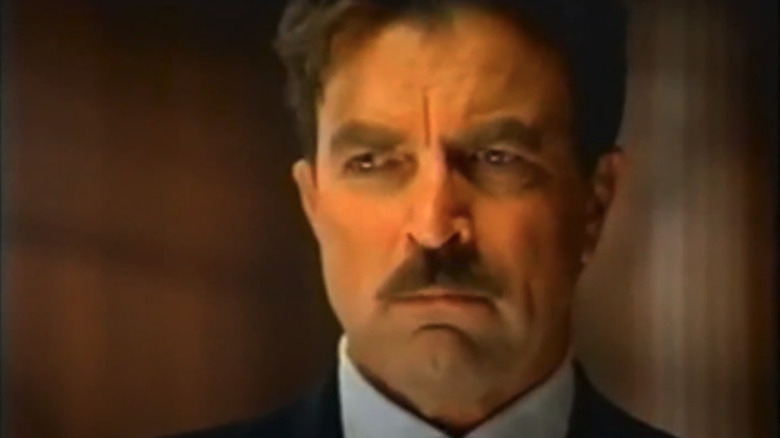 CBS
No, we're not talking about the long-running police procedural starring Kyra Sedgwick from 2005. Believe it or not, there was another series titled "The Closer," and it oddly enough has a very similar premise to "The Crazy Ones." Debuting in 1998, "The Closer" was another CBS sitcom set at a fictional ad agency, this time run by Jack McLaren, played by TV veteran Tom Selleck. There he's joined by his creative director Carl (Ed Asner) and vibrant accountant Erica (Penelope Ann Miller).
Famous for being able to close just about any deal, Jack is a larger than life figure whose reputation precedes him. When we first meet him, McLaren is busy beating the President of the United States in a round of golf, which makes his work with the U.S. Army a little awkward. If that wasn't bad enough, his wife (Joanna Kerns) pops up to demand a divorce. Now, on top of negotiating big deals in the boardroom, Jack must also find a way to negotiate his separation, and the sitcom shenanigans are off and running.
A charming cast is the best thing about "The Closer," a series that debuted as a mid-season replacement. Sadly, it couldn't survive the 1998 season, and only got a scant 10 episodes in its run.
Brooklyn Bridge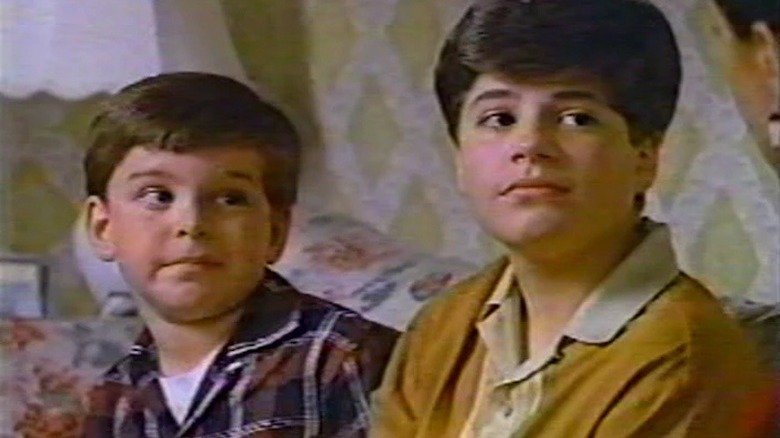 CBS
Following the success of his hit 1982 sitcom "Family Ties" starring Michael J. Fox, producer Gary David Goldberg created "Brooklyn Bridge" in 1991. Inspired by his own life, the series revolves around a Jewish family in Brooklyn in the 1950s, mostly centering on the life of 14-year old Alan Silver (Danny Gerard). Along with his little brother Nathaniel (Matthew Siegel), Alan lives with his parents (Amy Aquino and Peter Friedman) and grandmother, played by Marion Ross of "Happy Days" fame.
While his grandparents spin tales of old world life in their home country, Alan deals with the everyday problems of a 1950s New York kid. This includes struggling to deal with a possible trade of baseball great Jackie Robinson and his first after-school job to girls and bullies. It's a timeless coming-of-age story with a unique period setting and a memorable theme tune performed by Art Garfunkel. Sentimental without being sappy, the series is so much more than a sitcom — it's both a love letter to days-gone-by and a history lesson. Episodes address real world issues faced by the family with heart and sensitivity, from teen pregnancy to the Cold War and religious tolerance.
A beloved but mostly forgotten classic, "Brooklyn Bridge" only ran for two years. Nevertheless, it's been described by some viewers as "perfect," and is without a doubt one of the best forgotten family sitcoms that CBS has ever produced.