How The Walking Dead Changed Jeffrey Dean Morgan Forever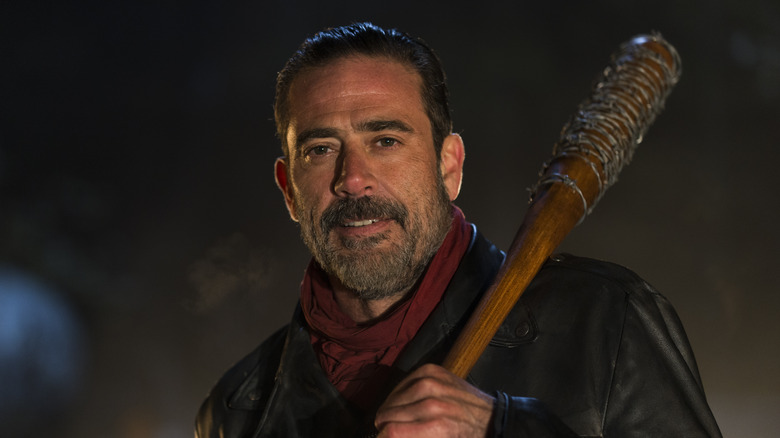 Gene Page/AMC
Jeffrey Dean Morgan had been living in Los Angeles and acting for nearly a decade when he landed the role of John Winchester in "Supernatural." Although his role in the CW fan-favorite may have led to more acting gigs, it wasn't the character that would change his life forever. When Morgan landed a recurring role on "Grey's Anatomy," it seemed he had ascended to a new level in his acting career — one that had the promise of stability — but his character died, as they often do in hospital dramas.
In 2016, Morgan accepted the role that would shape his career and change his life. When Negan first walked out of that Winnebago at the end of the Season 6 finale, both "The Walking Dead" and Morgan's life were changed. Speaking with The New York Times, Morgan and co-star Lauren Cohan recalled they filmed multiple alternate endings for the episode. "We shot me killing every member of the cast," Morgan said. "Everyone took a hit from the bat that night. That was just to throw people off. It was crazy. The cliffhanger pushed the fan base awfully far."
Negan was a polarizing character who entered the AMC series like a wrecking ball, breaking fans' hearts when he killed Glen (Steven Yeun) in the Season 7 opener. After five seasons playing Negan, it's safe to say the role cemented Morgan's career and turned his life upside down. Keep reading to learn how "The Walking Dead" changed the actor forever.
Morgan was thrilled when he was asked to join the cast of The Walking Dead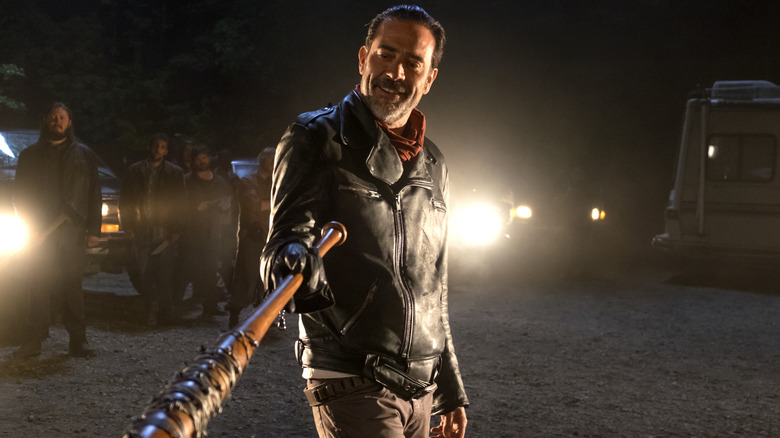 Gene Page/AMC
Jeffrey Dean Morgan was a fan of the "Walking Dead" series and the comic books, so when he was offered a role in the AMC juggernaut, he was excited. Morgan told Interview Magazine in 2016, "I'd watched the show for years. It was one of the few shows that I would DVR and pay attention to," despite his busy work schedule in the years leading up to joining the series.
Morgan told Interview Magazine he learned about Negan when fans started approaching him at Comic-Con and saying that he should play the character. He later picked up a copy of the comic book and realized how fun it would be to portray Negan. When his agent told him about the possibility of playing a mystery villain on "The Walking Dead," he knew exactly which character it was. "It's f****** Negan!" he recalled thinking to Interview Magazine. "And I'm going to f****** do it." Clearly, the actor was elated to take on the role.
Morgan was working on "The Good Wife" when he was approached about joining "The Walking Dead," but he found a couple of days in his schedule to film the Season 6 finale. Morgan told Variety, "It was a little bit tense. For me, it all happened very fast. I think I got the script two days before I shot it." AMC was very careful about spoilers with "The Walking Dead," and Morgan only received his portion of the script.
Playing Negan gave Morgan the most consistent work of his career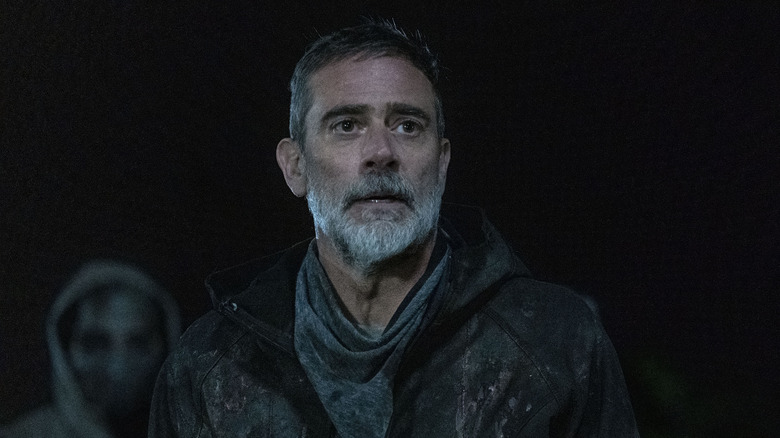 Josh Stringer/AMC
Jeffrey Dean Morgan has been in his fair share of movies and TV series. Some likely know him for playing Denny in 23 episodes of "Grey's Anatomy," or Ike Evans in "Magic City." Other fans first noticed Morgan in "Supernatural" when he played Sam and Dean's father, John Winchester. But Morgan's turn as the Comedian in "Watchmen" proved he had the chops to play a villain. Despite having a lot of success as an actor, Morgan joining the cast of "The Walking Dead" in Season 7 was a big commitment, beginning his longest consistent stint on a television series.
During a 2022 panel at New York Comic-Con, Morgan revealed the original plan for Negan was only three seasons long, resembling his story arc in the comic (via ComicBook). "I think, originally, it was gonna be three years," Morgan said. "I had a conversation with Scott [Gimple], and it was like, 'You gotta be on it for at least three years if you want to be a part of this show.' I was like, 'That seems like a long time.'"
Negan's role in the series developed well beyond the comics, and Morgan stayed on until the series finale, starring in 95 episodes spanning seven seasons. That kind of consistent work as an actor is life-changing, especially when you have a growing family. In 2017, after Morgan had joined the cast of "TWD," he and his now-wife Hilarie Burton welcomed their second child.
Morgan wasn't prepared for the kind of fame The Walking Dead delivered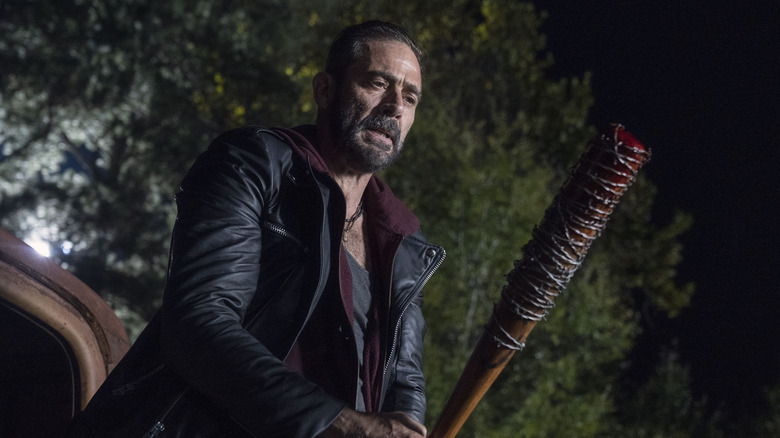 Josh Stringer/AMC
Jeffrey Dean Morgan was far from an industry newcomer when he landed the role of Negan, but he wasn't quite prepared to star in a series as high-profile as "The Walking Dead." Looking back on the experience of joining the cast, Morgan told The New York Times in 2022, "I was a big fan of the show, and I knew it was going to attract a bit of attention. But I had no idea of the levels of crazy that it was going to be."
When asked in 2016 how the series had changed his life, Morgan jokingly admitted to AOL, "I need security." He described some strange interactions with fans, saying, "People will follow me home. I get weird mail." Despite already having been on popular shows like "Grey's Anatomy," the intensified attention was a big change. "I'm a very private dude," Morgan told ABC News in 2017. "I live in the middle of nowhere, so it's been an adjustment."
Morgan told AOL, "Everyone told me when I showed up on the set for this show that my life was gonna change, and I thought, 'well that's b*******.'" However, he later realized that the role was far different than anything he'd done before. Although Morgan is a self-professed "private guy," he told Men's Journal in 2021 that being on the series and the success of his wife's bestselling memoir "The Rural Diaries" helped him realize there's "not a lot there to hide anymore." He explained how freeing that feeling was, calling it "a weight off my shoulders."
Morgan can't walk down the street without being recognized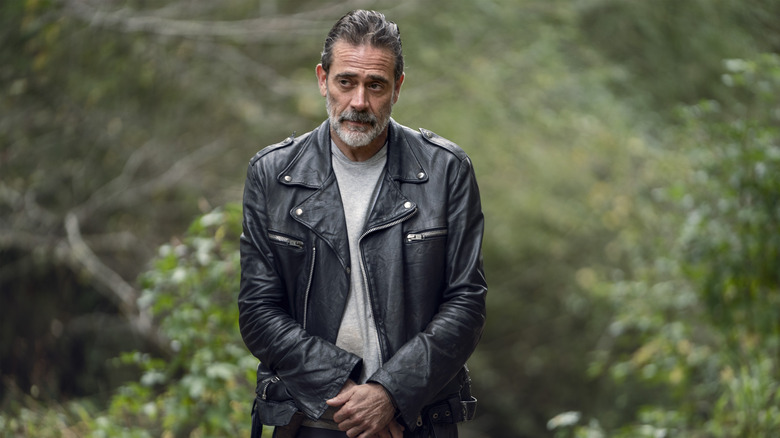 Eli Ade/AMC
Jeffrey Dean Morgan's contentious entrance into "The Walking Dead" didn't make him popular with long-time fans. In fact, some fans actually stopped watching "The Walking Dead" after the Season 7 premiere when Negan killed Glen. "It changed my life," Morgan told Insider in 2023. "That one scene changed my life, literally, in so many ways. And I still get s*** for it." He added that people still "remind me daily that Glenn was their favorite character." In 2022, looking back on his time on "The Walking Dead," Morgan told Insider that if he could change one thing about Negan, "I wouldn't have killed Glenn."
Being such a memorable character in such a popular series suddenly made Morgan's face recognizable. Hanging out with other stars from the series only compounded this notoriety. Morgan told Interview Magazine that riding motorcycles with Norman Reedus was wild, saying, "Within three minutes of us stopping to get gas, a couple of phone calls that people make, and there's 100 people blocking us and we can't get out.
Morgan told AOL that Reedus is especially generous with fans, and that he has learned a lot about being gracious from his co-star. He acknowledged it is difficult for him to deal with being approached by fans when he's with his children, saying, "Sometimes I get a little overwhelmed."
Jeffrey Dean Morgan bought a farm in New York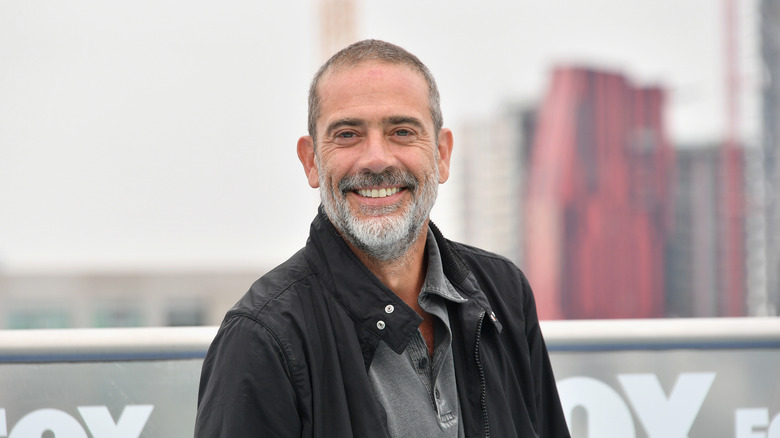 Dia Dipasupil/Getty Images
Jeffrey Dean Morgan's first time on a movie set was during the '80s. At the time, he had no plans of pursuing acting, but that eventually changed. "I moved to Los Angeles and met a casting director," he told Interview magazine in 2016. "Then I spent 20 years struggling trying to figure out how the f*** I was going to make a living and feed my dog. And now we're doing okay. Now we're Negan." Morgan's early successes gave him the freedom to leave Los Angeles for the Hudson River Valley, where he co-owns a candy shop with Paul Rudd and both actors' wives.
Although Morgan moved to Rhinebeck before he joined the AMC series, He bought a farm in 2018, during his tenure on "The Walking Dead." Morgan told Men's Journal in 2021, "After 20-some years in L.A., my life took a different direction, and suddenly, we bought a f****** farm. It's been the coolest thing that I've ever been a part of. Most of the animals we have are all rescues, and they all have funky personalities."
Despite filming "The Walking Dead" in Georgia, Morgan remained committed to his children living in the countryside on Mischief Farm and going to a normal school. The career stability of being on a popular series for seven seasons certainly helped Morgan provide that kind of life for his kids.
Getting to work with his wife on the series was a career highlight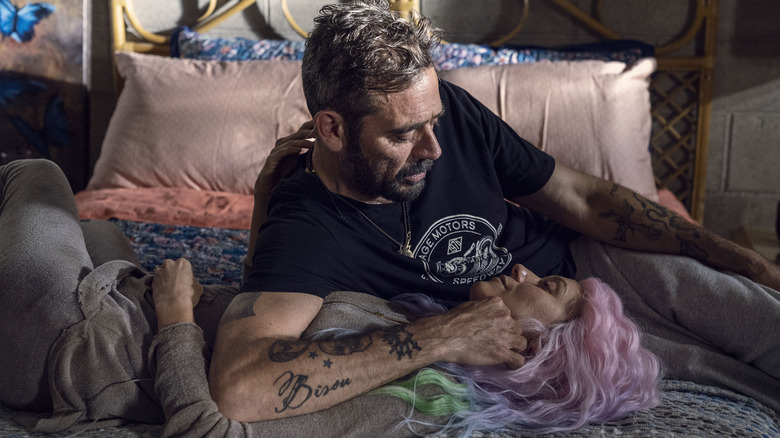 Josh Stringer/AMC
When Jeffrey Dean Morgan first landed the role of Negan, Robert Kirkman was still working on the character's backstory. "Hopefully we'll find out more about Negan as we go," Morgan told Variety after his debut in the Season 6 finale. "I think his backstory's gonna be pretty fascinating." That backstory was finally explored when Morgan's real-life wife, Hilarie Burton, joined the cast of "The Walking Dead" in Season 10 to play Negan's deceased wife Lucille in flashbacks.
Morgan and Burton met through their friends Jensen and Danneel Ackles in 2009. After welcoming 2 children, the couple tied the knot in 2019. Although the two actors worked on the same series, "Extant," in 2015, they didn't actually share any scenes, so working together as Negan and Lucille was their first time acting together,
Burton gushed about working with her husband on Season 10 of "The Walking Dead" on Instagram, saying, "When I tell you it has been a JOY, I'm saying it with tears in my eyes." Morgan also posted to Instagram, saying working with his wife in the episode titled "Here's Negan" was "Probably the highlight of my career. I sure know how lucky I am."
While playing Negan, Morgan became attached to the character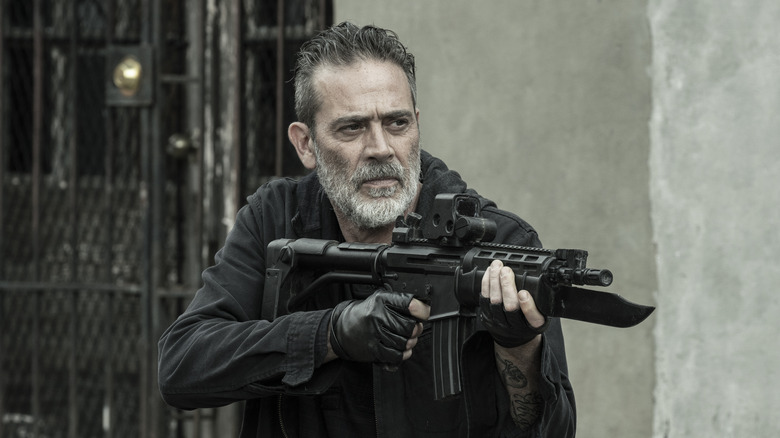 Jace Downs/AMC
Initially, Jeffrey Dean Morgan had some concerns about Negan. "I was worried that Negan was very two-dimensional, he told Men's Journal in 2021. "I felt like every scene was an iteration of him coming out of that Winnebago." However, Morgan admitted to Interview Magazine that he enjoys playing a villain because it's both freeing and challenging. "I don't think of him necessarily as a villain," he told Variety in 2016, saying that he approached the role thinking, "this is a guy who's a survivor."
The challenge of playing an antagonist is embracing the humanity at the center of the character, despite their flaws. Morgan dug deep for Negan's redeemable qualities. Speaking with Variety, he acknowledged that people think Negan is psychotic, but said, "I never looked at him like that. I think there's a lot of similarities between him and Rick," suggesting that if Episode 1 of "The Walking Dead" began with Negan's story, audiences might have rooted for him too.
Negan eventually went on a redemption arc, giving Morgan the chance to grow as an actor as his character grew as a person. He told Men's Journal, "Negan has become such an important part of my life. It'd be hard to make a clean cut and walk away. Unless they just want to kill me. Just a knife in the back. And maybe that's what needs to be done for me to walk away from this guy."
During Covid, Morgan and his family lived on the Alexandria set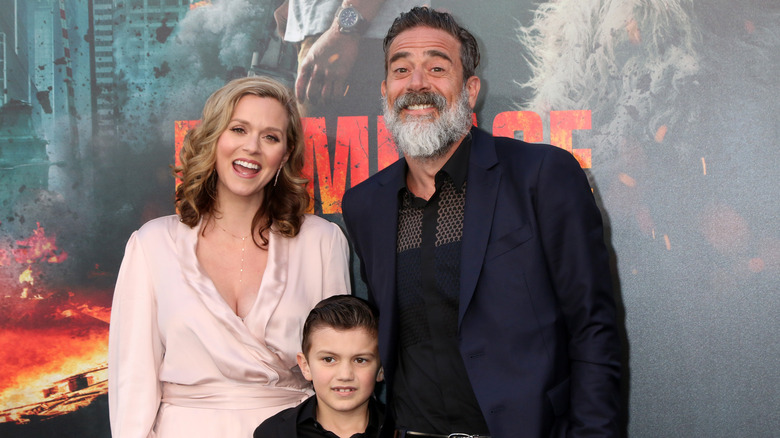 Kathy Hutchins/Shutterstock
Jeffrey Dean Morgan once joked that you should never get too comfortable as a cast member on "The Walking Dead" because you can get killed off at any moment. "I had a three-year deal initially," he told The New York Times, referring to when he first went to Georgia to film. "I remember asking [the showrunner] Angela [Kang], 'Should I buy a house?' And she was like, 'Ehhh.' And I was like, 'Well, that's it. I'm dead!'"
Since Morgan had made a life for himself, his wife, and their two children in Rhinebeck, he never got around to buying a home in Georgia. His wife Hilarie Burton told Interview Magazine in 2021 that to keep the cast safe for filming her guest episode during Covid, "they had us quarantined living in the neighborhood that 'The Walking Dead' shoots in," adding, "We lived in Rick Grimes's house. There were bullet holes in my child's closet door."
Morgan told Men's Journal that his son did remote schooling on location "in Alexandria, this apocalyptic, walled-off town charred and burned down from the season before." He added that the 30-foot wall around the town actually gave him some peace of mind, "because I could let the kids and the dogs out. I knew they couldn't go anywhere." Burton told Interview Magazine that living on-set during Covid was a truly bizarre experience, saying, "we were living in a real apocalypse in the real world living in a rented house in a fake apocalypse and filming the beginning of a pandemic," during a real pandemic.
They filmed the super-sized Season 11 during Covid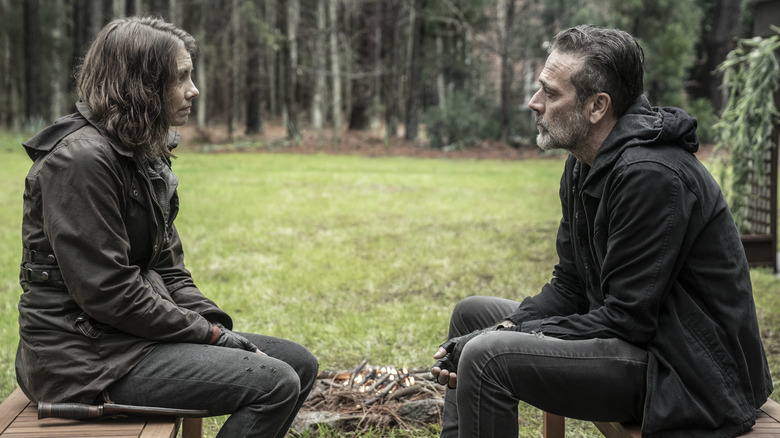 Jace Downs/AMC
If Jeffrey Dean Morgan hadn't already felt like the cast of "The Walking Dead" were family, weathering Covid together cemented the bond the cast and crew already shared. Season 11 was shot digitally instead of using 16mm film, and the production hired an Army medic and infectious diseases specialist as a safety precaution (via Insider).
Morgan told Deadline that during Covid, the cast and crew were the only people they could spend time with because of safety precautions. "We really leaned on each other," he said, lamenting how difficult the isolation of Covid really was. "It was hard on us too and thank God we had each other," he told Deadline.
In an interview with Gio Journal, Morgan said that the show "really is a kind of family atmosphere," sharing how Norman Reedus is "Uncle Norman" to his children, "and vice versa with his little girls." The actor added that he knows being so close to the cast and crew of a television series is "a rare thing," and he clearly appreciated their bond while filming under Covid restrictions.
Morgan was so emotional about the series ending he delayed watching the finale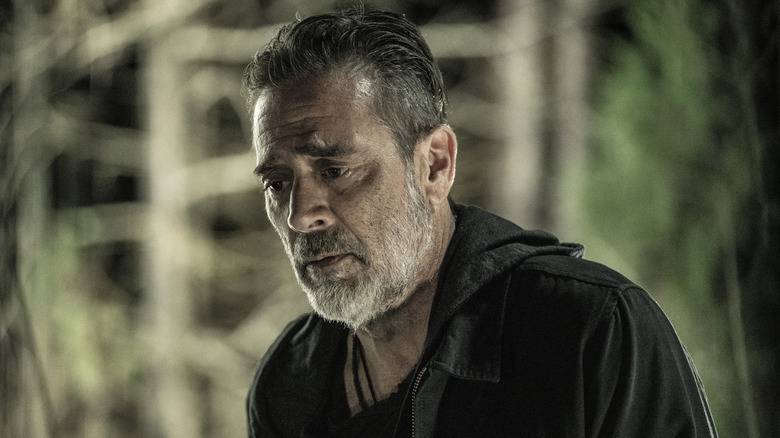 Jace Downs/AMC
After "The Walking Dead" wrapped, Morgan was emotional about watching the series finale himself. "It's weird," the actor told Deadline. "I haven't been able to watch the finale because there is a finality to it that I don't think I'm ready to deal with yet." Morgan admitted he hadn't actually watched the last four episodes, despite having the time to do so. "I just haven't wanted to watch them," he said. "I think I just needed to be in a mood." 
Morgan admitted to Deadline that despite being very excited about getting to continue playing Negan, and the thrill of starting a new series, he still misses the unique situation of the original show. "I miss the show," he said. "I miss that crew, and when I say crew, I mean the cast and the actual crew."
Jeffrey Dean Morgan is starring in the spinoff Dead City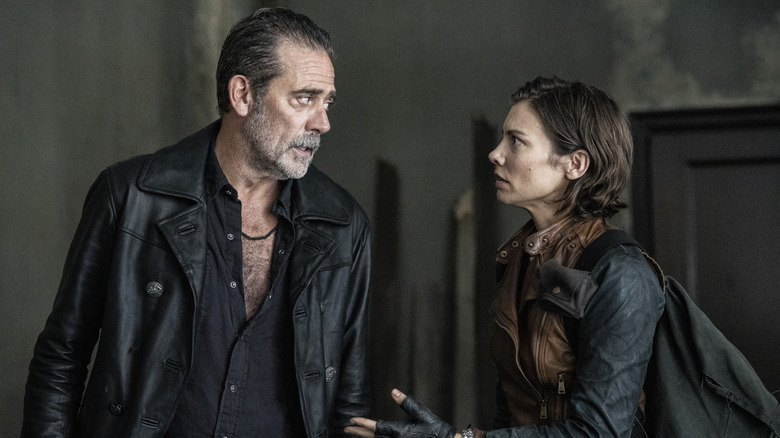 Peter Kramer/AMC
The upcoming "Walking Dead" spin-off "Dead City" picks up a couple of years after the events of "The Walking Dead" and follows Maggie (Lauren Cohan) and Negan as they journey to Manhattan. Morgan told The New York Times, "When I found out the show was ending, I was like, OK. I did my bit. I'm proud of the work I did." But soon, AMC floated the idea of a spin-off, and Morgan was all ears.
Considering the actor's attachment to Negan, it isn't an enormous surprise that he jumped at the chance to reprise the role. Morgan told Gio Journal that the shooting location was a motivating factor in his decision, saying, "the fact that I get to be home played a big part in it in making this decision really easy for me." Morgan admitted he can't wait to "see the zombie apocalypse in New York City," teasing what's to come.
The actor told Entertainment Weekly that he contemplated walking away when "The Walking Dead," ended, thinking it a noble choice, but he decided to return because "the story was so good and so worth telling that." "Dead City" is currently slated to premiere in June of 2023.
He wasn't happy about the premature announcement of the spin-off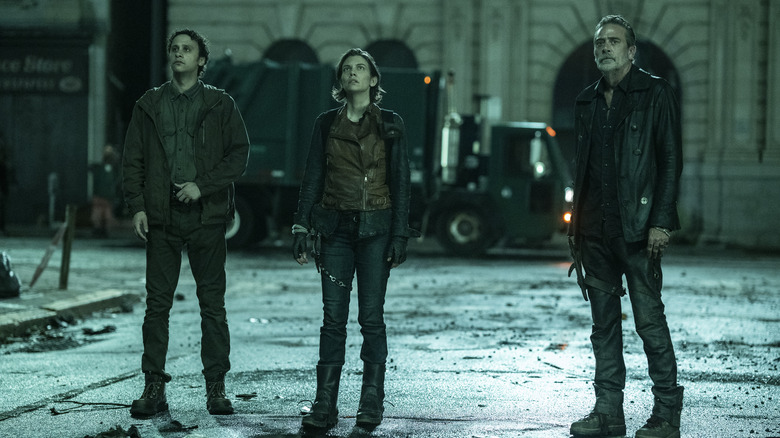 Peter Kramer/AMC
Some fans of "The Walking Dead" were upset when announcements of the upcoming spin-off series spoiled who would survive the last season. Morgan joined the chorus himself, speaking out about how AMC announced "Dead City" and the other coming shows.
"That's not the way we should have gone about it," Morgan told Entertainment Weekly regarding the early announcements. "I would've tried to go about it in a different way, but look, that's above my pay grade." The actor told Deadline that he "got in a little bit of trouble probably for being so vocal about it," but he stood by his opinion, saying, "if you had watched the scene in the last episode of that lineup, imagine how much better that scene would have been if you thought Negan was going to die."
Morgan and his co-star Lauren Cohan will executive produce "The Walking Dead: Dead City." Hopefully, they can use that position to have influence over decisions like similar announcements in the future. Although Morgan is excited about Negan's next chapter, he told Insider, "The journey that I went on with my kids and my wife was an amazing journey. To be enveloped by these people, and the world, because of this show is something that will never be duplicated, ever."