Why Some Walking Dead Fans Gave Up On Season 7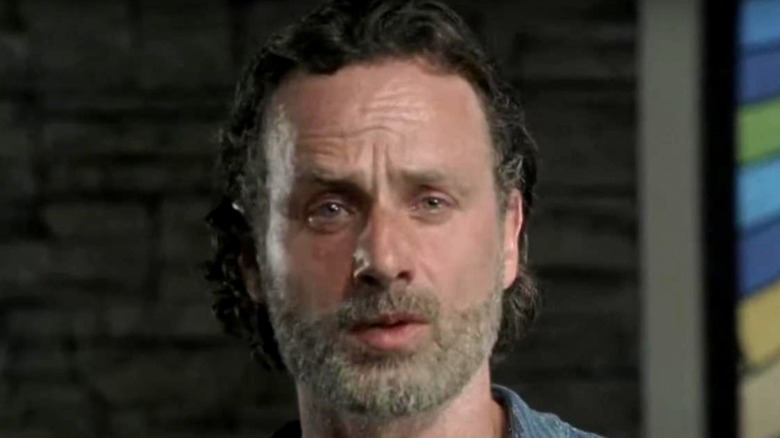 AMC/YouTube
On Halloween night in 2010, AMC greeted viewers with the inaugural episode of "The Walking Dead." Based on Robert Kirkman's Image Comics creation, the series welcomed television watchers into a twisted, zombie-infested world where human civilization had fallen into ruin. That made it the responsibility of survivors like Rick Grimes (Andrew Lincoln) to combat the undead, as well as those taking advantage of a bad situation, and begin rebuilding the world. In virtually no time at all, this premise caught on with fans, making "TWD" an unrivaled small screen hit.
As of this writing, "The Walking Dead" has extended to a whopping 11 seasons, though don't expect it to stick around much longer. As revealed in September of 2020, the show will come to an end in 2022 with the release of the final batch of Season 11 episodes, signaling the end of a television era. In response to this news, "TWD" fans, new and old alike, have decided to take a look back at all that it had to offer over the past 12 years. Much of what they've encountered on their trip down memory lane has been positive, but that doesn't mean that they haven't met bumps in the road here and there.
For instance, several "Walking Dead" fans have recently expressed their enduring dislike for Season 7. Here's why it never worked for them.
Season 7 had too many issues to bear for some fans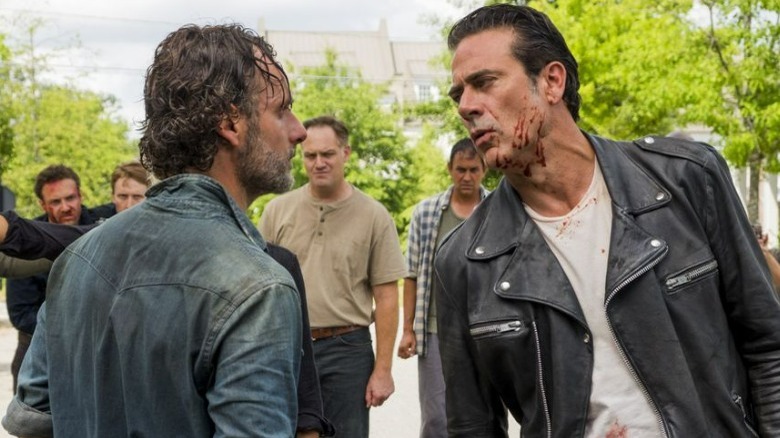 AMC
All things considered, Season 7 of "The Walking Dead" had the potential to be one of the best of the bunch. Following up on the Season 6 finale, the newly-arrived Negan (Jeffrey Dean Morgan) killed both Abraham Ford (Michael Cudlitz) and Glenn Rhee (Steven Yeun) and asserted his and the Saviors' dominance over Rick and the rest of his group. Sadly, according to numerous "TWD" fans, the series failed to capitalize on this strong start going forward, allowing Season 7 to become a disappointing watch — if you stuck around through it all, that is.
To kick off their Reddit thread, user PermabannedX4 gave a few reasons for why they felt Season 7 fell flat, including wonky dialog, shoehorned action sequences, inconsistent plot armor, and an unnecessary amount of "edginess." This prompted their fellow Redditors to not only agree with these sentiments but add on some observations of their own that personally turned them away from this section of "Walking Dead" history.
"It just dragged on like no other," commented theorganicpanda312, with the OP agreeing that Season 7 had more episodes than it needed. AlphaWolf1679 added that it also failed to deliver when it came to the conflict between Rick and Negan's camps, calling it "a playground fight between two blowhards" as opposed to the war it promised viewers. User yawnyjay notes that both Season 7 and 8 "tortured us by killing developed characters left and right," making both miserable to watch.
"The Walking Dead" is one of those shows that has been on the air for so long that enduring the odd rough episode comes with the territory. However, releasing an entire season that doesn't work for a decent chunk of the fanbase is far less common. Thankfully "TWD" has managed to bounce back as it approaches its conclusion, but regardless, Season 7 will remain a black mark on its legacy.