Sweet Tooth's S2 Trailer Has Fans Pumped After A Two-Year Hiatus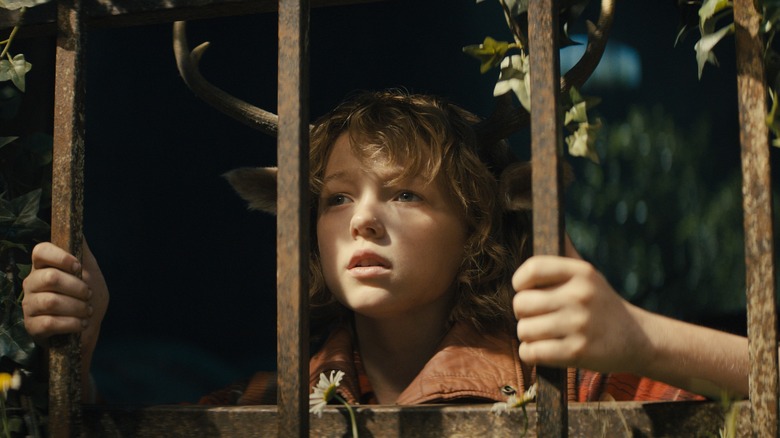 Netflix
If you're a fan of Netflix's "Sweet Tooth," you've been in limbo for a long time. The live-action adaptation of Jeff Lemire's comic book series received universal acclaim from critics and high praise from viewers, sparking excitement for where it could go after Season 1. But as is so often the case with big-budget fantasy streaming series these days, the wait for Season 2 dragged on longer than most would have liked.
Thankfully, that wait is finally almost over. Netflix has released a full trailer for "Sweet Tooth" Season 2, which reaffirms its April 27th release date and shows Gus (Christian Convery) fighting back against the Last Men. From the looks of things, Season 2 will be even bigger and more action-packed than its predecessor, with lots of new characters joining the story.
As you might expect, "Sweet Tooth" fans are thrilled to finally be getting another chapter in Gus' saga. "FINALLY!!!! THANK GOD! CANT WAITTT," Twitter user @captainbeckettt posted in response, echoing many others' sentiments of excitement. Check out the new "Sweet Tooth" Season 2 trailer and what fans are saying below.
Gus is fighting back in Sweet Tooth Season 2
The new trailer opens with some foreboding narration from General Abbot (Neil Sandilands), the new villain and leader of the Last Men army. After the ending of "Sweet Tooth" Season 1, it seems that Gus, Wendy (Naledi Murray), and every other hybrid in the world is more at risk than ever. But if you thought that Gus was going to just give up, think again. "My papa taught me, if I saw a human, I should hide," Gus says over a frenetic montage of action sequences. "But I am done hiding!" Christian Convery is fresh off of a fantastic performance in "Cocaine Bear," and it looks like "Sweet Tooth" Season 2 might give him his best material yet as a young star.
Gus' newfound determination was enough to get fans excited. "This looks so good! Can't wait!" @Miracle_Manon tweeted in response to the trailer. Fellow Twitter user @kk_romeow shared the enthusiasm, simply tweeting, "GUUUUUSSSSSSS " followed by two sobbing emojis. With a bigger world, new characters, and what looks to be an even more intense storyline, "Sweet Tooth" Season 2 could be something really special. Season 1 certainly laid a strong foundation to build off of.
"Can't wait!!! The trailer looks amazing," @SoftForHenry tweeted. Fortunately, fans won't have to wait much longer. "Sweet Tooth" Season 2 premieres on Netflix on April 27, 2023.