Grace Caroline Currey On The Wholesome Way Zachary Levi Treated The Shazam! 2 Cast Like Family - Exclusive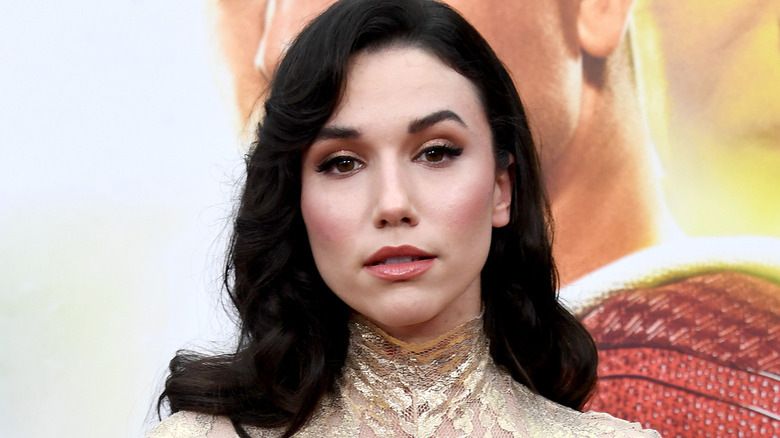 Albert L. Ortega/Getty Images
When it comes to films that have a larger-than-life group of characters that operate like a family, it's always a better experience for fans when the cast members actually like each other. It's even better when they've developed a family-like bond that matches the one their on-screen counterparts share. 
Whether it's the young "Shazam!" cast like the recently promoted Grace Caroline Currey (who plays both Mary and Super Hero Mary in "Shazam! Fury of the Gods") or Zachary Levi (Shazam himself), the cast has a tight-knit bond that only enhances their on-screen dynamic. With a story that hinges on a group of foster care kids finding their forever home, the cast's close bond helps fans buy the characters' bond.
Looper spoke to Currey during an exclusive interview for "Shazam! Fury of the Gods," where she discussed what it was like working with Zachary Levi and using his house as a home base. She also touched on how the cast became a family during filming.
Zachary Levi, aka Shazam! Dad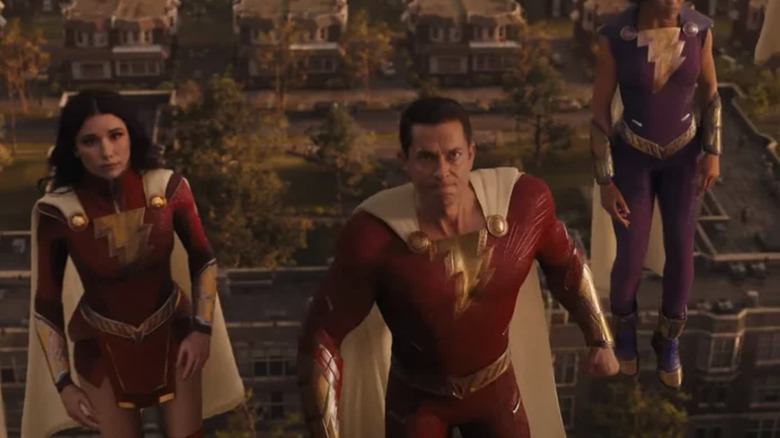 Warner Bros. Pictures
Grace Caroline Currey had nothing but good things to say about working with her co-stars, describing how Zachary Levi offered his home to be the cast's hangout hub. "Zach is this generous-hearted, larger-than-life, fun human," she said. "He had a home in Georgia while we were shooting, and our cast would go back there after we would wrap. We'd go back to Zach's and either swim in the pool, barbecue, lay on the couch, [or] zone out on our phones." Fans would no doubt give anything to get an invite to that epic pool party!
Currey added, "There was some random day I got a message saying, 'We're having pancakes at Zach's,' and I went, 'Okay, I'm on my way to Zach's.' Working with Zach was ... He's so much fun. He's always carrying his boombox around." While she didn't mention what might have been on his playlist, it's clear he made an effort to make the cast comfortable during their downtime.
Currey spoke highly of Rachel Zegler as well. "It was so fun to get to gain a friend on the set. The added characters that we have ... it felt like they were meant to be with us all along."
Finding family on set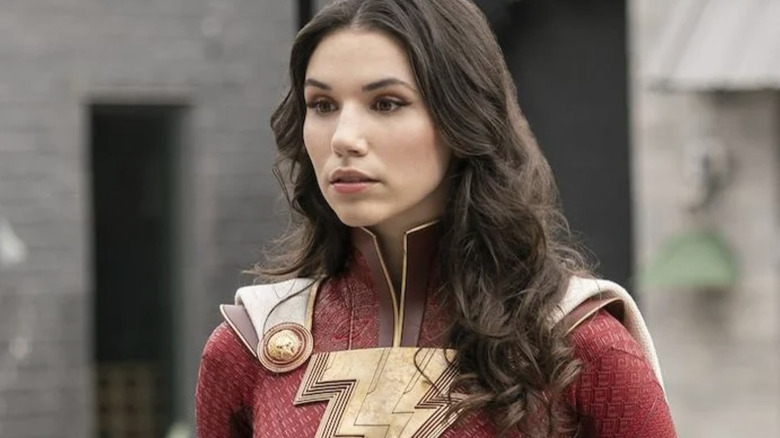 Warner Bros. Pictures
There's a found family element to the "Shazam!" movies that goes beyond what's found in most superhero films. Grace Caroline Currey noted that the family element extended behind the scenes (even beyond their hangouts at Zachary Levi's house), which undoubtedly aided their on-screen chemistry. "It's definitely been expanded to our cast and how we feel for one another. We've got a group chat checking in on each other from time to time, wishing each other happy birthday," she said. 
And though the film has long since wrapped, their communication has not. Currey added, "The group chat was hilarious right before the premiere. Everyone's saying, 'When are you getting there? Who's there yet? I'm on my way.' It can get a little chaotic. But it is funny, isn't it, that in the movie, there's a theme of found family, and here are a bunch of actors who've found family amongst each other as well."
"Shazam! Fury of the Gods" is now playing exclusively in theaters.