Why The Cast Of Modern Family Sued The Producers Of The Show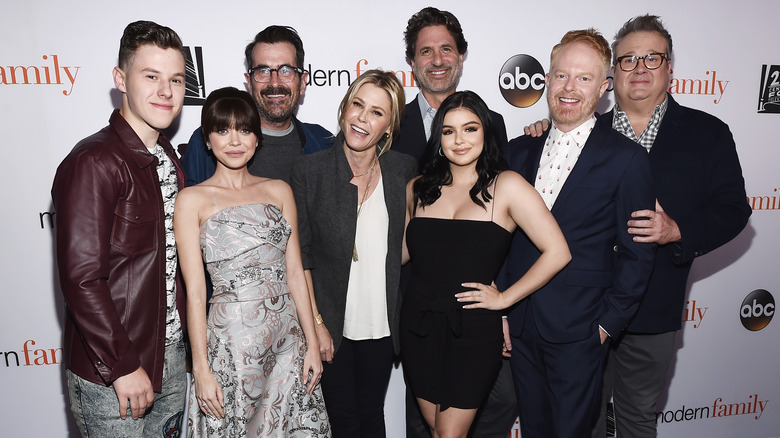 Amanda Edwards/Getty Images
The "Modern Family" cast is not only a close-knit bunch on the hit ABC sitcom, but are willing to stand hand-in-hand with one another in real life as well. On July 24, 2012, the main adult cast of the series consisting of Ty Burrell, Julie Bowen, Jesse Tyler Ferguson, Eric Stonestreet, Sofia Vergara, and later Ed O'Neill collectively filed a lawsuit against the show's producers following a violation in their contracts that went against California's 7 Year Rule. The law prohibits any contracted service from lasting more than seven years, allowing actors to make renegotiations for raises toward the end of their contracts.
The conflict arose during the Season 3 hiatus, a common point when actors on hit shows began negotiating for increased compensation. The producers initially offered raises of up to $325,000 but failed to meet the cast's expectations, who were well aware of the success the show brought to the network. The disruption ended up canceling the planned table read for the show's fourth season.
While Jay Pritchett actor Ed O'Neill initially stayed away from the lawsuit, as the "Married...with Children" star was being paid more on a different track, he eventually joined his co-stars in an act of solidarity. Things seemed to be heading South for the show, but thankfully, this story has a happy end.
The Modern Family cast might have gotten the idea from another hit show
The "Modern Family" cast were more than ready to take their lawsuit to court if the show's producers didn't meet their demands for higher salaries. But thankfully, three days following the lawsuit filing, it was reported that the cast reached an agreement with 20th Century Fox Television and dropped the lawsuit. The adult cast, who, with the exception of Ed O'Neill, were being paid $65,00 an episode, would now receive up to $175,000 per episode for the fourth season, which includes bonuses. Additionally, they would each receive a small percentage of the show's back-end profits, a luxury only O'Neill was given up to that point. While the final deal didn't quite match their initial $200,000 request, their salary would increase to $350,000 by the show's eighth season. 
Some sources claim that the original $200,000 request came about when it was discovered that the cast of "The Big Bang Theory" was making that much along with back profits. However, the amount was more feasible with the more-contained cast of "Bang Theory" as opposed to six adult members of "Modern Family." 
Nevertheless, the show's team were glad to see the cast back and taken care of, as "Family" co-creator Steve Levitan tells The Hollywood Reporter, "I feel really good about it. I'm very happy for my friends on the cast for their success, I really am."