John Wick: Chapter 4's Shamier Anderson And Hiroyuki Sanada On Joining The Series And More - Exclusive Interview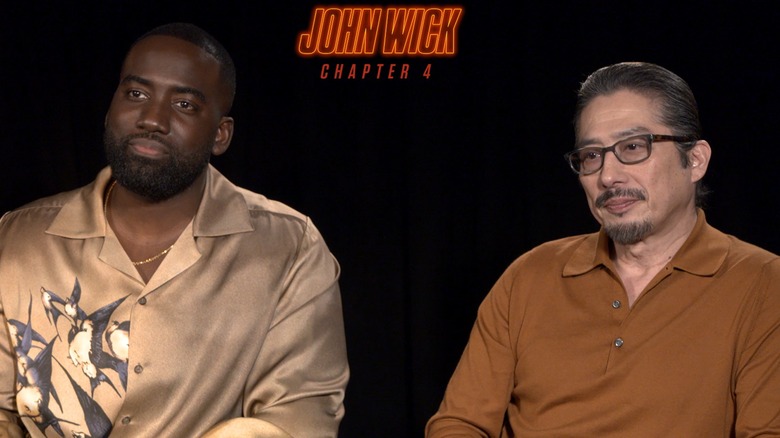 Junket Productions
Joining the "John Wick" universe in its latest addition, "John Wick: Chapter 4," are actors Shamier Anderson and Hiroyuki Sanada. The latter plays Shimazu, the manager of the Osaka Continental Hotel who also happens to be an old friend of John's (Keanu Reeves). But Shimazu pays for that friendship when the High Table sends an army of assassins to the Continental after he offers John refuge.
One of Japan's most accomplished actors, Sanada is both an acclaimed Shakespearean performer and a formidable martial artist. After years working in Hong Kong action cinema with stars like Jackie Chan and Michelle Yeoh, his Hollywood breakthrough came in 2003's "The Last Samurai" opposite Tom Cruise. Other major films include the original Japanese "Ring," "Sunshine," "Rush Hour 3," "The Wolverine," "Avengers: Endgame," 2021's "Mortal Kombat," and 2022's "Bullet Train."
Anderson, meanwhile, plays an assassin known only as the Tracker, who is accompanied by his unnamed dog, a Belgian Malinois as faithful as he is lethal. The Tracker and his canine partner are hired by High Table representative the Marquis Vincent de Gramont (Bill Skarsgård) to aid in the hunt for John Wick — with the Tracker bold enough to insist on a higher payday for the kill.
Anderson can also currently be seen on Hulu in the film "Bruiser," while on TV, he plays soldier Trevante Ward in the Apple TV+ series "Invasion" and starred as twins opposite Billy Bob Thornton on the third season of "Goliath." A student of martial arts himself, he told Looper that "John Wick: Chapter 4" was an eye-opening experience: "It pushed me to places where I've always wanted to go."
Getting into the world of John Wick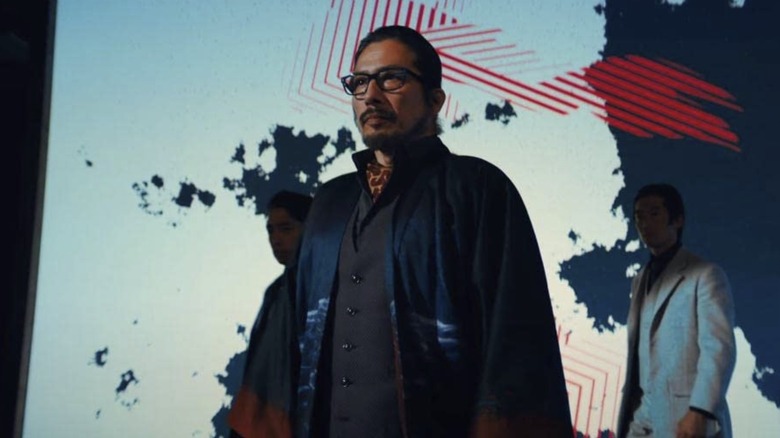 Lionsgate
Are both of you fans of the "John Wick" franchise? Did you have to catch up on the other movies first before getting involved with this one?
Shamier Anderson: Big fan of the franchise, big fan of Keanu [Reeves], big fan of Chad [Stahelski, director] — [I've] been following their work. Big fan of action movies. This was the perfect storm for me as an artist. I've done a variety of roles, and action is definitely something that I love to do and love to watch. When this came across my desk, so to speak, it was a no-brainer. It was a "You had me at hello."
Hiroyuki Sanada: Me too. It was big fun. Before that, I worked with Keanu 12 years ago [on "47 Ronin"], and he told me that his next project is a big action movie with Chad. I said, "Good luck." I watched at the theater on the first day, and he created a great original action movie. I became one of the fans — and also watched "1," "2," and "3," and finally, I could join. I'm so happy.
Shamier Anderson and his canine co-stars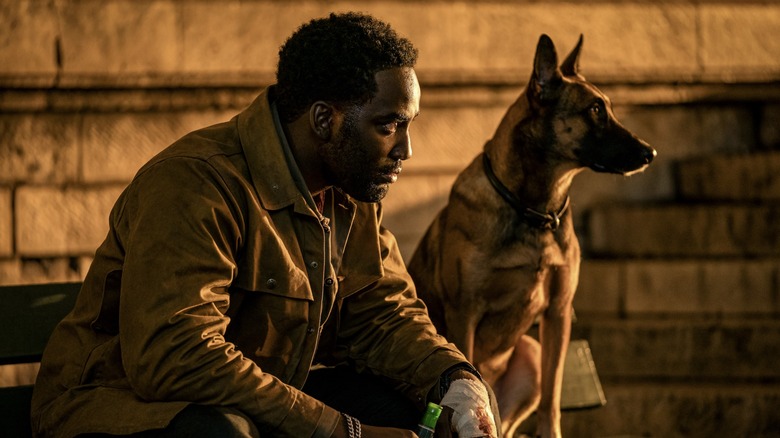 Lionsgate
Shamier, you got to work with five different dogs in this movie. What was that like? Did they each have different personalities?
Anderson: Yeah, every dog is different, specifically the Belgian Malinois because they have different skill sets. Whether it be biting, whether it be running, whether it be jumping, whether it be speaking Spanish, there's a lot of different skill sets that these dogs have. My process with those dogs was very intense.
I had to spend a lot of time with them because they're not the dogs that you run up to and cuddle and do all that good stuff — you can, but there's a process, because they're trained animals for a specific thing. It was exhilarating to be able to see them go from green to red in a matter of a second. But I was lucky. Ultimately, these dogs are scene stealers, so when you're in a movie with a dog, know you're not winning the Oscar — the dog is.
Taking martial arts to a new level
Hiroyuki, from your perspective, how have martial arts on film changed over the years, and do you see the influence of Hong Kong cinema and Japanese cinema in Hollywood movies now?
Sanada: A lot of skills have graded up, and also technology has changed a lot. Now we can do a combo [of both], so we can make a more exciting movie than at that time.
Shamier, you already have done some training in your past. Did you have to level up in terms of the training you did for this movie, and how far did this push you?
Anderson: It pushed me to places where I've always wanted to go. Martial arts aren't foreign to me. I love it; it's what I do. This film was able to expose me to the nuances of different styles. I got to work with an incredible team — guys who are proficient in boxing, Muay Thai, Jiu Jitsu, Judo, weapons — and I love it. I treat my body like an amusement park, so I love to have a good time, and this is my dream to be able to be in a martial arts film with Hiro [gestures to Hiroyuki]. "Rush Hour," he knows — I always put him on the spot — but I love "Rush Hour," and he's baller. I love this man.
"John Wick: Chapter 4" fights its way into theaters on Friday, March 24.
This interview has been edited for clarity.