Lance Reddick's Best Movie And TV Roles Ranked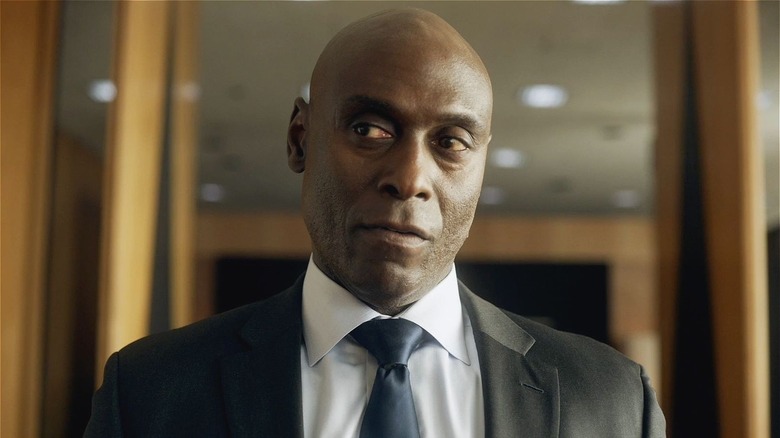 Comedy Central
Range, earnestness, and screen presence — these are the qualities every aspiring actor seeks to possess. Lance Reddick had them all. He brought a unique brand of gravitas and power to his performances, making him the kind of actor that always dominated his scenes. He possessed the ability to play a broad spectrum of roles with a sincerity that was never doubted. But what made Reddick so special was his uncanny ability to turn what might have otherwise been generic, paper-thin characters into so much more.
With a casual flair, Reddick endowed his performances — whether they be hero or villain — with a richness and complexity that could be matched by few others. Thanks to his incredible talents, he took part in some memorable movies and some of the best TV shows of the 21st century, playing characters that have been etched into the public consciousness.
With his death from natural causes in March 2023 at the age of just 60, Reddick's career was cut tragically short. He left behind a towering legacy of iconic characters. But while he is often known for playing tough authority figures, Reddick himself was a gentle, kindhearted soul. In celebration of his life and career, we're counting down his best roles in TV and film, beginning with the one he was born to play.
13. Himself (The Eric Andre Show)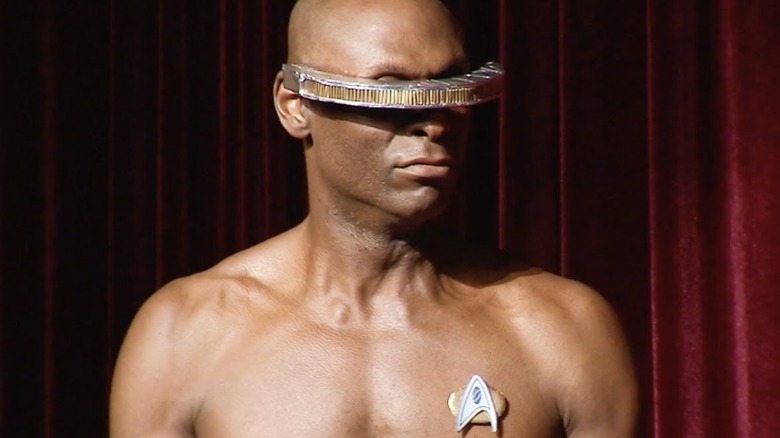 Adult Swim
There's no way to talk about all of Lance Reddick's performances without mentioning his wildest one: His 2013 appearance as himself on "The Eric Andre Show." A surrealist sketch show that presents itself as a late night talk show, "The Eric Andre Show" gives its titular host a chance to deliver absurdist comedy under the guise of the mundane. Its second season featured an unforgettable appearance by Lance Reddick, who turned up ostensibly to promote whatever TV or movie project he'd been working on.
Appearing first in jeans, t-shirt, and a blazer, Reddick sits for the customary talk show chat, but seems flummoxed by Andre's odd behavior and nonsensical questions. Increasingly confused and frustrated, Reddick stands abruptly and slams his fist on Andre's desk in anger, which seems to prompt the host to break character momentarily. After leaving the stage, Reddick returns, garbed unexpectedly in an outfit resembling Geordi La Forge from "Star Trek: The Next Generation." Reddick then goes into a bizarre mix of pantomime and chant, proclaiming "I wish I were Levar Burton."
The appearance has become legendary among Reddick fans, making the rounds on the internet on its release. It resurfaced again following Reddick's passing, reminding everyone that he was more than just a towering dramatic great, but also a funny man with a cheeky sense of humor.
12. David Gentry in Angel Has Fallen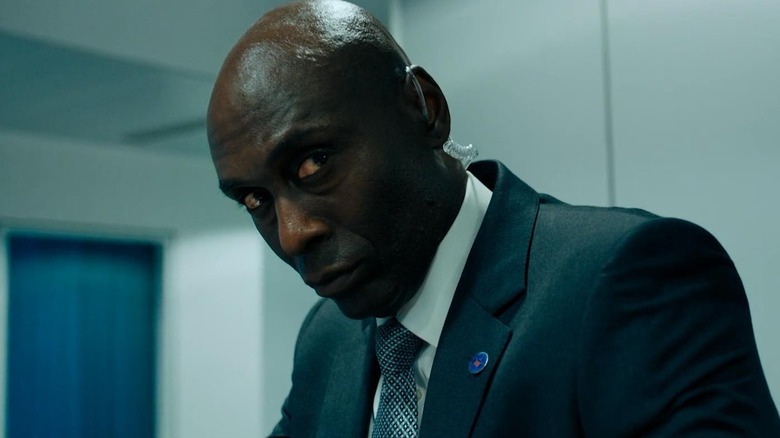 Lionsgate
2019's "Angel Has Fallen" is the third in a trilogy of action movies starring Gerard Butler as Secret Service Agent Mike Banning. In this one, Banning is slated to take over for outgoing Secret Service Director David Gentry — played by Lance Reddick — when he's wrongly accused of an assassination attempt on the President of the United States (Morgan Freeman). Despite having saved the President, Banning must go on the run, reuniting with his estranged father as he hopes to prove his innocence and catch the real masterminds behind the attack. As Banning attempts to evade his pursuers, Gentry stays loyal to him, eventually helping him to thwart a coup attempt.
Back in the kind of role that made him famous, Reddick once again impresses as a hard-nosed law enforcement leader who will stop at nothing to get the job done. Ironically, Reddick played a similar role in 2013's "White House Down," the Channing Tatum/Jamie Foxx movie that came out around the same time as "Olympus Has Fallen." But here, Reddick gets the better of the two roles, with a more compelling character torn between his duty to the president and his loyalty to Banning, one of his best agents.
11. Reggie in It's Always Sunny in Philadelphia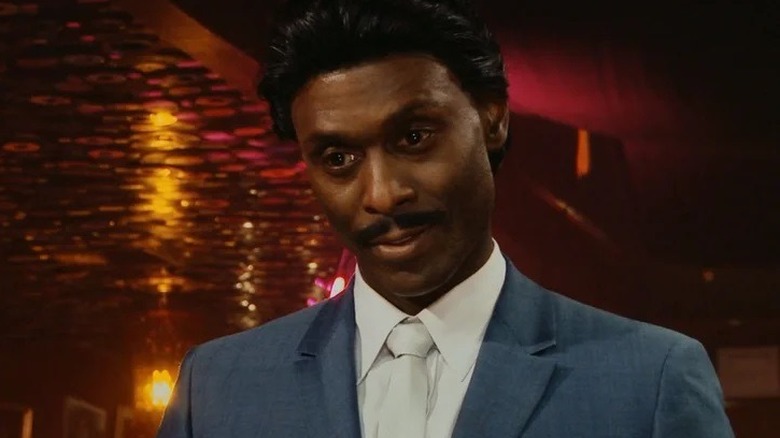 FX
Lance Reddick may be famous for a string of recurring roles and main characters in popular TV franchises, but he also had a long history of making one-off guest appearances in other shows. When it comes to his smaller roles, few can top his brilliant appearance in "It's Always Sunny in Philadelphia." Reddick's role actually comes in one of the worst-rated episodes of the series, Season 7's "Frank's Brother," but that's part of what makes it so great — his turn as Reggie is the only thing that makes the episode worth watching.
An episode that plays out mostly in flashbacks, we learn that Frank (Danny DeVito) and his brother Gino (guest star Jon Polito) once loved the same woman. Set mostly in the 1960s, Reddick plays the owner of a jazz club. A mash-up of tongue-in-cheek homages to characters from blaxploitation cinema, Reggie is both a jive-talking misogynist and a militant Civil Rights activist. Because Frank and Gino remember events very differently, Reggie is never the same character in any scene, allowing Reddick to show off his range. His satirical performance is a pitch perfect takedown of every bad stereotype in the genre and it shows that his comedic timing is second to none.
10. Milo in Monster Party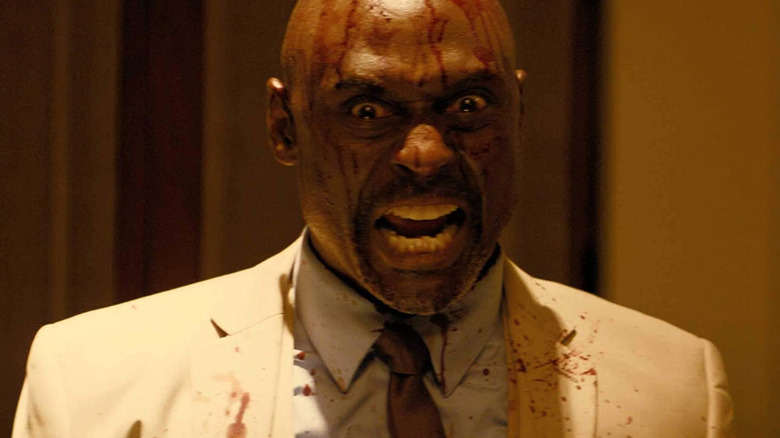 RLJE Films
Despite his reputation for playing intimidating characters, Lance Reddick is best known for his more heroic roles — police officers, detectives, and government agent types. 2018's "Monster Party" allowed Reddick to go full-tilt villain. The film revolves around a group of burglars who plan to rob a mansion while its owner hosts a dinner party. The group soon discovers that the guests are all reformed serial killers, led by the maniacal Milo (Lance Reddick).
A sophisticated man of principle, the mass-murdering Milo believes that everyone has the ability to control their inner desires with the power of the mind and strength of will. That belief is put to the test when the sobriety party for a collection of killer misfits is interrupted by a bunch of thieves. Electrifying and repulsive in equal measure, Reddick lights up the screen like few others could, delivering a dazzling, tour de force performance that's so gleefully over-the-top you can't help cheering on a monstrous madman. Speaking to So Many Shows, Reddick said that Milo was the toughest role he ever played, revealing that "finding a psychological sweet spot" was very tricky.
9. Nathan Wood in The Domestics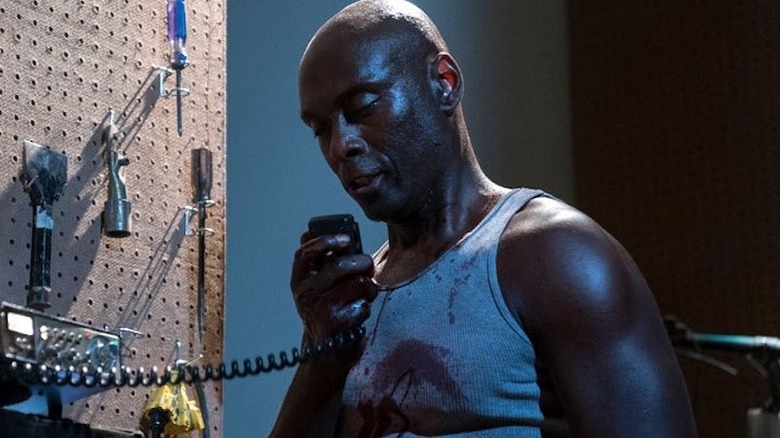 Orion Classics
In 2018's "The Domestics," the world has been turned upside down following a catastrophic chemical attack, leading to a bleak post-apocalyptic future. Most of humanity has reverted to their baser instincts, but among them are some — known as Domestics — who just want to live a quiet, ordinary life. Kate Bosworth and Tyler Hoechlin play one such couple, and in their travels they encounter fellow survivor and Domestic Nathan Wood, played by Lance Reddick.
A seemingly helpful and resourceful family man, Wood offers the couple a place to rest, and even cooks them up a nice meal. However, after a shocking twist we won't spoil here, Reddick gets a chance to embrace a very different side to the character, providing a duality that's unique among the many roles he's played. It was this duality that attracted Reddick to the project, as he revealed to LRM Online. "I thought the role was really cool," he said. "It was the kind of role that I haven't had a chance to do before."
"The Domestics" might have fallen into ordinary post apocalypse fare without Reddick, who enlivens the proceedings considerably. Not only does he help bring a special flavor as Wood, but he also gets to embody the film's wickedly dark sense of humor.
8. Matthew Abaddon in Lost
ABC
"Lost" remains one of the best TV shows of the last 20 years, and at the heart of its appeal is its wealth of enigmatic characters. In the Season 4 premiere, "The Beginning of the End," we meet another such character, Matthew Abaddon, portrayed by Lance Reddick. That season saw the series upend the story, with flash forwards showing several members of the once-stranded passengers of Oceanic Flight 815 now back home and struggling to reintegrate into society.
Playing against type, Reddick — known for his gruff and often explosive characters — took on the role of the kind and gentle stranger Abaddon, who turns up at the psychiatric hospital where Hurley (Jorge Garcia) has been admitted as a patient. First claiming to be an attorney for the airline, we later learn that Abaddon is in the employ of the equally ambiguous Charles Widmore (Alan Dale), and his job is to get people where they need to be.
Unfortunately, Abaddon would be killed off before audiences would learn much more, a decision forced by a scheduling conflict. "To be perfectly frank, before I was cast on 'Fringe,' the intention was to have the character become a series regular and major character in Season 5," Reddick The Hollywood Reporter. "And then being cast on 'Fringe' just threw a wrench in it." Still, it remains one of the actor's most memorable roles, perhaps because Abaddon is so different from most of his other characters.
7. Papa Legba in American Horror Story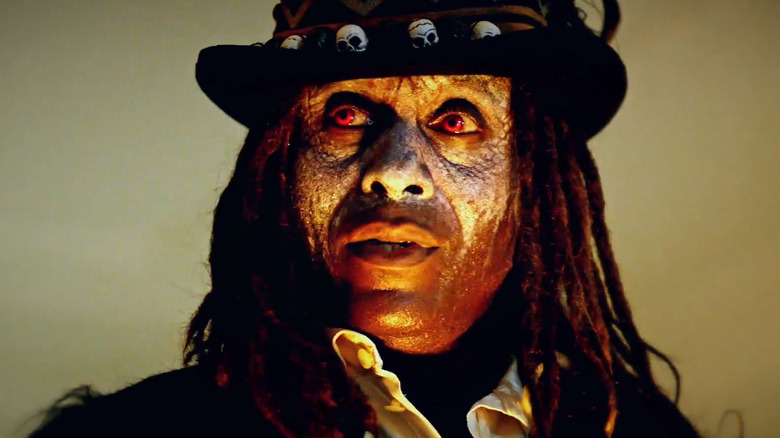 FX
Lance Reddick joined the "American Horror Story" roster in 2014 for Season 3, the highly rated "Coven." Debuting in the episode "The Magical Delights of Stevie Nicks," which also features an appearance by the former Fleetwood Mac singer herself, Reddick inhabits the role of an other-worldly being called Papa Legba. Almost unrecognizable under heavy make-up and clad in an elaborate outfit, it's Reddick's unmistakable voice that gives him away.
The gatekeeper to the afterlife, Papa Legba is a real figure in Haitian Voodoo. In the series, he turns up looking for Marie Laveau (Angela Bassett), who he once made a sinister pact with, granting her immortality in exchange for one innocent soul every year. In one of the show's most horrifying moments, Laveau abducts a baby from a hospital as her annual sacrifice, showing the lengths she'll go to in order to satisfy the menacing spirit played by Reddick.
Reddick appeared in three "Coven" episodes in total and would return for one more episode in Season 8 (aka "Apocalypse"), making another devilish bargain when he's asked to stop an even bigger supernatural threat. While the show's depiction of Papa Legba isn't exactly accurate, Reddick's portrayal is mesmerizing.
6. Detective Johnny Basil (aka Desmond Mobay) in Oz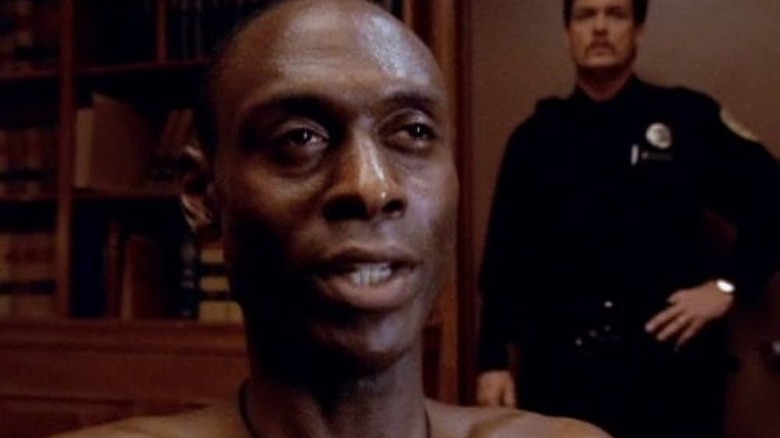 HBO
In what could arguably be called his breakout role, Lance Reddick had a recurring part in the HBO series "Oz," a prison-based crime drama from 2000. A series that proved to be a launchpad for several actors, "Oz" ran for six critically acclaimed seasons, following the day-to-day goings on at the fictional Oswald State Correctional Facility. As criminal activity among the inmates increases, including a healthy drug trade, authorities go to great lengths to rein in the prisoners. To that end, they send one of their own — Detective Johnny Basil — into the prison on an undercover assignment.
Basil becomes Desmond Mobay, who works his way into the employ of the gangs on the inside. But, in trying to play the part of an addict, Basil becomes sucked into the life of a prisoner. He gets consumed by his new identity and ultimately becomes involved in the very violent crime he was sent in to stop. The gut-wrenching storyline saw Reddick play an upstanding cop, an undercover agent, a gangster, and a killer all rolled into one. Though it might not be Reddick's best role, Johnny Basil is almost certainly the most fascinating character he ever played.
5. Christian DeVille in Corporate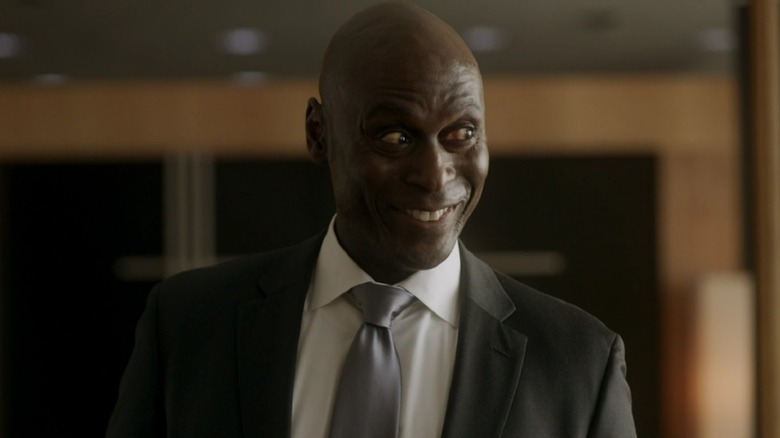 Comedy Central
If you only ever saw Lance Reddick in his most famous projects, you may never have realized just how funny he could really be. Sure, he got to show off some of his comedic skills in one-off guest spots on shows like "It's Always Sunny in Philadelphia," and he gave tongue-in-cheek performances in black comedies like "Monster Party," but in the Comedy Central series "Corporate," Reddick was allowed to unleash his funny bone full time.
The only comedy series that could call Lance Reddick a member of its main cast, "Corporate" is a razor sharp satire of American business. A series that USA Today called "a bleak and absurdist workplace comedy," it follows the work lives of two employees at the fictional conglomerate Hampton DeVille, whose power-mad goals are anything but noble. Lance Reddick stars as the company's ruthless CEO, Christian DeVille, a contemptible ultra-capitalist.
The character makes crystal clear where the show's writers stand on the issues of corporate greed and big business, and it's a role Reddick relished. "I was surprised that it got on the air," the actor said in a 2018 interview with IndieWire. "Because it became clear very quickly to me that it was a show with a very strong point of view. It's just really refreshing to be part of something that's allowed to breathe and take on its own life."
4. Charon in John Wick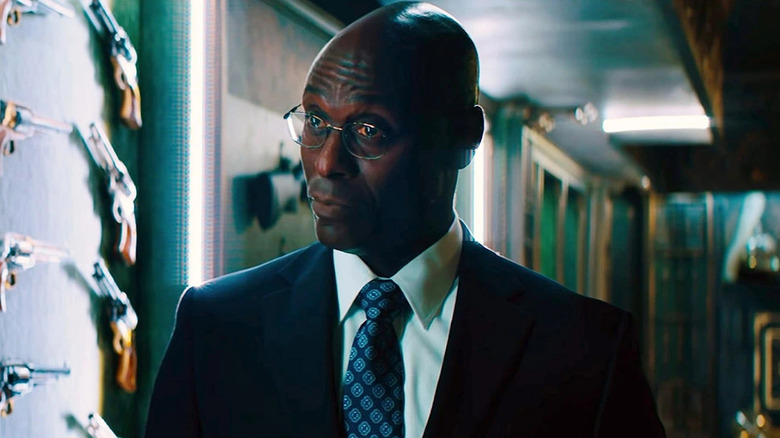 Lionsgate
The stylish Keanu Reeves action flick "John Wick" took the world by storm in 2014, the story of a distinguished former hitman who leaps back into action when his dog is killed by intruders. Though it's one of Hollywood's most popular action franchises today, at the time it was seen as a modest release with a talented cast. Reeves is supported by the likes of Willem Dafoe, John Leguizamo, and Lance Reddick as the shadowy Charon.
The concierge at the mysterious Continental Hotel in New York City (a neutral meeting place for the world's community of assassins), Charon becomes an unexpected ally to John Wick when enemy assassins arrive. Reddick would return for three sequels and is one of the only actors to appear in all four "John Wick" movies, alongside Ian McShane (Winston) and Reeves himself. As Charon, Reddick plays a quasi-mentor figure who remains intensely loyal to the sophisticated assassin John Wick, despite his supposed neutrality.
Even in "John Wick 3" when Wick must go on the run from Charon's employer, he shows an unwavering loyalty, and the two fight side-by-side against the High Table crime lords when they invade their sanctuary. It's a more understated role than fans of his filmography might be used to, but Charon has become one of Reddick's most iconic characters.
3. Chief Irvin Irving in Bosch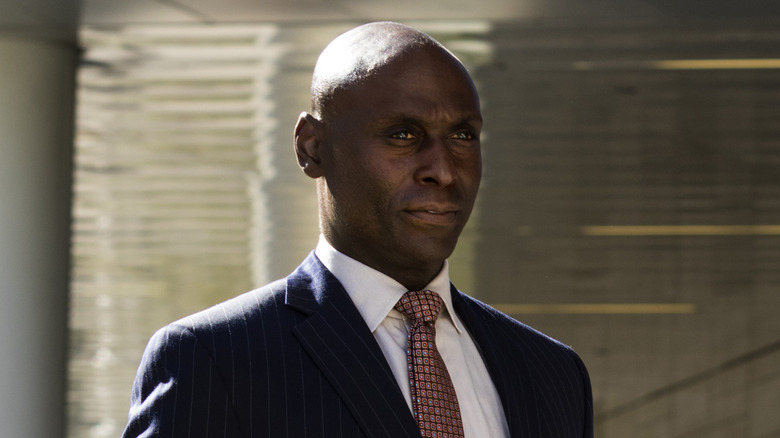 Amazon
In 2014, Lance Reddick hopped aboard another gritty crime drama, the Amazon original series "Bosch." Titus Welliver plays the eponymous Detective Harry Bosch, while Reddick stars alongside him as his boss, LAPD Police Chief Irvin Irving. The show is based on a series of novels by Michael Connelly. In the books, the character of Irving is a stickler for the rules and somewhat one-dimensional in his function. On the screen, thanks to Reddick's impressive, versatile performance, he becomes so much more than that.
Reddick was likely chosen thanks to his experience of playing similar characters. He begins as a mere supporting character, but when the show expands to become more of an ensemble, Reddick's Chief Irving may be the character who benefits most. As the show grows, it's Irving's complicated relationship with Harry Bosch that winds up anchoring much of the series. Later, Irving becomes a central figure himself, and his obsession with political gamesmanship becomes a high point of the series.
Chief Irving could have easily become a generic, even clichéd role. Thanks to Reddick, the character proves to be a fascinating, nuanced take on the stereotypical taciturn police chief.
2. Phillip Broyles in Fringe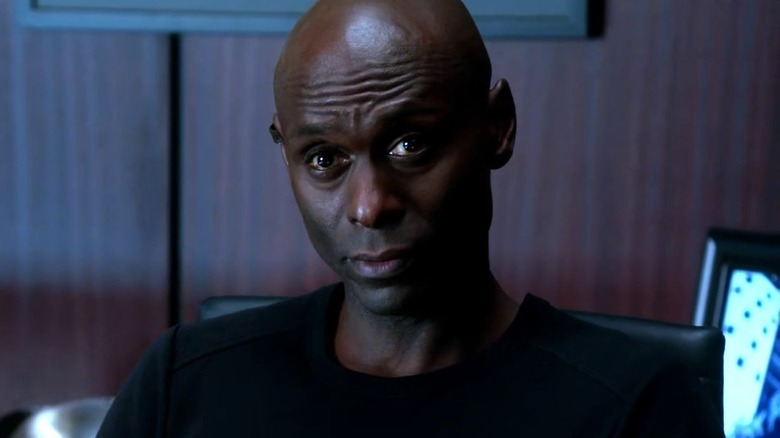 Fox
Often compared to "The X-Files," the sci-fi series "Fringe" revolves around a small team of scientists and FBI agents who investigate a series of strange cases that begin popping up around the globe. The FBI's Fringe Division is overseen by Phillip Broyles, a stern, steely-eyed Homeland Security agent who you don't want to mess with. Broyles is played to perfection by Lance Reddick. 
As the series evolves, "Fringe" becomes much less a weird case of the week series and a larger, ongoing story involving parallel universes unfolds. This is where Reddick is able to shine, because, thanks to the dual-world storyline, Reddick gets the chance to play both Agent Broyles and his counterpart in an alternate timeline. This variant version is Colonel Broyles, a strict military commander who breaks his loyalty to his superiors when he realizes that the original timeline may be key to saving his own troubled world. 
A complicated series that requires your full attention, "Fringe" would not have been half as good without its talented cast, and Reddick led the way as both versions of Broyles. But which one did he prefer? "I loved playing alternate Broyles so much, because he's so much more relaxed," Reddick told Assignment X. "Even though the Fringe team in the alternate universe is much more militaristic, I felt like his relationship with them was more like he's one of the guys."
1. Cedric Daniels in The Wire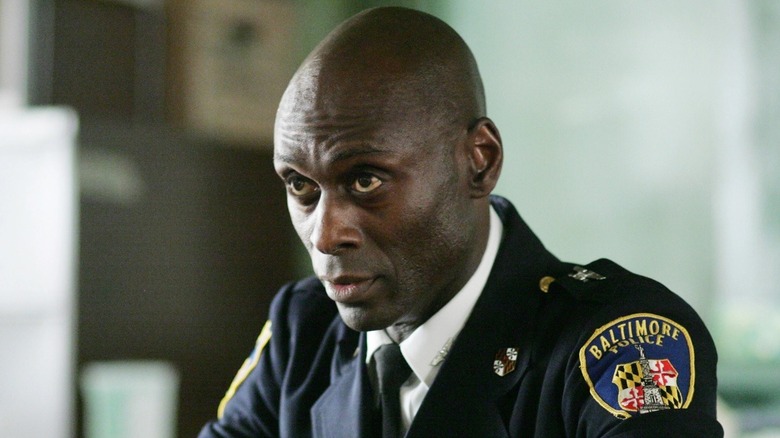 HBO
The widely acclaimed police drama "The Wire" explores crime in Baltimore and centers on the various officials trying to stem the flow of violence. From its gripping suspense and jaw-dropping twists to its pulse-pounding plotlines, the HBO series could do no wrong, with impressive writing and a genre-defining grit. One of the hallmarks of the series was its impressive cast, led by Lance Reddick as the inherently honest Cedric Daniels, who rises through the ranks of the police despite the corruption all around him.
A career-defining role for Reddick, Daniels is guided by a deep sense of moral integrity, which only makes his job more difficult as he is forced to make ethical compromises to get the job done. As he is cornered into difficult choices, the job begins to impact his personal life, and we see the fallout from his fight to balance his ideals. One of the most famous top cops in TV history, Daniels was the foundation of "The Wire," and Reddick never got tired of talking about it. "You know, it's an iconic piece of history and I feel very fortunate and proud of the work we did with that," he told GQ in 2019.
Many members of the cast and crew of "The Wire" took to social media to mourn Reddick's untimely passing. "He was grace, elegance, and kindness personified," Deirdre Lovejoy, who played Rhonda Pearlman, said in an Instagram post. "Wildly talented, quietly passionate and always a gentleman. I treasure our years on 'The Wire' together and I love you Lance. Rest peacefully."