Deadpool 2's Score Album Is First Ever To Get A Parental Advisory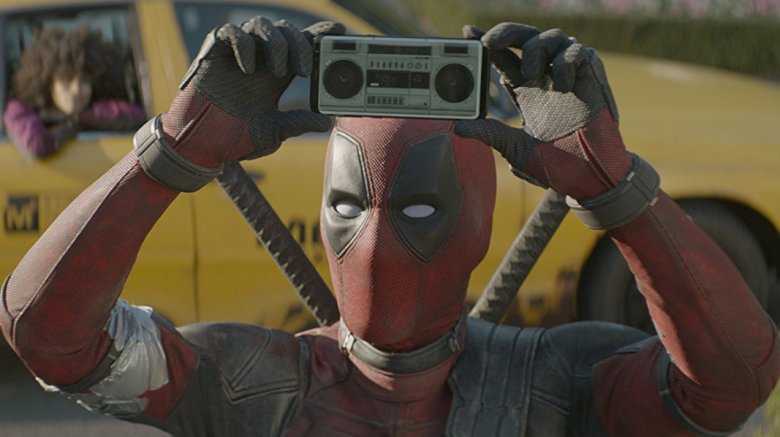 Deadpool 2 is so R-rated, even its score needs a parental advisory. According to Variety, the superhero flick had the dubious honor of becoming the first movie ever to have its score slapped with the advisory warning.
The warning comes thanks to choral bits in Tyler Bates' score, which feature a 38-voice ensemble singing things like "you can't stop this motherf***er" and "holy s*** balls." Bates, who scored Watchmen and both Guardians of the Galaxy films, said that he asked director David Leitch to have the choir say real phrases as opposed to the meaningless fake Latin they had originally been using. 
"Dave had some ideas, and following the rhythm that they were singing, put pen to paper," Bates said. The pair took a 20-minute break in their three-hour recording session, and, working with choral contractor Sally Stevens and orchestra-conductor Ted Williams, wrote and incorporated the new lines into the already existing music.
"It was pretty funny, between the men singing the word 'f***' in harmony, and getting the cadence of 'holy s*** balls' to really work with the music," Bates said. "It wasn't merit-less debauchery, it was just fun. It's very rare that we can work on something at such a high professional level that embraces the irreverence of Deadpool." Bates said that the explicit content warning was "one of the finer accomplishments that I have managed in my career in the business."
Deadpool 2 features Wade Wilson (Ryan Reynolds) facing off against Josh Brolin's Cable as they fight over what to do about Julian Dennison's young mutant Russell. The movie brings together the X-Force, including Zazie Beetz's Domino, Terry Crews' Bedlam, Lewis Tan's Shatterstar, Bill Skarsgard's Zeitgeist, and Rob Delaney's Peter.
Morena Baccarin, T.J. Miller, Brianna Hildebrand, Jack Kesy, Stefan Kapicic, Leslie Uggams, Karan Soni, Shioli Kutsuna, and Eddie Marsan also star in Deadpool 2, which is directed by Leitch based off a script from Reynolds and the first movie's Rhett Reese and Paul Wernick.  The movie has received positive reviews from critics, with an 85 percent on Rotten Tomatoes.
Deadpool 2 is in theaters now.