Some Justified Fans Think A New Cast Is Just What City Primeval Needs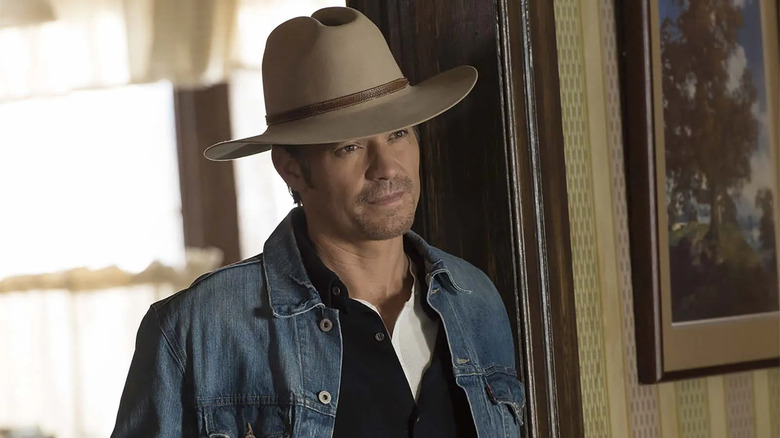 FX
Deputy U.S. Marshal Raylan Givens is back in "Justified: City Primeval," with series star Timothy Olyphant reprising his iconic role. Although it isn't the Quentin Tarantino project it could have been, the miniseries continues Givens' story from "Justified," with the lawman finding himself in Detroit hunting The Oklahoma Wildman (Boyd Holbrook).
"Justified: City Primeva" adds many new faces to Givens' latest adventure. Aunjanue Ellis, Adelaide Clemens, Vondie Curtis Hall, and Vivian Olyphant all signed on for the sequel series. With the miniseries looking to revive the once-popular show, many would expect fans to want to see some of the original cast return. However, Olyphant is the only "Justified" cast member returning, and fans of the series aren't upset about it.
In fact, many "Justified" fans think the new cast will do wonders for the series. On Reddit, u/RogueRequest2 wrote, "I am starting to get the feeling that it will be no one. Not a single person besides Raylan. That's not entirely a bad thing. It gives them more freedom with the plot, not having to find some way to shoehorn [them] in." Instead of writing the series off, many fans look forward to seeing how "Justified" continues with a new supporting cast.
Fans agree Justified: City Primeval's cast is great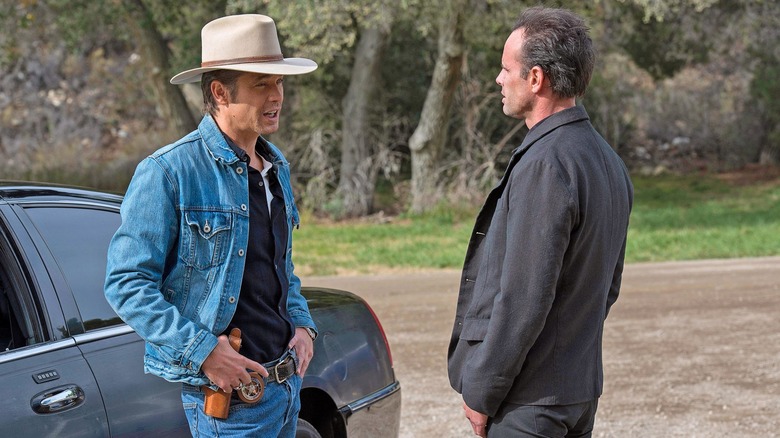 FX
The conversation regarding the new cast of "Justified: City Primeval" spanned across numerous Reddit threads. On the "Justified" subreddit, u/Panderboi admitted, "I think it's for the best that (mostly) nobody returns," saying that while it would make sense for a few characters to return, "it needs to be its own story with new people." U/eingram thinks "City Primeval" is making the correct choice, saying, "For shows like this, I always think the smart move is establishing a new cast, then, if it is successful and makes it to later seasons, you bring in some cameos." The consensus amongst fans seems that "Justified" perfectly wrapped up Raylan and Boyd's (Walton Goggins) story, so they wouldn't want to see him return unless it makes sense in the grand scheme.
Over on r/television, u/TonyBandini praised some of the newcomers in "City Primeval," saying, "Boyd Holbrook is a great fit for the show. I couldn't be more hyped." Other users, like u/jez124, continued the praise of Holbrook and the rest of the cast, saying, "That's a brilliant cast. Like all of them tbh. FX isn't a network I pay attention to all the time, but they do have some solid hits. Boyd Holbrook and his whole vibe fits perfectly with this series."
However, Holbrook isn't the only one fans look forward to seeing in "City Primeval." U/KneeHighMischief expressed their excitement to see Marin Ireland, who they believe was the standout on "Sneaky Pete," join the "Justified" cast. U/alphacentauri88 praised "Justified" for always having the best character actors, saying, "Really excited to see Adelaide Clemens, Norbert Leo Butz, and Marin Ireland in this!"