Justified: City Primeval's Showrunners Were Nervous About Vivian Olyphant Auditioning For The Series
"Justified" is a unique series that can bring a western flavor into modern times. Based on a short story by famed author Elmore Leonard, the series follows U.S. Marshall Raylan Givens (Timothy Olyphant) as he returns to the small Kentucky town that he hails from following a controversial shooting while on the job.
Of course, this is just the jumping-off point for the series, as the real meat comes from Raylan's simmering feud with criminal Boyd Crowder (Walton Goggins) and the many other dangerous sociopaths that threaten the peace of his community.
Now, "Justified" is set to return with the new revival series "Justified: City Primeval." Based on another of Leonard's works, the series will follow Raylan as he travels to Detroit to face off against yet another devious criminal. However, as the series also concerns Raylan raising his young daughter, the showrunners behind the show were a bit unnerved when Olyphant suggested his own real-life daughter for the role.
The showrunners were worried it would not go well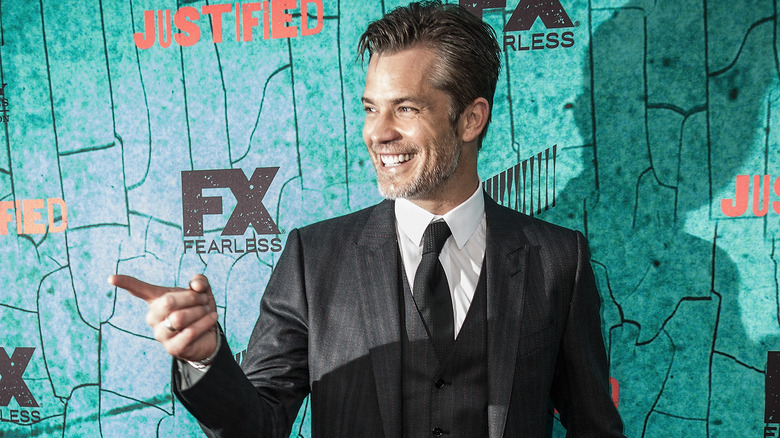 Harmony Gerber/Getty Images
Dave Andron and Michael Dinner are the showrunners for "Justified: City Primeval," and the duo sat down with Entertainment Weekly to discuss the upcoming series. Over the course of the interview, it naturally came up that Timothy Olyphant's real-life daughter, Vivian Olyphant, had been cast as his daughter in the series, and the showrunners admitted that they had their own sense of trepidation about the idea.
When asked if it was always part of the plan for the new series, Andron was emphatic that it was not. "No. In fact, we were horrified when Tim was like, 'I'm going to put my daughter on tape for the role of my daughter,'" Andron explained. "And we were like, 'This is a no-win. This is brutal. If it's not good, what are we going to do?'" Luckily Vivian nailed it, as Andron went on to point out. "She was great."
For his part, Dinner seems to suggest that the dynamic between the two carried over from their real lives and made their relationship work even better because of it. "They brought their own baggage to it, which was good, and it was interesting to watch," he said. Fans hankering for more "Justified" are going to have to wait until the summer of 2023 to see Timothy and Vivian in "Justified: City Primeval" when it premieres on FX.