Justified: City Primeval Could Have Came To Life As A Quentin Tarantino Production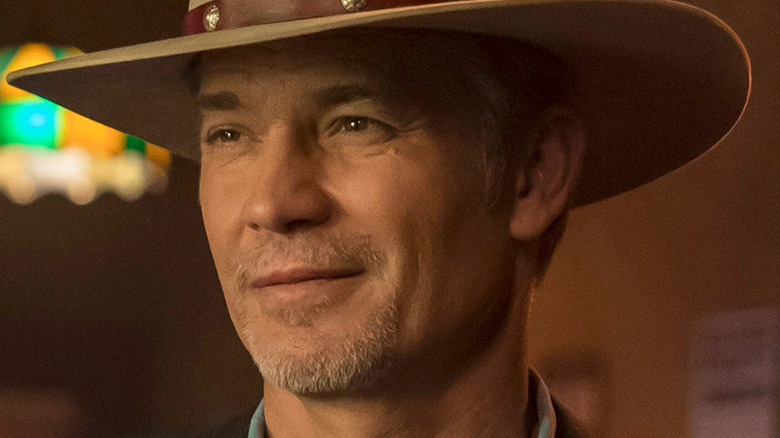 FX
It wasn't long ago that "Justified" ended its run on the FX network, releasing six seasons from 2010 to 2015. The Western crime drama was a massive success for the network, quickly becoming one of its most-watched and critically acclaimed shows. Naturally, FX would want to further capitalize on the show's success, and with the proven success of reviving old series, the network greenlit a sequel miniseries earlier this year.
"Justified: City Primeval" sees the return of Deputy U.S. Marshall Raylan Givens (Timothy Olyphant) eight years after the series finale, now working in Miami and raising a teenage daughter. He eventually finds himself in Detroit, hunting down the Oklahoma Wildman (Boyd Holbrook), who Detroit law enforcement has failed time and time again to capture. Similarly to "Justified," the miniseries is based on an Elmore Leonard novel, this one titled "City Primeval: High Noon in Detroit."
"City Primeval" showrunners Dave Andron and Michael Dinner told Entertainment Weekly that "Justified" fans should expect a new kind of series with the sequel. "It's very, very new. Not quite the old Justified," Andron said. "Only people who read the book might have an idea, but I think people who haven't, who just expect the old thing, are going to be very surprised."
It turns out the "Justified" miniseries isn't the first time a studio attempted to adapt Leonard's novel. In fact, legendary filmmaker Quentin Tarantino nearly added "City Primeval" to his select group of movies.
Tarantino is a big fan of Elmore Leonard's work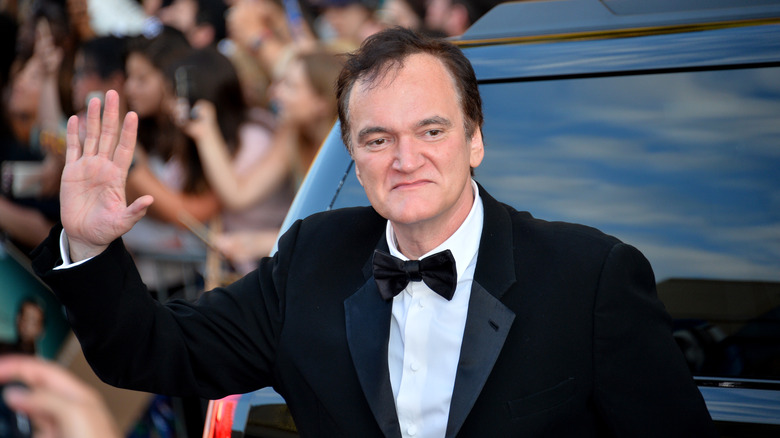 Featureflash Photo Agency/Shutterstock
During their Entertainment Weekly interview, "Justified: City Primeval" showrunners Dave Andron and Michael Dinner revealed that numerous studios had toyed around with the idea of adapting Elmore Leonard's "City Primeval" novel through the years. "A lot of people had wanted to make this book before," Dinner said. "It almost got made by [Sam] Peckinpah years ago as a movie, and [Quentin] Tarantino wanted to make it as a movie, and a lot of people wanted to play with it in television, streaming or cable."
Not only did Tarantino nearly add a "City Primeval" film to his legendary 10 movies, but he's also a major reason why Andron and Dinner decided to continue "Justified." In the interview, Dinner reflected on one day receiving a call from Timothy Olyphant, who was on the set of "Once Upon a Time... in Hollywood" with Tarantino. Olyphant said the two were discussing the novel and agreed that it would make for a great continuation of the series. Leonard's son had previously approached the duo about adapting the book, so both Andron and Dinner were immediately interested in the project when Olyphant reached out.
Interestingly, Deadline reported earlier this year that Tarantino was in talks to direct one or two episodes of "Justified: City Primeval." However, sources told Screen Magazine that those talks never came to fruition, and the miniseries would continue on without Tarantino.