Ben Affleck's New Nike Drama Air Doesn't Feature Michael Jordan And It Was A Smart Decision
"Air," the upcoming biopic which details how Nike licensed Michael Jordan's name for their iconic Air Jordan shoe line, doesn't actually feature the NBA champion — which director Ben Affleck says is a feature, not a bug.
After taking on the cape and cowl as Batman for a brief period of time, Affleck is returning to the director's chair with "Air." The Boston native's first directorial effort since 2016's "Live By Night" features an all-star cast which includes frequent collaborator and best bud Matt Damon, comedian Chris Tucker, Oscar-winner Viola Davis, and "Arrested Development" star Jason Bateman. Affleck stars as Nike co-founder Phil Knight, though it's Damon who spearheads the flick as Sonny Vaccaro, the exec who famously shaped Michael Jordan's deal with the apparel and footwear company.
For Affleck to create a film surrounding the shoe but not feature the sneaker's namesake is nothing short of daring. Speaking with Bally Sports, Affleck detailed why it was important to not cast an actor to play the athlete. "Michael Jordan is so famous that I really felt that if we ever saw an actor playing him, it would be hard to get the audience to suspend their disbelief," Affleck said. "Because, in my opinion, there's no convincing anybody that someone who isn't Michael Jordan is Michael Jordan." While it may seem ridiculous to make a biopic about Jordan's shoes without having the player appear the film, it's actually a brilliant move on Affleck's part. 
Biopics reduce legends to caricatures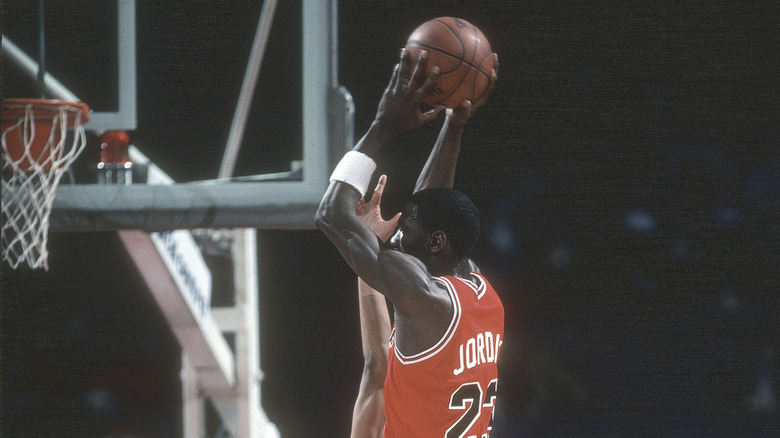 Focus On Sport/Getty Images
The impact Nike's Air Jordans have had on our collective pop culture is unparalleled, with the shoes just as popular now as they were when they debuted in 1985. Roping Michael Jordan in was no small task, with the athlete only agreeing to license his name to Nike if it led to a fully custom-made shoe, designed for his unique foot size. At the time, and to this day, Jordan remains an enigma — one of the so-called "GOATS" of basketball.
Ben Affleck is right in suggesting that no actor could convincingly play one of the greatest athletes of all time. Bringing Jordan into the film would mean finding an actor who can replicate the athlete's height, physical prowess and swagger — an emulation that feels all too daunting, especially for a near-mythical sports figure. A frequent criticism of biopics about widely-known figures is that they often reduce the protagonists to caricatures. Because Jordan is so revered, with his actions and mannerisms well-documented, casting an actor to play the superstar would just lead to poor emulation and imitation. While there's certainly some flattery in that, it would also reduce the effectiveness of "Air" as a film.
"We felt a more interesting way to tell the story would be for him to exist in the ether of the movie," Affleck told Bally Sports. "To be talked about by everyone but not seen is really analogous to the experience of celebrities and sports stars in modern life."
Ben Affleck's Air is about the shoe, not the player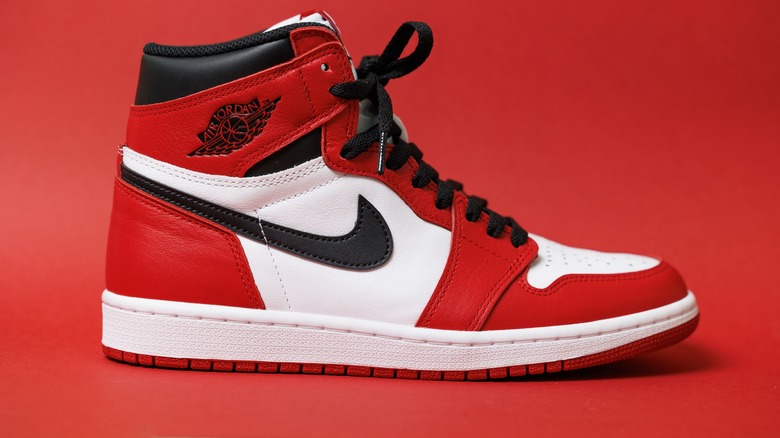 Wirestock Creators/Shutterstock
Ben Affleck did confirm that "Air" features clips and images of Michael Jordan, which is a great way to convey to the audience that the Jordan they admire is the same one in the film. Biopics can go off the rails when they try to humanize larger-than-life figures, reducing just how impactful they are. And Jordan's impact is large, having influenced both basketball and "sneaker culture" for the last four decades.
While audiences may walk into the film expecting a larger-than-life retelling of how Nike nabbed Jordan, the tagline for "Air" is "courting a legend," implying that there's more to this important story. What does that involve? At the heart of the film is Viola Davis' Deloris Jordan, Michael's mother. In an interview with The Hollywood Reporter, Affleck candidly revealed that the role of Jordan's mother was fleshed out after a chat with the NBA superstar himself. While Deloris Jordan is beloved to the athlete, audiences aren't aware of her impact. With "Air," audiences will be able to see how Jordan (and his Nike shoes) was shaped through his mother's actions and decisions. There are also no expectations when it comes to Deloris from the audience, as she isn't a cemented part of our popular culture, unlike her son. 
Besides, the film isn't about rising NBA hotshot Michael Jordan landing a lucrative gig at Nike. Instead, it's flipped: down-on-its-luck apparel and footwear company Nike is trying to profit off superstar Michael Jordan's name. The latter, arguably more compelling story doesn't need an actor to play Jordan. It speaks volumes that Affleck and company understand that Jordan is so big that nobody can — or should — play him.