Chicago Med's Topical Storylines Were Intended To Not Overwhelm Viewers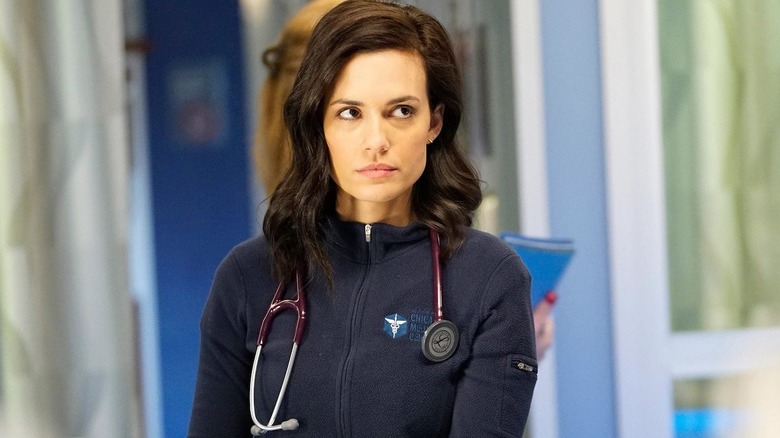 NBC
Transposing ripped-from-the-headlines, medically centered stories from the real world into the fictional universe of episodic TV drama is a tried-and-true, weekly exercise for producer Dick Wolf's "Chicago Med." After eight seasons on NBC, fans are well acquainted with this long-running series' proven formula of dedicated doctors and nurses responding to the same traumatic accidents, natural and man-made disasters, and other emergencies covered on the daily news.
Beginning with its premiere 2015 episode plunging viewers into the midst of the E.D.'s response to a mass casualty train derailment, the show has featured topical plotlines dealing with everything from toxic chemical spills to lethal bio-weapon assaults, suicide bombings, and many more. Along with the various healthcare catastrophes, of course, are the soapy interpersonal entanglements and clashes that fans are also familiar with from all three shows in producer Dick Wolf's One Chicago franchise. But as former "Chicago Med" star Torrey DeVitto said during an interview touching on the series' take on the COVID-19 pandemic, it can be a delicate creative balancing act when attempting to turn distressing real-world situations into enjoyable network entertainment.
Torrey DeVitto says Chicago Med aims to provide an expert blend of reality and fiction
Portraying Dr. Natalie Manning on "Chicago Med" from its premiere episode up through Season 7, Torrey DeVitto stars as an Emergency Department attending physician specializing in pediatrics. At the height of the COVID-19 pandemic during Season 6 of the show, DeVitto spoke with Nerds of Color, who asked what it was like to play a fictional doctor in episodes about the viral outbreak even as the rest of the world was dealing with the pandemic as a very real, day-to-day threat.
"From the beginning of the show, it was just– not pressure in a negative way, but I did feel this enormous amount of pressure to do justice for this role," DeVitto said, adding that she felt a great responsibility to reflect the heroic work of real-world doctors and nurses risking their lives to save patients during the outbreak. 
DeVitto then praised the show's writers for their treatment of topical events on the series and commented specifically on their deft handling of COVID storylines, saying, "I think so many people are having a lot of pandemic fatigue. So you're like, 'Wait a second, I'm living this every day. I don't want to be watching it.' I feel like [the writers have] found this beautiful way of blending entertainment, drama, and what's real all together."