Nicholas Braun 100% Agrees With The Comparison Between Succession's ATN And Fox News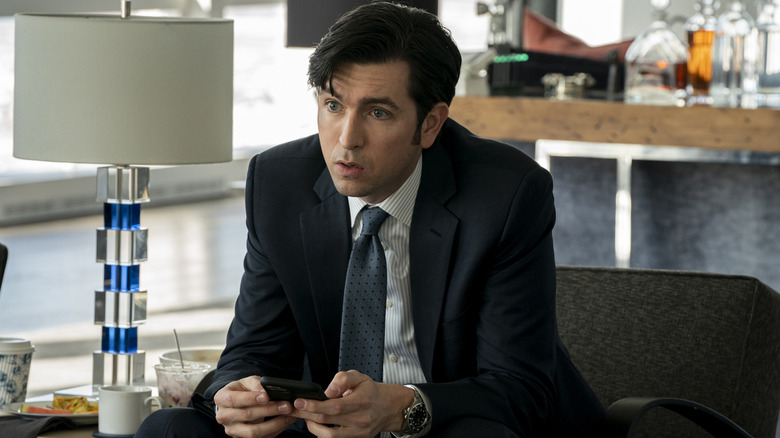 Macall B. Polay/ HBO
"You can't make a Tomlette without breaking some Greggs." Those words surely weigh heavily on Nicholas Braun, who plays Cousin Greg on HBO's media mogul sendup, "Succession." Introduced as a nebbishy outsider in the all-powerful Roy family, the end of "Succession" Season 3 sees Greg emerge from his chrysalis of navieté and ineptitude. With one sentence –  "What am I gonna do with a soul anyway?" — Greg transforms into something much more sinister: a true Roy.
Much of the Roy family's dubious morals are manifested in ATN, the right-leaning news network owned by Waystar RoyCo, and Braun is just one of a chorus of voices who believes that the fictional network shares much in common with Fox News.
Though "Succession" doesn't show any actual ATN news segments, it makes the fictional network's stances quite clear. One ATN chyron reads "Gender Fluid Illegals May Be Entering the Country Twice," and the lead anchor harbors some not-so-subtle sympathies with the Nazi regime. As Braun put it in an appearance on "The View," "Just a couple more years and [Fox will] be ATN."
Braun called ATN 'Fox News Plus'
Peter Kramer/HBO
"Succession" is as indebted to "King Lear" as it is the real-life power grabs in media titan families like the Hearsts and the Sulzbergers, though the Roy family is most often compared to the Murdochs, the dynasty behind Fox News, with Logan Roy (Brian Cox) a stand-in for the Murdoch family patriarch, Rupert. Like the Roys, the Murdoch children are similarly enmeshed in the family business.
Along with the familial comparisons, Waystar RoyCo's flagship business, ATN, is an on-screen analog to Fox, both in terms of its right-wing viewpoints, sexual harassment scandals, and flashes of ludicrousness ("We hear for you").
When the hosts of "The View" asked Braun if he agrees with the comparison between Fox and ATN, he didn't even pause. "Yeah, 100%," the actor replied. Being a satire, Braun explained, ATN is Fox to the nth degree. "ATN is like Fox News Plus," he continued. Braun also suggested that Fox is just a few years away from matching the corruption and ridiculousness of its fictional counterpart. "It's like Fox News 2026," the actor quipped.
With Rupert Murdoch dropping his plans to merge two of his media companies, the real-life Fox drama churns on. The "Succession" drama, meanwhile, is not long for this world; the 4th and final season premieres on March 24.