The Final Trailer For Succession Season 4 Shows Logan On A Rampage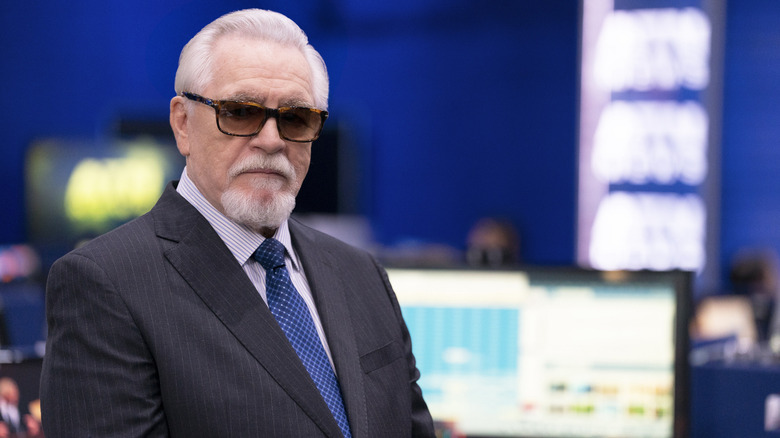 Macall Polay/HBO
Ahead of the premiere of Season 4 of Succession, creator and showrunner Jesse Armstrong revealed some pretty shocking news: this highly-anticipated installment of HBO's hit drama will be its last. With that in mind, fans and critics alike are even more excited to see what Season 4 has in store — and there's a new trailer to give them the smallest of glimpses.
Since it premiered in 2018, "Succession" has proven to be one of HBO's most commercially and critically successful shows, telling the family of the cutthroat Roy family and their constant in-fighting over who has the most power and the best position in the family business. For three seasons, audiences have gleefully watched as patriarch Logan Roy (Brian Cox) has taunted each of his children — hapless firstborn Connor (Alan Ruck), hopeless striver Kendall (Jeremy Strong), conniving and cruel Shiv (Sarah Snook), and foul-mouthed lout Roman (Kieran Culkin) — over who might get to run Waystar Royco. Now, with the final season at hand, fans might finally get some answers as one member of the Roy family potentially lands on top. So what does the final trailer for the fourth season of "Succession" tell us about what's ahead for the Roys and their hangers-on?
The trailer shows Logan Roy on the hunt — and his family scheming
This final trailer kicks off with Logan Roy on top of the world, with him saying he's got a huge deal, an election, and an entire news network as his spoils. Feeling like the victor, he wanders the floor of ATN (the fictional American Television Network), with Cousin Greg (Nicholas Braun) watching from above and reporting to Shiv's husband Tom (Matthew Macfayden). "He's moseying," Greg tells Tom. "Terrifyingly moseying. It's like if Santa Claus was a hitman."
The big reason for Logan's good mood? Well, at the end of the previous season, he booted all of his children from the compasny pretty unceremoniously — so to his mind, none of them are vying for his crown any longer. That's obviously not the case, though. Allying themselves with several of Logan's business enemies, they prepare for what Shiv refers to as a "knife fight," but there's no doubt that they'll be thwarted by Logan at every turn... especially as he tells his children that they are "not serious people." Logan is ready to wage war, as are the Roy kids, but it'll clearly be a bloody road for everybody involved — as he says, he wants to "kill the opposition, cut their throats" followed by the battle cry, "we are pirates!"
Can anyone topple Logan Roy, or is he, as he clearly believes, unstoppable? Will the Roy kids do whatever it takes to bring down their own father? The fourth and final season of "Succession" kicks off on March 26th at 9PM EST on HBO and HBO Max, and this ultra-wealthy family will continue its unraveling then.