Shadow And Bone Fans Are Not Happy With Season 2's Jumpy Timeline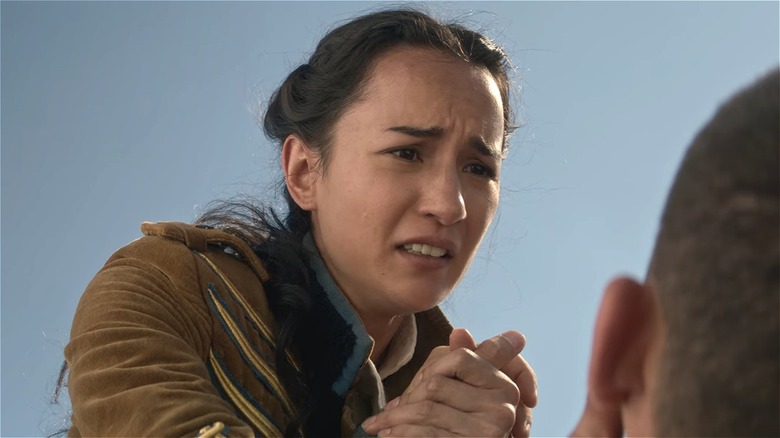 Netflix
Books are a fantastic source material for television shows because most of the major plots and characters are already developed. However, adapting books comes with its own set of issues, particularly when one is converting a high fantasy story into a binge-able series. More often than not, these books have entire worlds, concepts, histories, and rules that are spelled out over hundreds of pages, but sometimes this information is lost somewhere in the change of medium. Netflix's "Shadow and Bone" is one example of this, and some audience members are finding Season 2 a bit hard to follow.
Converging on Twitter, several fans of the Grishaverse series of books that the popular show is based on decided to share their opinions and thoughts on Season 2 of "Shadow and Bone," and it definitely seems like there is a reoccurring trend among those who are well-versed in the series, with some comments levied directly at showrunner Eric Heisserer. One such comment, from @zofialoml, created a deluge of responses when they posted a video of a child mixing several words together and wrote, "eric heisserer making the decision to combine every single book on earth for shadow and bone season 2 because he was feeling a little silly."
Shadow and Bone aficionados think Season 2 jumps around too much
Netflix
Responding to the above comment, @cardiganloser expressed amazement at how events from the book occur out of order, while @Mem73050468 listed four books from the Grishaverse that seem to have been adapted for Season 2. Others, like @halossrep, @_marsax, and @CRACKERPIANO, all used the words "messy" or "a mess" to describe Season 2 of "Shadow and Bone," noting that the show takes some serious liberties with the source material. @iantheluvr took it a step further and said, "this shadow and bone mess makes me even more grateful we got a perfect adaptation of lockwood & co."
However, not all were upset with the relatively messy timeline of Season 2, with @nothisanna writing, "That was absolutely wild. The tv show has mixed and matched the storylines, put stuff out of order and made me really confused. But i still enjoyed the season very much." 
Interestingly enough, before Season 2 of "Shadow and Bone" even premiered, showrunner Eric Heisserer told Entertainment Weekly that this freshly released season would utilize more than one book and would borrow elements from others that would later surprise even the original author. Unfortunately, it looks like some fans aren't exactly happy with the results, but that is probably bound to happen when one of the largest streaming services adapts a beloved and dense book series.