Shadow And Bone Season 2 - Everything You Need To Know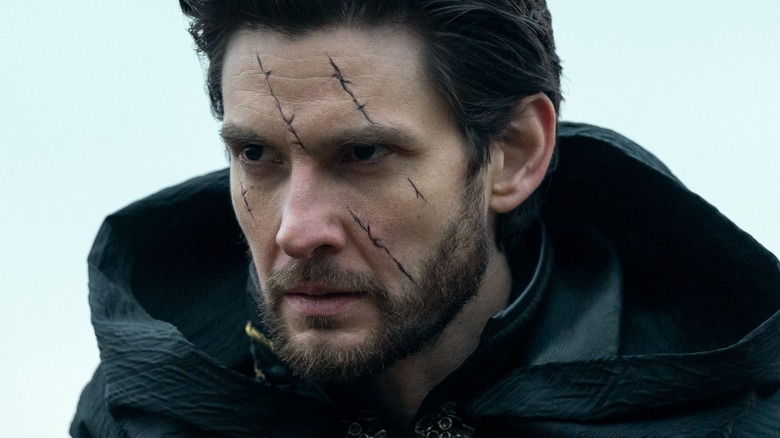 Dávid Lukács/Netflix
Netflix's fantasy series "Shadow and Bone," based on bestselling book series by author Leigh Bardugo, commonly referred to as the "Grishaverse," became an instant hit when it premiered on April 23, 2021. Set in the fictional kingdom of Ravka, a young woman named Alina Starkov, played by Jessie Mei Li, discovers that she has magical abilities that allow her to summon light. Plucked from her normal life as a cartographer in the army, Alina joins the Grisha, a group of people with various powers, and begins training to be the world's savior and get rid of the Shadow Fold. The Shadow Fold is a massive expanse of land that splits Ravka, covered in complete darkness and filled with monsters. A man named General Kirigan (Ben Barnes), also known as the Darkling, has the power to create shadows and has been searching for a way to get rid of the Shadow Fold for a long time — until Alina came along. 
"Shadow and Bone" wowed critics and Netflix audiences, earning an impressive 87% on Rotten Tomatoes. According to a report from Deadline, the series was so successful that it hit the #1 spot on Netflix's Top 10 list in 79 countries, and was watched by 55 million households in the first month. Fans of the series, especially book fans who know what's coming, eagerly waited for the Season 2 premiere, which arrived in the spring of 2023. Here's everything you need to know about "Shadow and Bone" Season 2.
What is the plot of Shadow and Bone Season 2?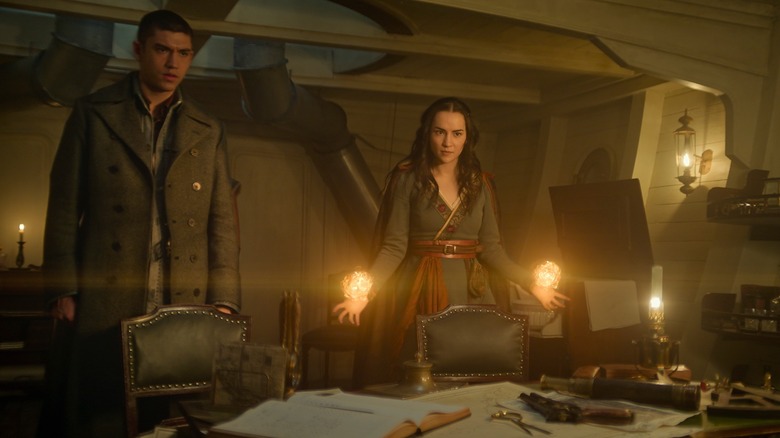 Netflix
Season 2 of "Shadow and Bone" ctonues the storylines from the first season, with Mal and Alina on the run from the Darkling. Hinted at in Season 1 and further explained in the novels, the two best friends head out on a race to find the remaining magical Amplifiers, both to stop the Darkling from getting them and to give Alina enough power to get rid of the Shadow Fold. Their adventures will expand the world of "Shadow and Bone," introducing new places and new characters in Ravka and beyond. 
As for what's happening with the Crows, here's what the official plot synopsis has to say: "Back in Ketterdam, the Crows must forge new alliances as they contend with old rivals and even older grudges that threaten not only their place in the Barrel, but their very lives. When a chance at a deadly heist comes their way, the Crows will once again find themselves on a collision course with the legendary Sun Summoner."
Who stars in Shadow and Bone Season 2?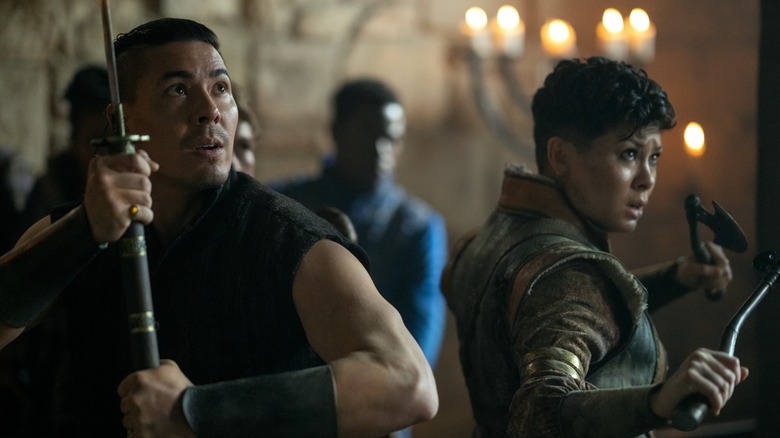 Dávid Lukács/Netflix
Season 2 of "Shadow and Bone" continues the story of Alina and her developing powers as the Sun Summoner, as well as the plans the troublemakers known as the Crows have in the works, which means we'll see the return of Jessie Mei Lei as Alina and Ben Barnes as the Darkling. Plus, you can expect Archie Renaux as Mal Oretsev, Alina's best friend (and possibly more), as well as Sujaya Dasgupta as Zoya Nazyalensky and Daisy Head as Genya Safin. As for the Crows, there is Freddy Carter as Kaz Brekker, Amita Suman as Inej Ghafa, Kit Young as Jesper Fahey, and a couple of others they're bound to cross paths with — Danielle Galligan as Nina Zenik and Calahan Skogman as Matthias Helvar. 
As for new additions to the cast for "Shadow and Bone" Season 2, there were a few. IA character named Wylan Hendriks joins up with the Crows (making for the titular "Six of Crows" from Leigh Bardugo's book of the same name), and he's portrayed by Jack Wolfe, who had a small role on Netflix's "The Witcher." A privateer named Sturmhond, also known as Nikolai Lantsov, factors into Season 2, played by Patrick Gibson ("The OA"). Anna Leong Brophy and Lewis Tan also join the cast as twins Tamar Kir-Bataar and Tolya Yul-Bataar, alongside Seamous O'Hara, Tommy Rodger, Rhoda Ofori-Attah, Alistair Nwachukwu, Tumi Fani-Kayode, April V. Woods, Tim Plester, and Ohval Neyar.
Who are the showrunners for Shadow and Bone Season 2?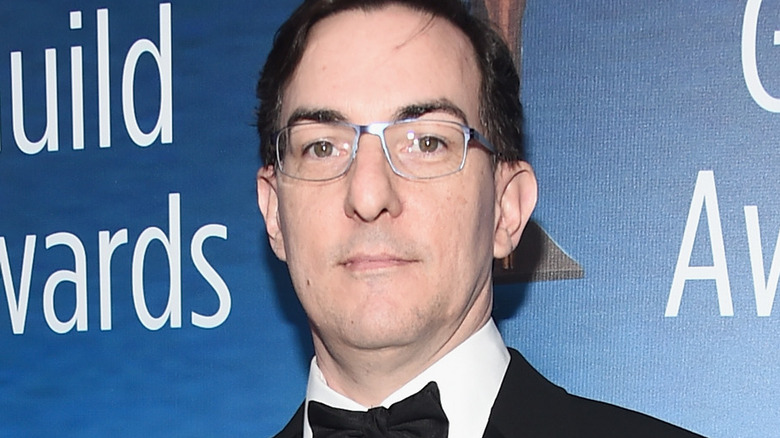 Alberto E. Rodriguez/Getty Images
Eric Heisserer, the showrunner for the first and daring season of "Shadow and Bone" came into the project with an impressive resume with two clear trajectories. As the screenwriter of horror sequels and crucial would-be franchise-restarter, he proved he can adapt the work of others (like "Shadow and Bone" source novels author Leigh Bardugo) with his scripts for "Final Destination 5," "The Thing," and "A Nightmare on Elm Street." Heisserer also showed true originality with horror, sci-fi, and fantasy fare, penning acclaimed genre gems like "Lights Out," "Extinction," "Bird Box," and "Arrival," which earned the screenwriter his first Academy Award nomination.
After carving out a name for himself in movies, Heisserer moved to the small screen, developing and creating "Shadow and Bone" for Netflix, and personally writing three episodes of the epic fantasy series. In "Shadow and Bone" Season 1, Heisserer served as sole showrunner, while in "Shadow and Bone" Season 2, he's assisted by new co-showrunner Daegan Fryklind, a staff writer and co-executive producer in the first season of the series.
Here's what critics and audiences had to say about Shadow and Bone Season 2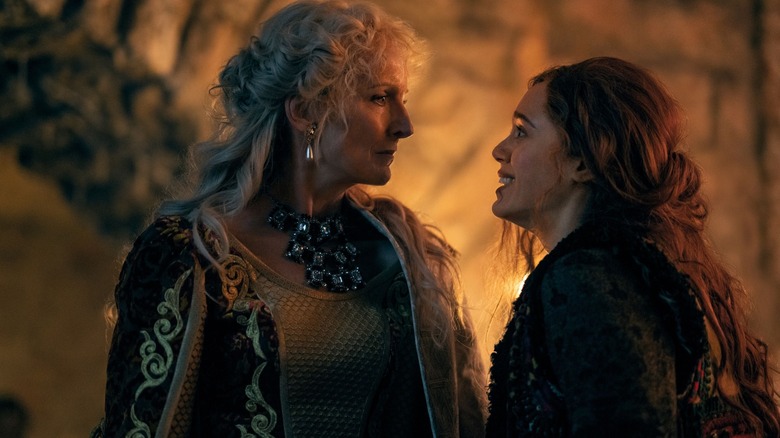 Netflix
When it comes to critical reception of Season 2, both critics and audiences felt pretty good about "Shadow and Bones'" second outing. Currently, the second season stands at 83% with critics and 85% with audiences on Rotten Tomatoes.
"This season is supersized: more characters, more settings, more plot, more danger, and more fighting," Sarah Shaffi at The AV Club wrote, while CT Jones at Rolling Stone was more blunt: "Shadow and Bone isn't great. But you can't call it boring." As Chris Vognar at TheWrap put it, "It rarely forgets to have fun, a quality that can easily get lost amid the spells and brooding that often characterize such enterprises," and Vicky Jessop at The London Evening Standard seemed to agree, writing, "Fortunately, it's silly enough that you can ignore most of it and just enjoy the ride." Clearly, the consensus about the second season is that it's not flawless, but it's fun all the same.
Where to watch Shadow and Bone Season 1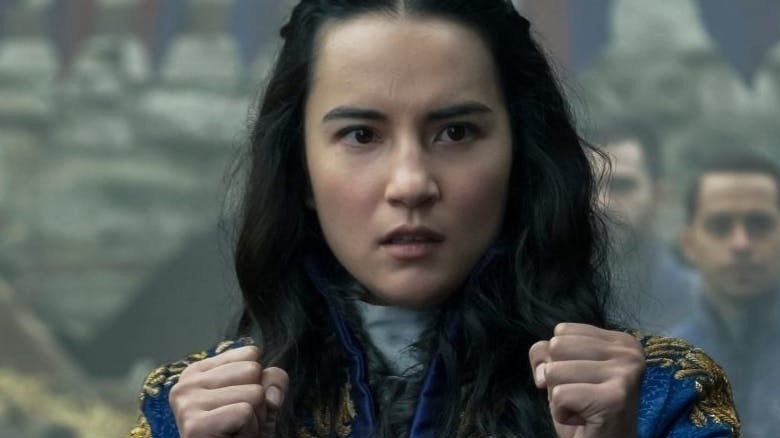 Netflix
Netflix is the exclusive home of "Shadow and Bone." When Deadline reported way back in January 2019 that a small-screen, multi-episode adaptation of Leigh Bardugo's top-selling "Grishaverse" novels first published in the early 2010s, more formally known as the "Shadow and Bone" series or "Grisha" trilogy, plans were in place to adapt the first book in that saga, "Shadow and Bone," as well as the latter release "Six of Crows." There are plenty more books from Bardugo's cycle that could find their way to viewers' televisions and laptops by way of streaming, including "Siege and Storm" and "Ruin and Rising." The popularity of the series as a streaming option, plus the wealth of material still available to mine for content, made a renewal almost a foregone conclusion. 
In June 2021, Deadline reported that more than 55 million households watched at least part of "Shadow and Bone" Season 1 in its first four weeks of availability, according to the company that produces and distributes it, Netflix. And "Shadow and Bone" wasn't just a phenomenon in North America — it ranked among Netflix's top 10 most watched shows in 79 countries, including Germany, Spain, South Africa, and Brazil. In other words, Netflix isn't getting out of the "Shadow and Bone" business any time soon. Season 1 of the series remains available for streaming on the service, alongside Season 2.