The Correct Order In Which To Watch The Leprechaun Movies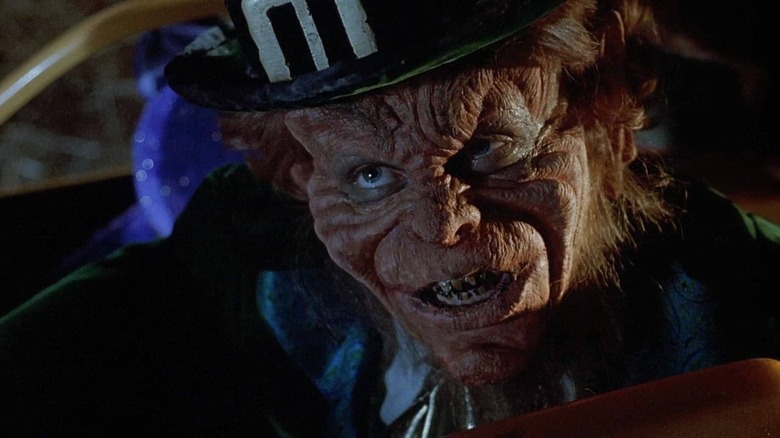 Trimark Pictures/EMC
Today is St. Patrick's Day as of this writing, and if you have the day off or if you're just feeling in a particularly celebratory mood, there are plenty of ways to celebrate Irish heritage at your disposal. Traditionalists can throw on some festive green attire (pinching people who don't, of course, really isn't cool), enjoy a green beer or 12, or chow down on some corned beef and cabbage. There are also plenty of great movies to watch on St. Patrick's Day, but if you're in the mood for something a little more transgressive, there's always Hollywood, which has the perfect slasher movie franchise for the holiday.
That's, of course, the "Leprechaun" series, which takes viewers on a series of increasingly outrageous horror-comedy romps starring Warwick Davis as the titular Leprechaun in the classic spine of the franchise. Davis (followed by actors Dylan Postl and Linden Porco in the more recent appearances of the character) plays Lubdan Buttowski, a leprechaun who's willing to go beyond the usual antics of his supernatural class to reclaim his missing gold. Lubdan is a psychotic thrill-killer who loves to use his magical powers to pick off his victims in creative ways, a gimmick that has fed into a franchise that's now eight films strong and counting.
While the series doesn't include any serious chronological tangles that might trip up a newcomer, it might still be useful to have a brief overview of the franchise's various turns and its correct viewing order.
The theatrical era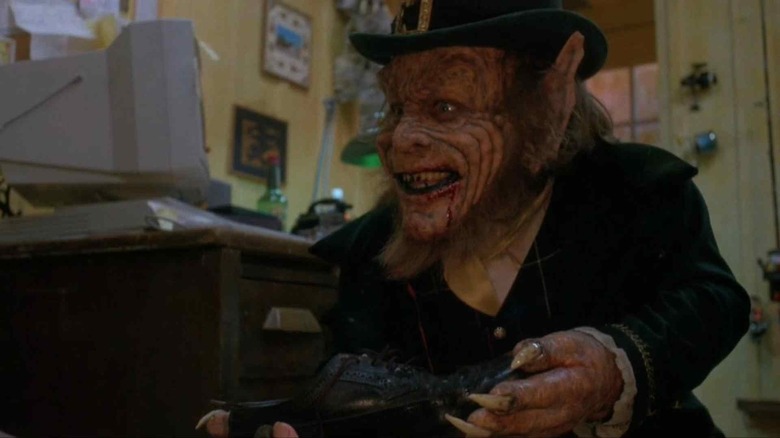 Trimark Pictures/EMC
The "Leprechaun" franchise began its life cycle in 1993 with the release of "Leprechaun." One thing of interest to viewers in 2023 is that it's the feature film debut of a young actress named Jennifer Aniston, who, much like Helen Hunt in the "Trancers" films, would go on to heights of stardom that probably didn't seem possible when the off-beat horror comedy was being made.
As legend has it, the film was supposed to be more of a straight horror-thriller about a psychotic leprechaun, but Warwick Davis' own sense of humor changed the tone of the film, and the addition of more over-the-top gore was the cherry on top of the mint-green ice cream sundae we know today.
The film was commercially successful enough to get a sequel, "Leprechaun 2," which perhaps unfortunately is the last of the now long-running franchise to be released in theaters. After that, the movies moved into the direct-to-video realm, where they carved out a very lucrative niche for themselves and arguably turned Lubdan Buttowski into the horror icon he is today.
The Brian Trenchard-Smith entries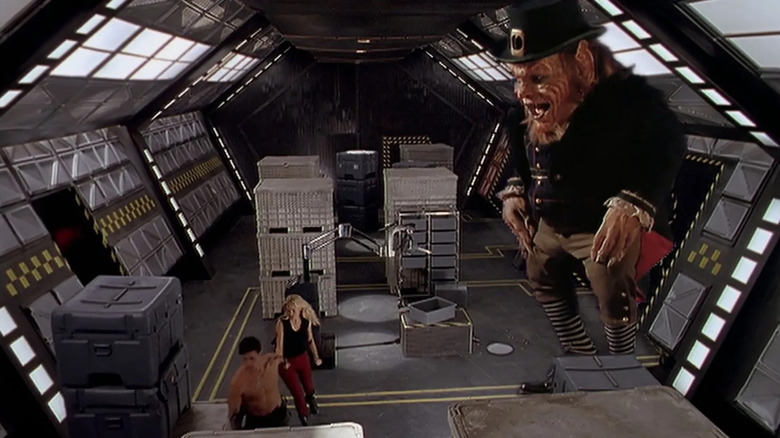 Trimark Pictures/EMC
Lovers of low-budget genre cinema are (or at least should be) familiar with the name Brian Trenchard-Smith. The Australian action movie legend is the man behind such classics as "Turkey Shoot," "BMX Bandits," the "Panther" films, and, for some reason, "DC 9/11: Time of Crisis," and he's known for a style that prioritizes violence and speed above all else. No door, window, or piece of furniture is safe in a Trenchard-Smith film, and he was brought on board the "Leprechaun" franchise when it made the transition from theatrical release to direct-to-video in 1995 with "Leprechaun 3."
"Leprechaun 3" makes the inspired move of bringing Lubdan Buttowski to Las Vegas, a fitting home for his particular brand of evil, greed, and murderous magic. According to a retrospective interview with Entertainment Weekly, Trenchard-Smith said that "Leprechaun 3" was a smash hit in the direct-to-video realm: "To everyone's surprise, 'Leprechaun 3' shipped 55,000 copies [...] which made it, I think, the highest-selling direct-to-video of 1995."
That made a follow-up inevitable, and Trenchard-Smith took Lubdan to new heights with "Leprechaun 4: In Space." That's right — for the franchise's fourth installment, we move into the far future of 2096, when a crew of space marines is menaced by the immortal being.
The 'Hood' mini-franchise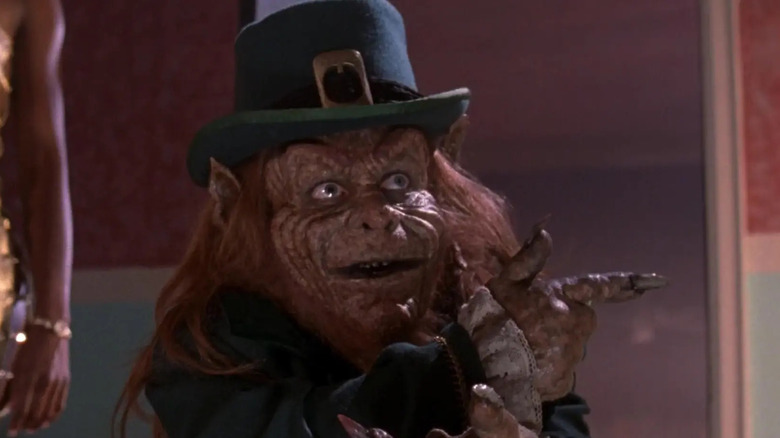 Trimark Pictures/EMC
After "Leprechaun 4: In Space," the makers of the "Leprechaun" franchise had a really difficult question on their hands: where to go from here? Once you've conquered the final frontier, there's not a lot you can do that won't seem like a disappointment. And yet the market was there for additional "Leprechaun" installments. The answer that was landed upon should be clear from the title of 2000's "Leprechaun 5: In the Hood" and its 2003 sequel, "Leprechaun 6: Back 2 tha Hood."
A sociopolitical analysis of the "Leprechaun 5: In the Hood" films is beyond the scope of this project, but suffice it to say that both films continue the franchise tradition of mixing ghastly horror with ghastly comedy in a new milieu. Ice-T and Coolio both make appearances in "In the Hood," while "Back 2 tha Hood" features an appearance by Sticky Fingaz, so the intersection between killer leprechauns and rappers is extremely and canonically solid.
The Leprechaun may have managed to make his way back from a jaunt "In Space," but after two adventures in "tha Hood," there didn't seem to be anything else for him to do. So the franchise was finally laid to rest ... until 2014.
The reboot and 'requel'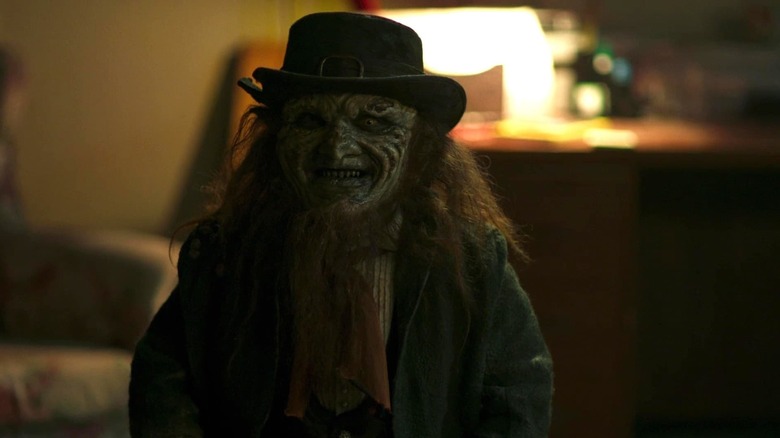 SyFy
In 2014, the horror reboot trend finally caught up with "Leprechaun." "Leprechaun: Origins" is a kind of reboot for the series, replacing Warwick Davis with professional wrestler Dylan Mark Postl, also known in the ring as Hornswaggle. The film also replaces the franchise's signature humor with a darker, more straight-ahead horror tone, a move that was doubtlessly controversial among fans of the franchise.
Then, in 2018, when "requels" like David Gordon Green's "Halloween" were all the rage, "Leprechaun" got one of its own. Ignoring the reboot and instead serving as a sequel to the original film, "Leprechaun Returns" stars Taylor Spreitler as the daughter of Jennifer Aniston's character, 25 years after she prevailed over Lubdan Buttowski the first time. Unfortunately for fans, Warwick Davis is again uninvolved with the film, and the character is played by Linden Porco. But the franchise's signature comedy is mixed back into the picture with this installment. 
No one knows what the future holds for the "Leprechaun" franchise, but with nostalgia running thick and heavy throughout popular culture, perhaps Warwick Davis might be persuaded to play the role again. But for now, we have plenty of "Leprechaun" movies to look back on and enjoy. Happy St. Paddy's Day, everybody!