The Best Movies To Watch On St. Patrick's Day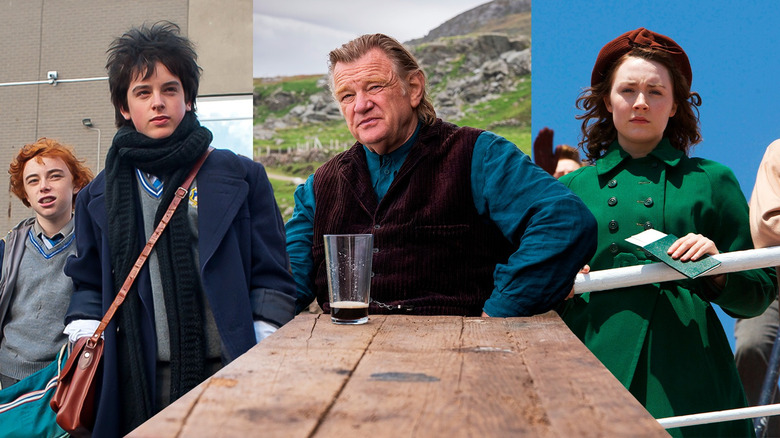 Static Media
Between all the green beer, delicious Irish food, and parades, there's plenty of fun to be had on St. Patrick's Day. At the same time, though, it can be stressful dealing with crowds and paying for overpriced drinks — not to mention getting pinched by strangers if you forgot to wear green. If you'd rather stay in this year, but you still want to make the most of St. Patrick's Day, we have the perfect solution: watching an Irish movie.
From comedies to romances to thrillers, there are a ton of great Irish films out there. There are also many beautifully written movies that center around Irish characters, highlighting the Emerald Isle's rich history and fascinating legends. Some have star-studded casts featuring popular Irish actors like Cillian Murphy and Colin Farrell, while others are hidden indie gems you'll wish you'd found sooner. Keep reading to avoid endlessly scrolling on a streaming service and skip to finding something worth watching on St. Patrick's Day!
Brooklyn
Based on the bestselling novel by Colm Tóibín, "Brooklyn," a romantic drama, follows Irish immigrant Eilis Lacey (Saoirse Ronan) as she moves to Brooklyn in the 1950s. Eilis had a comfortable life while staying at her mother's home in Ireland, but she hopes that she'll have better luck finding work in New York City. Although she's initially homesick after arriving in America, things start looking up when she meets a charming Italian man named Tony Fiorello (Emory Cohen). Their romance helps Eilis feel more at home, but her exciting new lifestyle is disrupted when the past catches up with her.
She has to take a sudden trip to Ireland due to a family emergency, and while she's there, she remembers her fondness for her old life. Eilis is torn between choosing which country to call home. Will she choose to make a future for herself in America with Tony, or move back to Ireland for good, where there's the possibility of a new romance?
Ondine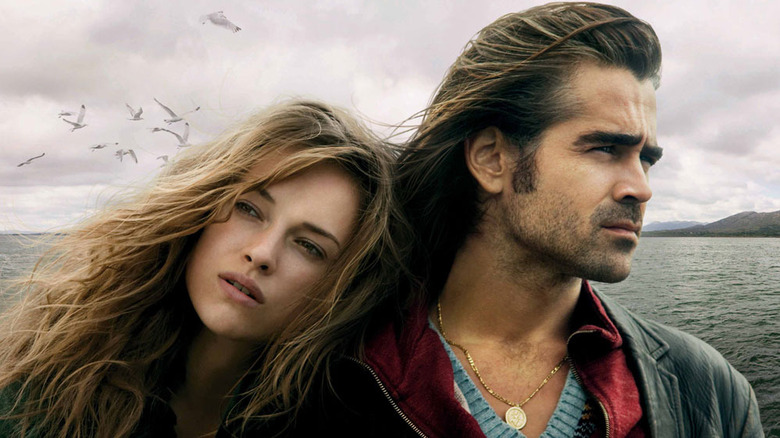 Paramount Vantage
"Ondine" is a romantic drama that centers around Syracuse (Colin Farrell), a divorced fisherman who lives on the Irish coast with his daughter Annie (Alison Barry). He's a recovering alcoholic while Annie has serious medical problems, but their luck seems to change when Syracuse catches a mysterious woman named Ondine (Alicja Bachleda) in his fishing nets. After bringing her on board and helping her regain her strength, she sings to the fish and draws a ton of them into his nets.
As Ondine and Syracuse fall for each other, Ondine forms a special bond with his daughter, but there's trouble on the horizon. Ondine brings them such great luck that some of the other fishermen begin to fear she's a selkie. In Norse and Celtic mythology, selkies are mythical beings that can transform from seals into humans. The fishermen don't think that Ondine belongs on land, so Syracuse must decide whether he wants to stay with Ondine or let her go.
If you or anyone you know needs help with addiction issues, help is available. Visit the Substance Abuse and Mental Health Services Administration website or contact SAMHSA's National Helpline at 1-800-662-HELP (4357).
Leap Year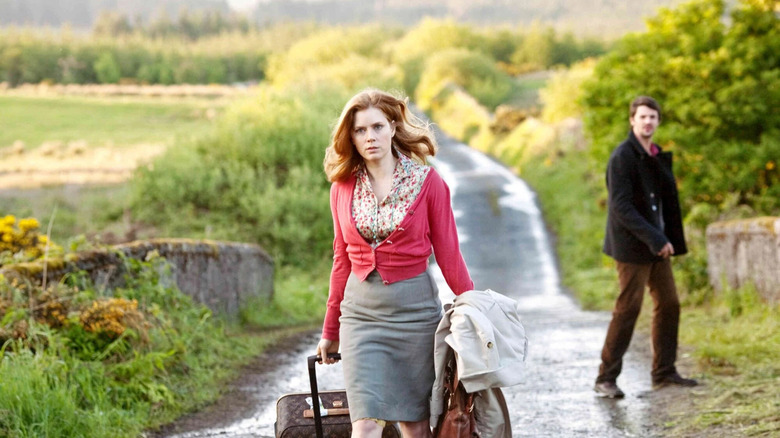 Universal Pictures Home Entertainment
If you want to watch a lighthearted romantic comedy on St. Patrick's Day, look no further than "Leap Year." When Anna's (Amy Adams) boyfriend doesn't propose to her on their four-year anniversary, she decides to propose to him instead. It might seem unconventional, but the story is inspired by a real Irish tradition in which women can propose to men on February 29th (hence the film's title). 
Anna plans to follow her boyfriend to Dublin so she can pop the question, but she accidentally ends up on the wrong side of Ireland. Luckily, a helpful and oh-so-handsome local named Declan (Matthew Goode) is there to get her to her destination. Along the way, Anna discovers that the path to love might not be what she expected. Although the film didn't get stellar reviews, Adams and Goode have good chemistry on screen, and the serendipitous story is a cheery enough watch.
Philomena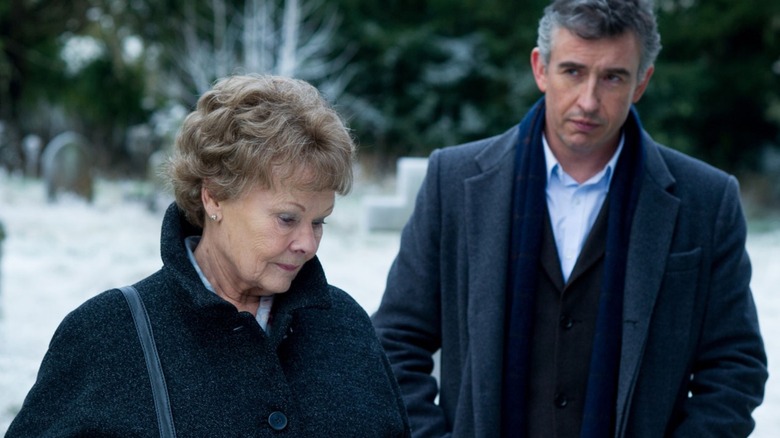 20th Century Fox
This touching film is based on a true story. British journalist Martin Sixsmith (Steve Coogan) learns about an Irish woman named Philomena (Judi Dench) who was forced to give her child up for adoption over 50 years ago. Despite being reluctant to write up the story at first, he meets Philomena and decides to help her find her son Anthony.
He learns that Philomena got pregnant outside of marriage when she was a teenager in the 1950s, leading her to get sent to a convent. When Anthony was just a toddler, the nuns took him away and put him up for adoption in America. Philomena was devastated and spent the next 50 years searching for him to no avail.
She and Martin go to the United States to find him, and during their travels, they become unlikely friends. The movie's unique combination of comedy and drama works out in its favor, so some scenes are sure to make you laugh while others will bring a tear to your eye.
The Banshees of Inisherin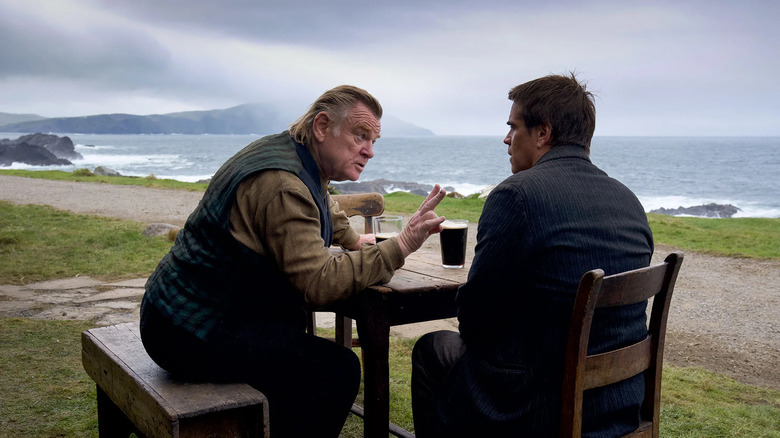 Searchlight Pictures
If you're in the mood for a dark tragicomedy, "The Banshees of Inisherin" is more than worth checking out. Set on an island off the west coast of Ireland in 1923, the film finds Pádraic (Colin Farrell) shocked when Colm (Brendan Gleeson) suddenly ends their lifelong friendship. While Pádraic wants to make amends, Colm wants nothing to do with him anymore, so Pádraic enlists the help of his sister Siobhán (Kerry Condon) and a dimwitted man named Dominic (Barry Keoghan) to help.
Pádraic's repeated attempts to rekindle his friendship with Colm only make things worse between them. Seeing no other options, Colm gives him an ultimatum, setting off a chain of events with drastic consequences. The story is intended to symbolize the Irish Civil War that ravaged the country during that time and boasts an impressive 96% rating on Rotten Tomatoes, along with a ton of nominations at the 2023 Academy Awards.
The Wind That Shakes the Barley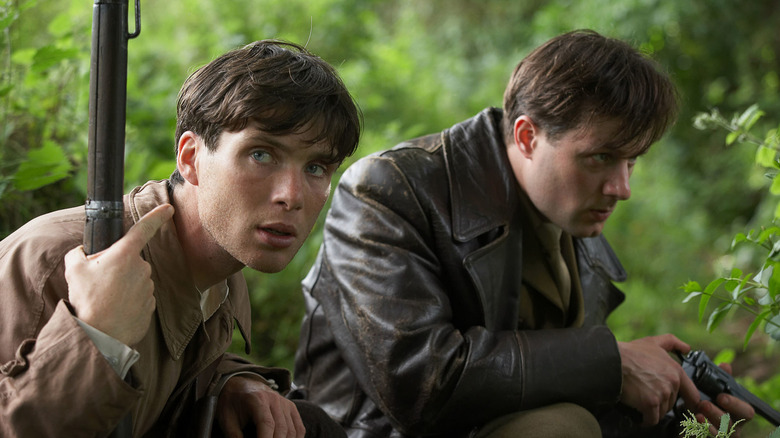 Element Pictures
"The Wind That Shakes the Barley" is a riveting war drama that gives viewers the chance to brush up on Irish history. In the early 1920s, Damien O'Donovan (Cillian Murphy) is about to leave Ireland to work at a hospital in London, but his plans change when he witnesses the British Black and Tans commit violent atrocities against the locals. He decides to stay and join the Irish Republican Army, where his brother Teddy (Padraic Delaney) is currently commanding the flying column.
They fight to free Ireland from the United Kingdom, with both of them facing hardship along the way until the Anglo-Irish Treaty is signed. However, the peace treaty is far from the end of their struggles as the brothers and the rest of their brigade argue over the terms of the agreement. When the Irish Civil War breaks out, Damien and Teddy find themselves on opposite sides, forcing them to make some tough decisions about their morals, futures, and what matters most in life.
'71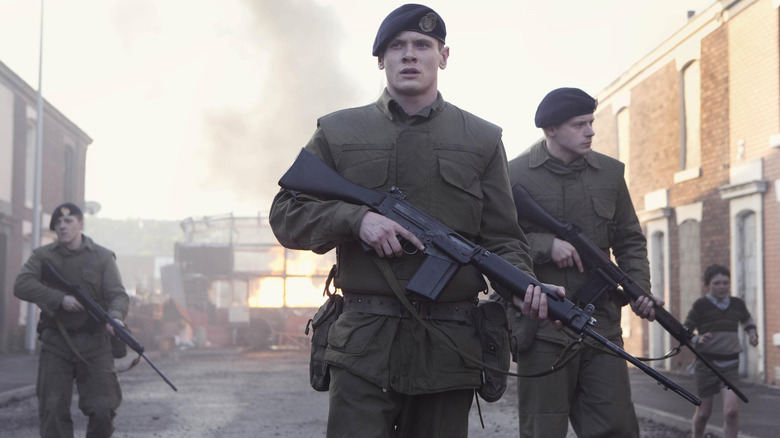 StudioCanal
Looking for a gritty, action-packed historical movie to watch while drinking that Guinness? "'71" is sure to keep you on the edge of your seat. The story follows Gary Hook (Jack O'Connell), a young soldier in the British Army, who gets sent to Belfast in 1971. The Troubles — a decades-long conflict between Irish Catholics and Ulster Protestants — are currently going on there, and Gary is shocked by the violence that he sees. Soldiers are excessively rough with civilians while searching their homes for firearms, and when a chaotic riot ensues, his unit accidentally leaves him behind.
Stranded behind enemy lines with no allies and hardly any experience, Gary faces danger from the Irish Republican Army around every corner. His only hope of making it back home and seeing his little brother again is getting help from some kindhearted civilians who show him mercy — but knowing who to trust is no easy task.
Black '47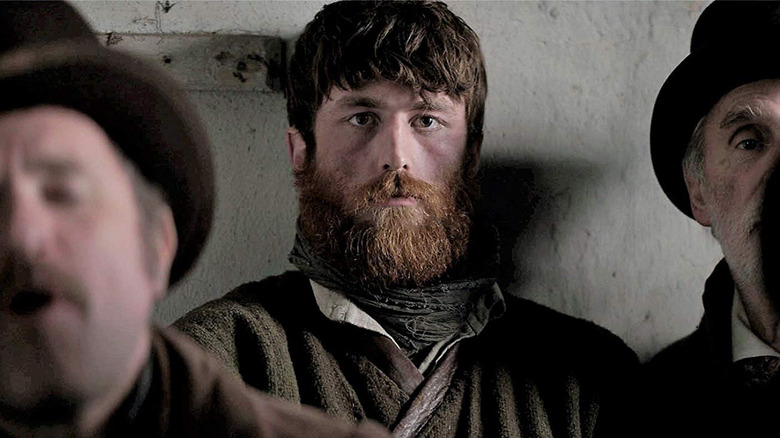 Element Pictures
"Black '47" takes place in 1847, which was the most brutal year of the Great Irish Famine. In the film, Feeney (James Frecheville), an Irish mercenary who has been fighting for the British Army, returns home to Connemara only to discover that his family has died. Absolutely devastated, he abandons his post so he can get revenge on those responsible for the tragedy.
The Royal Irish Constabulary (RIC), the police force in Ireland at the time, doesn't make it easy for him to carry out his plan. British officer Pope (Freddie Fox) is tasked with capturing Feeney, and RIC investigator Hannah (Hugo Weaving) is persuaded to help as well. Hannah is only helping so he can avoid the death sentence for a crime he previously committed, but he has conflicted feelings about it since Feeney saved his life when they served alongside each other in the army. When the two go head to head, Hannah has to figure out where his loyalties truly lie, and Feeney has to see how far he's willing to go for vengeance.
Snatch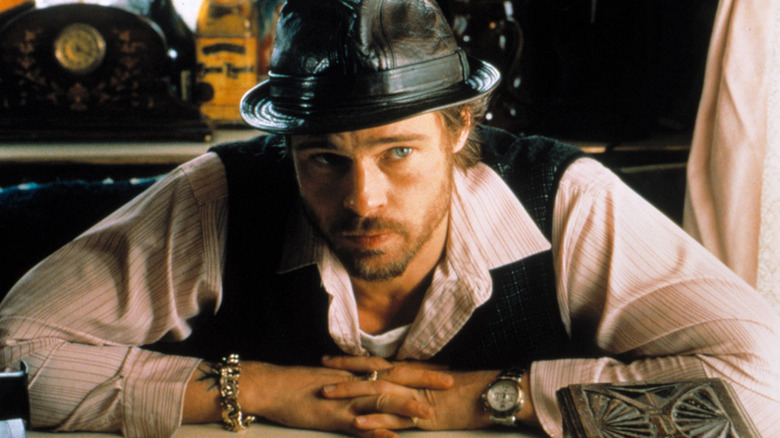 Sony Pictures Releasing
Brad Pitt stars as Irish bare-knuckle boxer Mickey O'Neil in "Snatch," a gritty action comedy from writer-director Guy Ritchie. In the film, a shady boxing promoter known as Turkish (Jason Statham) wants to put Mickey in a match against one of Brick Top's (Alan Ford) boxers. Brick Top is a ruthless gangster who wants to place a bet on the fight, so he agrees on the condition that Mickey throws the fight. Mickey is up for it since Turkish will help out his family in return, but when Mickey doesn't throw the fight as planned, Brick Top is furious and demands a rematch.
Gangster Franky Four Fingers (Benicio del Toro), who has stolen a diamond, gets caught in the chaos when he goes to place a bet on a friend's behalf with Brick Top's bookies. Several criminals want the diamond for themselves and are willing to do whatever it takes to get it. "Snatch" is a thoroughly entertaining gangster film, so consider giving it a watch if you haven't already.
The Guard
If you're a fan of buddy cop films, "The Guard" is right up your alley. Sergeant Gerry Boyle is an Irish policeman in a small town who has a strong personality and a crass sense of humor. Boyle attends a briefing led by FBI agent Wendell Everett, who has been sent to Connemara so local police can help the FBI take down an international cocaine-smuggling operation.
Boyle and Everett team up to find the drug traffickers, with Everett insisting they do things by the book and Boyle relying on far more unorthodox methods. Their differences lead to some hilarious moments as they chase down the bad guys and uncover one shocking secret after another. The 2011 film was one of the most successful independent Irish movies of all time, grossing over $4.3 million at the box office. It was the number-one movie in Ireland in the summer of 2011 and has also reached the top 10 in the United Kingdom, New Zealand, and Australia.
Intermission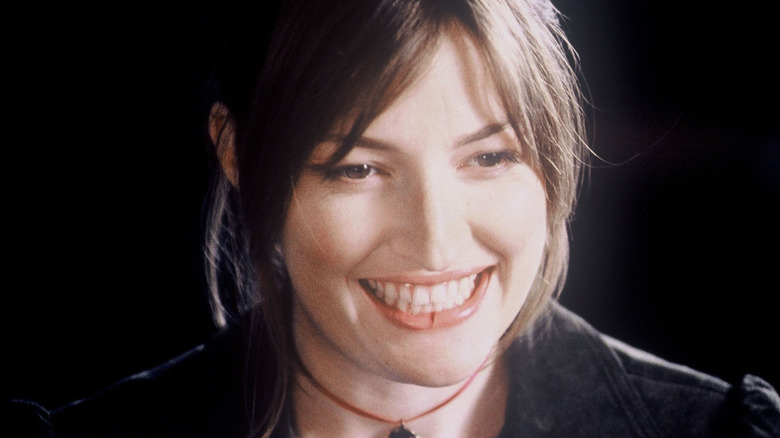 Buena Vista International
"Intermission," a dark romantic comedy set in Dublin, follows a group of friends who get caught up in crime while trying to find true love. John (Cillian Murphy) breaks up with Deirdre (Kelly Macdonald), only to regret it when she begins dating an older bank manager shortly afterward. John crosses paths with petty criminal Lehiff (Colin Farrell), and they come up with a plan to rob the bank Sam works at so John can get revenge on him.
Detective Jerry Lynch (Colm Meaney) does everything he can to prevent them from pulling off the scheme. When things go awry, John, Deirdre, and their friends find themselves caught in a series of mishaps. It certainly isn't your average romantic comedy, which is part of the reason why viewers enjoy it so much. By forgoing predictable storylines in favor of car chases, violence, and other wild antics, this high-energy rom-com is a breath of fresh air.
Once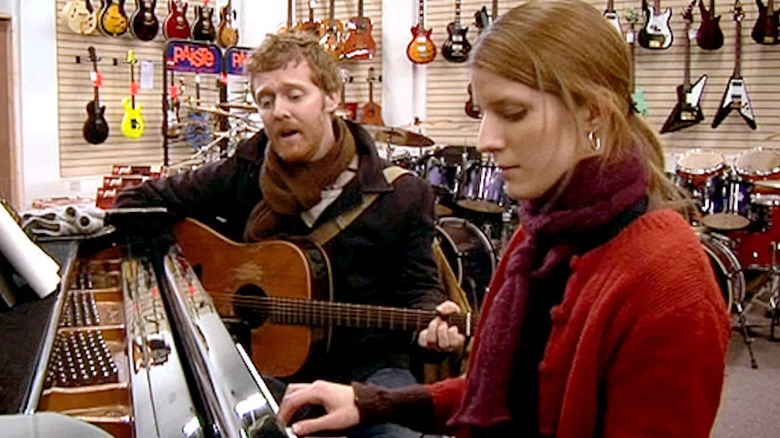 Buena Vista International
In "Once," an aspiring musician (Glen Hansard) hoping to make it big meets a Czech immigrant (Marketa Irglova) on the streets of Dublin. She sells flowers for a living but is also passionate about making music, leading them to collaborate. In between playing songs, the talented young musicians learn more about each other, including the fact that she has a toddler and he hasn't had much luck with love in the past. Their songs tell the story of their growing love for one another, but when things get complicated, they have to figure out if they're really meant to be together.
The touching love story is filled with beautiful songs and has been praised by critics. It has won several awards, including the Independent Spirit Award for best foreign film in 2007 and the Academy Award for best original song (for the duet "Falling Slowly") in 2008. It was even adapted into an award-winning stage musical in 2011.
Sing Street
"Sing Street" is a comedy, drama, musical, and coming-of-age story all rolled into one. It centers around Conor (Ferdia Walsh-Peelo), a boy living in Dublin in the 1980s who uses music to cope with the hardships of life. Between dealing with his dysfunctional family and adjusting to a new school, he's already got a lot on his plate, but he decides to start a band to impress his crush.
The film has won many awards, such as best soundtrack from the St. Louis Film Critics Association in 2016 and best original song at the International Online Cinema Awards in 2017 (for "Drive It Like You Stole It"). It's written and directed by John Carney, who previously wowed viewers with the musical "Once." But Carney has a special connection to "Sing Street" that explains why it's so moving; as he told ScreenCrush, "It's quite an autobiographical story. I did form a school band and it ticked a lot of boxes for me. It got the bullies off my back because my eccentricity was something I could turn around a bit. It got the teachers distracted from the fact that I was doing no work — at least I was doing something. It got my parents saying, 'Well, he's not a completely untalented guy.'" 
Song of the Sea
Looking for a film that the whole family can enjoy together? The hand-drawn animated movie "Song of the Sea" might be exactly what you're hoping to find. The story follows 10-year-old Ben (David Rawle), who blames his mute little sister Saoirse (Lucy O'Connell) for the apparent death of their mother. They live with their father on an island off the coast of Ireland, but when they take a trip to the mainland, Saoirse starts getting sick. After Ben discovers that his sister is a selkie, they embark on an adventure to help her find her voice and return to the water. Along the way, they must free a group of faeries who were turned to stone by the Celtic goddess Macha (Fionnula Flanagan).
While the film isn't scary, keep in mind that there are some sad moments since the characters deal with grief. Overall, though, it's a popular choice for kids because of all the beautifully animated scenes and elements of fantasy. Plus, it's a fun way for them to learn more about Irish mythology if they aren't too familiar with it yet.
In America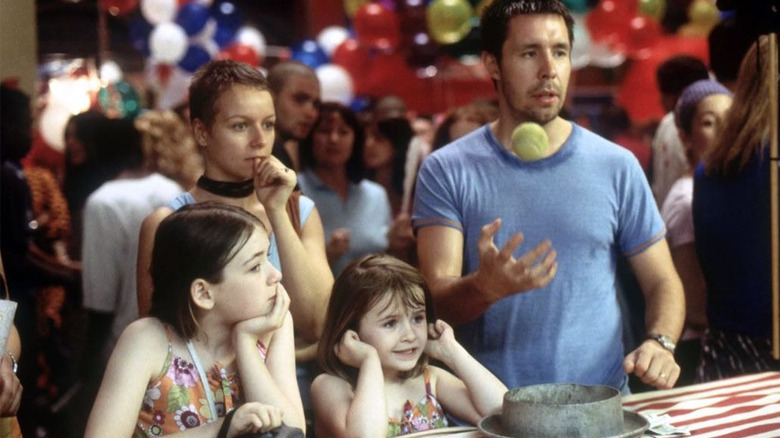 Fox Searchlight Pictures
In "In America," the Sullivan family moves from Ireland to New York City in hopes of a fresh start, but it isn't everything they'd hoped for. Their apartment is rundown, they struggle to make ends meet, and Johnny (Paddy Considine) and his wife Sarah (Samantha Morton) are still reeling from the death of their son Frankie. Although there are many obstacles for the family to face, their love for each other is unshakable, and they might just turn their luck around with some help from their neighbor Mateo (Djimon Hounsou). The touching story is told from the perspective of their oldest daughter Christie (Sarah Bolger), who uses a camcorder to capture the good and bad moments of their new life in America.
Jim Sheridan wrote the screenplay for the semi-autobiographical film with the help of his daughters, Kirsten and Naomi. When Sheridan was 17 years old, his little brother Frankie tragically passed away from a brain tumor, so the movie shares some of his family's experiences with grief and loss.
"By saying that the husband and wife can get over the dead child, [this film] is saying we can leave the dead behind," Sheridan said during an interview with Today in 2003. "And sometimes we have to leave the dead behind, even when it's difficult."
Belfast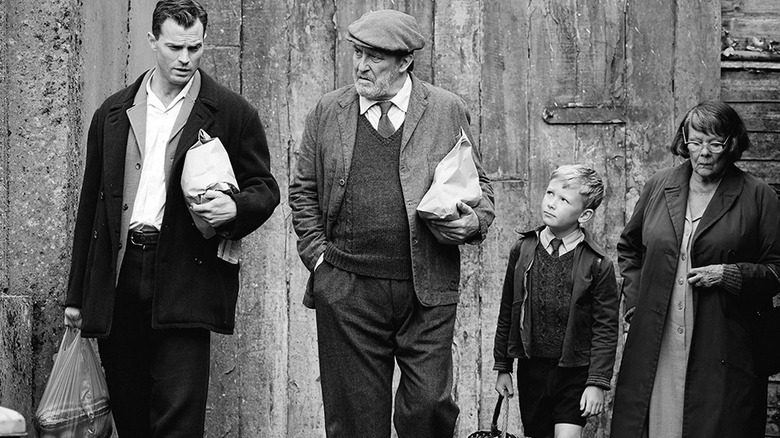 Universal Pictures
Set in Northern Ireland during the early years of The Troubles, "Belfast" follows the struggles of a working-class family through the eyes of 9-year-old Buddy (Jude Hill). As tensions between the Ulster Protestants and Irish Catholics rise, riots break out on Buddy's street and many Protestants damage homes and stores belonging to Catholics. Buddy's family is Ulster Protestant, but they want to stay out of the conflict as much as possible, despite one of the locals trying to pressure them into getting more involved. The family soon realizes that peace is nowhere in sight and they must leave Belfast, much to the dismay of Buddy, who has a crush on a local Catholic girl.
The coming-of-age drama is written and directed by Kenneth Branagh. It's semi-autobiographical and touches on aspects of Branagh's childhood, which undoubtedly contributes to the beautiful, poignant way the story is told. Watching the events of the Troubles unfold from the perspective of a child gives the audience a unique lens to view history, and "Belfast" was decorated with many accolades as a result of its successful vision.